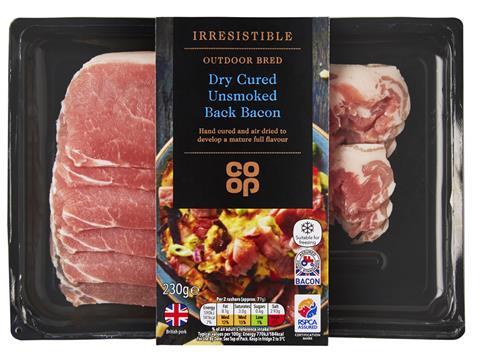 The Co-op is stepping up its commitment to source 100% British meat by moving to list only British own-label bacon and lamb by next May.

It says the target will make it the only major UK food retailer to stock 100% own-brand fresh British beef, chicken, pork, lamb, bacon and turkey.

The latest sourcing pledge ramps up its three-year £1.5bn commitment to source British meat and fresh produce.

To date it has reached 80% in fresh British meats while it also claims to be the only retailer to use British meat in all its chilled ready meals, pies and sandwiches.

"We are a major supporter of British farming," said retail chief executive Steve Murrells. "This move is a first for a major food retailer and will see us invest millions more into sourcing home-produced goods.

"It's an exciting time at the Co-op and our growing confidence is shown by our investment in UK farming as we do business a better way to meet consumer demand."

Environment secretary Andrea Leadsom has given the mutual her backing while emphasising the quality, innovation and tradition of British meat that was produced to the highest welfare and safety standards.

"We should rightly have pride in Britain's reputation for producing quality meat and today's announcement is a real vote of confidence in our farmers and an industry that is the bedrock of our economy," she said.

"It's great to see the Co-op taking the lead to celebrate the best of British and supporting our Great British Food campaign."

National Pig Association chief executive Zoe Davies added: "It's important retailers do more than roll out the bunting in their aisles to support UK farming and switching to home-produced bacon is the strongest move a retailer can make."

The in-store switch to 100% British bacon and lamb will be from 1 May 2017 to enable supplies to be sourced.

It will support about 1,700 British sheep farms each year in England, Wales and Scotland achieving an all year-round supply through native breeds that have their lambs at different times. All lamb and bacon will be 100% Red Tractor assured.

Its latest announcement on lamb and bacon coincides with the launch today (Saturday) of Love British Food Fortnight, which runs until 2 October and is sponsored by the Co-op.

Among the Co-op's other longstanding pledges is to market British products honestly with clear identification on packaging and in store; develop relationships with its produce grower base and provide greater availability of seasonal produce; extend its farming groups that support farming development and only source 100% British milk.