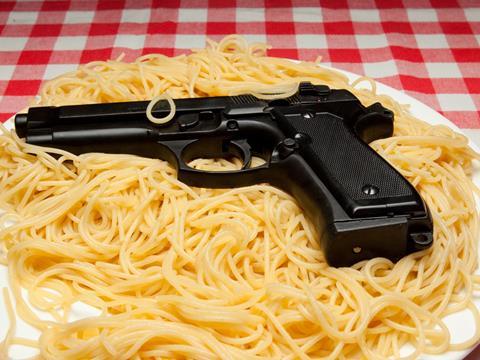 Crime doesn't pay? Tell that to Matteo Messina Denaro. Go on, I dare you. Wanted for 50 brutal murders, the fugitive mafia boss has raked in a reported £2.5bn over the years, through extortion, drugs and racketeering, while police have sought to track him down day and night - always in vain.

Two years ago their search took them to Trapani, a coastal Italian city. Buried beneath layers of fraudulent paperwork, fake bank accounts and pseudonyms, they found the work of the Sicilian godfather. Only this time the racket wasn't class A drugs. It was extra virgin olive oil.

Illegal migrants, toiling "in inhumane conditions" in ancient Italian olive groves, and paid only a few euros per day, were being used and abused to line the pockets of Denaro and his band of wiseguys to the tune of millions. And this is no isolated case. Indeed, it's getting worse. Crime syndicates dug their claws 30% deeper into Italy's €130bn food sector last year, with mafia-related sales worth €21.8bn (or 17% of total food and drink sales) according to Italian farming group Coldiretti last month.

So how long has this been going on? What are the implications? And what can we do to stop it?

Mafia clans have been involved in organised food crime for years. As far back as the 1950s, shady Italian businessmen like Don Alfonso were suspected of strong links to the deadly Camorristi clan as it dabbled in tinned meat and tomatoes. In the 1980s and 1990s, menacing mobsters Antonio Esposito and Alfredo Maisto earned the joint-nickname 'president of the prices' at Naples market after monopolising supplies of tomatoes and potatoes by leaning on poor peasant farmers who were too weak to fight back.
Appeal
In 2004, even major food brand Cirio became embroiled in the murky mafia underworld after Italian police alleged they paid bribes totalling hundreds of thousands a year to mob bosses in exchange for a monopoly of the market. And in 2010, 67 people were arrested in southern Italy after police uncovered a 20-year plot to control the trade of fresh fruit & veg.

"Companies associated with the mafia have become involved in the whole of the food chain process, from making the food to transporting it and selling it," says Dr Felia Allum, senior lecturer in Italian history and politics at Bath University. "All Italian mafias are now involved in this sector. The 'Ndrangheta seems to have been active in the exportation of citrus fruit, while the Camorra has taken a special interest in bread. In Naples it has been estimated that out of 4,000 bakeries, 2,500 are illegal, controlled by mafia clans.

The appeal of agri-food to the mob is partly that it is "very close to the land and physical control of the land is a main driver of mafia infiltration," she says.

But it is also "another ideal opportunity where lines can become blurred and it becomes difficult to know when the product is legitimately produced by genuine farmers or when it is a fake, financed by the proceeds of crime," she adds.

Just as mobsters swap in substandard cement in the construction business to cut costs, so too are their posh olive oils and Italian cheeses likely cheapened with shoddy ingredients, adds Transcrime researcher Michele Riccardi. "The mafia might change business sectors but they don't change habits," he says.
"If you want to traffic drugs, importing and exporting food products is the best way to conceal cocaine or heroin"
And as well as substandard Italian specialities, clans will also have spotted the opportunities to hide their other business interests under artisan breads and bottles of balsamic vinegar. "This sector is very popular among mafia groups because it deals in economies of scale for illicit trafficking," says Riccardi. "If you want a business to conceal the trafficking of drugs you set up a transportation company, or one doing the import and export of food products, as it's the best way to conceal cocaine or heroin."

Equipped with aggressive powers to tackle this criminal supply chain, Italian police have worked hard to clamp down, confiscating property from 3,000 firms in the past 30 years, according to investigations by Italian research centre Transcrime, with at least 3% from the food and drink industry, including agricultural companies, wholesalers and logistics firms.
Bada boom
There's also been a string of high-profile arrests. Last year, an anti-mafia blitz in Rome led to eight arrest warrants issued for those linked to the notorious Camorra clan, all suspected of creating a criminal network in fruit & veg. In February Walter 'the Goat' Schiavone, son of an infamous Naples crime boss, was hauled from his home in Campania amid allegations of controlling sales of buffalo mozzarella. And later that month, Italian police busted a crime ring exporting fake extra virgin olive oil to the US.
"This is a business that goes beyond borders, with mafia-marketed products heading for Europe," Coldiretti boss Roberto Moncalvo told The Times last month. "We all need to eat so it's a sector that holds up in a financial crisis and can profit from the good name of Italian food around the world." Including the UK. The popularity of Parmesan, pizzas and fresh pasta make Italian food the most popular international cuisine in the UK, according to research by the IGD. But it could easily be chock "full of toxins", and "carcinogenic substances [are] cheaper and not easy to spot" when importing our Italian fix, warns Allum, a fact that could leave the UK an unwitting contributor to Italy's criminal underground.
"It doesn't surprise me at all that the mafia are piggybacking on the back of that sort of activity as it's another way of making money through illegal means," says Sian Edmunds, head of the food & drink team at law firm Burges Salmon. For example, "with olive oil, where there has been a shortage there's a gap in the market crying out to be filled."
Legal protection
Laws do already exist to tackle the problem of fake or adulterated food. The Food Safety Act and European food safety regulations make it a criminal offence to "mis-describe something" or put something on the market not of the nature, quality or substance the consumer is expecting," explains Edmunds.

Spot checks at borders are designed to sniff out the fakes but enforcement agencies are stretched. "The FSA are trying to clamp down on this in quite a big way but they have very limited budgets," adds Edmunds. "There are fewer inspections going on at local authority level."

The open borders that come with EU membership make that job even harder, but the impact of Brexit could leave the UK even more exposed. "At the moment the EU works together to fight food fraud, they share information and projects," says Edmunds. "What will happen when we leave the EU is anyone's guess."

But UK businesses are not powerless, says Robert Barrington, executive director at Transparency International UK. "If the illegality is happening in Italy, that's beyond the remit of the UK authorities, but well within the remit of UK buyers, whose supply chain policies should certainly rule out dealing with corrupt business partners," he says.

"They should be doing proper due diligence to make sure they are not accidentally in bed with organised criminals, particularly if there is a reasonable suspicion they might be. There are all sorts of risks in dealing with corrupt suppliers, including contaminated food, modern slavery and bribe paying."
Schnooks
It's why Gianni Segatta, director at Italian foods importer and distributor Alivini, prefers to come face to face with his suppliers. "We prefer to look them in the eye, go and see what they do and talk to them," he says. "You can never know 100% because we're not investigators, but behind a product there is always a person and so we deal with people we trust."

But he worries others may not be so scrupulous. "If you sell products below cost and you don't care with whom you deal then most probably there will be infiltration."

And it'll be us poor schnooks that suffer. "Mafias invest in these sectors because they can cut prices and be more competitive, but this means that it is the health and security of citizens whether in Italy, Europe or the world who are at risk," says Allum. "Italian mafias care for nothing but their own pockets."