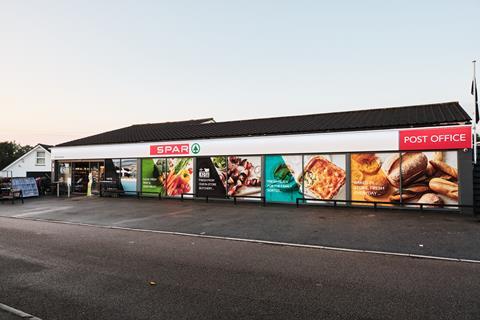 Spar UK has struck a deal with Deliveroo, The Grocer can reveal.
The agreement means retailers get preferential terms via low commission rates, enabling them to "reach more customers, meet their ever-changing shopping habits and drive significant revenue uplift for stores", according to Spar UK strategy and operations director Lee Johnson.
There are so far 66 Spar stores available on the home delivery platform. However, the tie-up has the potential to offer shoppers delivered goods from all 2,160 Spar stores in England, Scotland and Wales, in as little as 20 minutes. The Grocer understands Northern Irish Spar wholesaler Henderson does not form part of the deal.
The symbol group said it had the ambition to onboard as many independent and company-owned stores as possible.
"We are thrilled to be partnering with Deliveroo," added Johnson. "This deal will enable Spar stores to continue their rapid expansion into on-demand delivery. Local communities are at the heart of Spar and our mission is to provide shoppers with choice and access to essential items.
"During the years of the pandemic, Spar stores around the UK extended their service to communities by providing a variety of e-commerce delivery and call & collect solutions to local consumers. We are looking to accelerate this trend and cater to even more customers in the vicinity of Spar stores by partnering with Deliveroo."
Spar wholesaler Appleby Westward, which supplies stores across the south west, has the rollout underway and already has 50 stores on board, including Spar Cobden Bridge in Southampton, and Spar Mina Road in Bristol.
Speaking at the Blakemore Trade Partners Spar Retail Show in Telford last week, BTP commercial director Louis Drake told independents the Deliveroo service was now available to "all customers".
BTP is the division of AF Blakemore that supports the independent arm of Spar retailers it supplies.
The new deal now gives AF Blakemore-supplied Spar retailers two on-demand delivery partners, with the wholesaler already working with Snappy Shopper since 2020.
"Snappy Shopper is working well," Drake said. "Not just for Blakemore Retail, but also for many of our independent customers. But with an opportunity as big as this, we need multiple solutions.
"The Deliveroo system is simple to operate, has small startup costs, and will provide retailers with the opportunity to increase customer numbers, sales and profitability, extending their reach further into their communities."
Deliveroo chief business officer UK&I Carlo Mocci said: "Spar is a familiar and welcome sight in many local neighbourhoods and this partnership brings even more choice and convenience to people's doorsteps. Deliveroo customers can choose from a huge range of groceries, food, little luxuries and daily essentials and Spar is a welcome addition for households across the UK."