The end of the year is approaching and it's nearly time to deck the aisles with festive NPD. Ferrero's latest Christmas range will showcase its innovative gifting lines and products designed for sharing during the season. Here's our pick of the best new launches across Nutella, Kinder and Thorntons.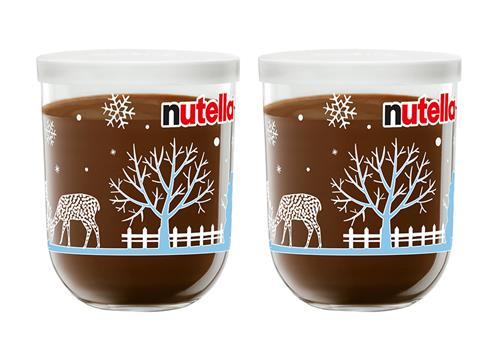 Nutella Glow in the Dark
RSP: £1.75
Ferrero is offering a glow-in-the-dark version of its limited edition Christmas Nutella packaging for the first time. Available across the 200g variant only, the resuable glass jars will feature four different snowy scenes including a wintery street scene and a frosty landscape with deer.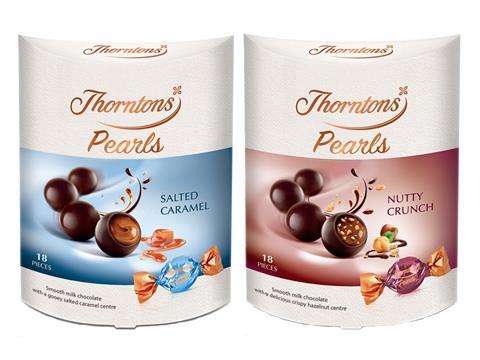 Thorntons Pearls
RSP: £4.99
This new treat, designed for gifting, comprises chocolate balls with a soft filling individually twist-wrapped in colourful foil. Available in two variants, Salted Caramel and Nutty Crunch, the boxes are aimed at younger shoppers who want to "give to share". Though launching ahead of Christmas, this product will be available year-round.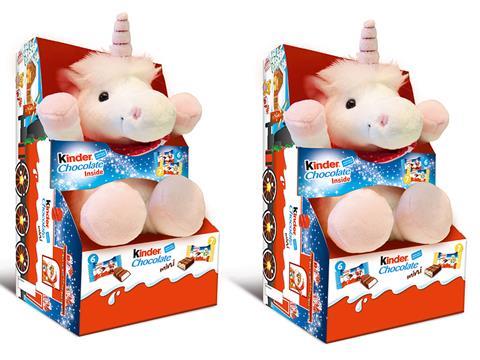 Kinder Unicorn
RSP: £7.51
Jumping on the craze for all things unicorn, Kinder is adding this new character to its range of cuddly Christmas gifts which currently includes a polar bear and a reindeer. The fluffy pink plush comes with six Mini Choc and seven Mini Choc Cereal bars.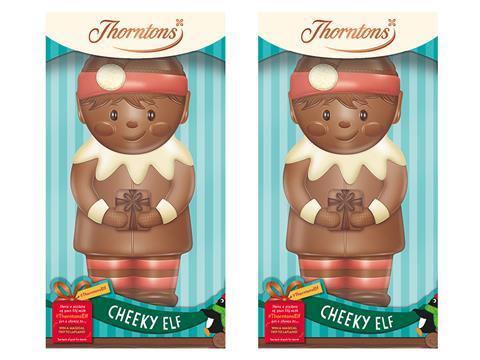 Thorntons Cheeky Elf
RSP: £5.00
Joining the Jolly Reindeer and The Snowman, this new milk chocolate Cheeky Elf variant is the newest character in the Thorntons Christmas novelties range.
The elf is designed to capture excitement around the growing Elf on the Shelf craze during the run-up to Christmas, which involves parents moving a toy elf 'scout from Santa' to different spots in the house overnight for children to find in the morning.
The box includes details of a competiton for customers to submit a picture of the Cheeky Elf hiding around the house for a chance to win a trip to Lapland.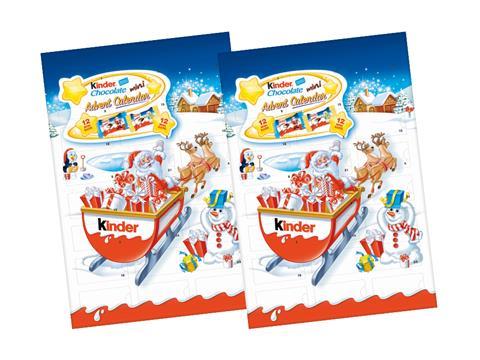 Kinder Mini Advent Calendar
RSP: £5.38
This new 24-door advent calendar is filled with 12 Kinder Mini Choc and 12 Mini Choc Cereal bars.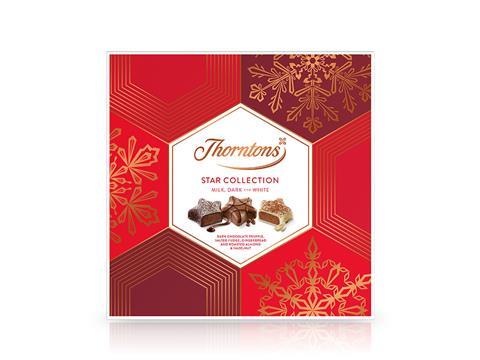 Thorntons Star Collection
RSP: £5
Decorated with a refreshed design for 2018, this milk, white and dark box now includes four new chocolates: a Milk Salted Fudge Star, a Dark Chocolate Truffle Star, a Milk Roast Almond & Hazelnut Star and a White Gingerbread Star.