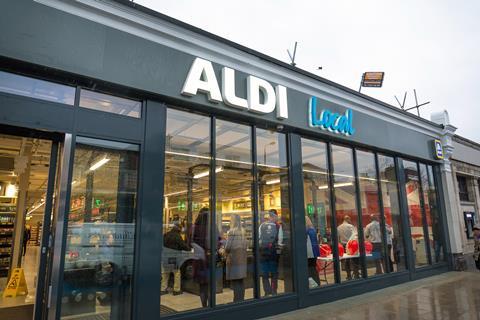 Aldi has launched a new sub-brand as a way of differentiating its London high street stores from full-sized ones.

The first 'Aldi Local' opened last week in Balham and the new name could be rolled out to four other London high street stores, in Tooting, Archway, Kingston and Kilburn.

At 6,000 sq ft, the Balham branch is half the size of a typical Aldi store and only slightly bigger than the one in Archway, which is the discounter's smallest in the UK.

Like the four other London high street stores, it also stocks a slimmed-down range. There are 1,500 products, compared to 1,800 in a full-sized Aldi, and no general merchandise Specialbuys. Lines gone include bigger pack sizes, making the range better suited to the absence of a car park.
"The main difference is that it doesn't sell bulkier items that shoppers would have difficulty transporting without a car," said an Aldi spokesman.

The new name was to "help shoppers distinguish between smaller city stores in London and the conventional-sized Aldis", he said.

"The new brand is only being trialled at Balham and the trial will be evaluated before any decisions are made on whether to roll Aldi Local out more widely."

He said it was "not a move into convenience retailing" as the Balham store remained "more than twice the size of a typical convenience store"