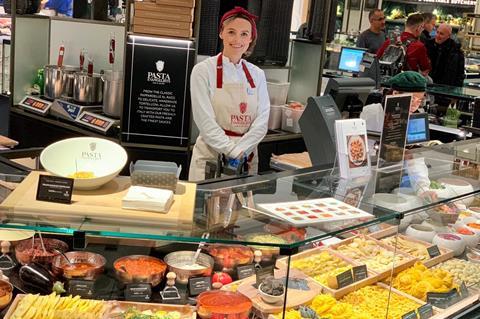 DTC fresh pasta supplier Pasta Evangelists is ramping up its efforts to become a fully omnichannel business by launching a concession into M&S's new-format store this week.
The concession will open on Wednesday 11 December in M&S's Hedge End branch in Southampton, the latest store to be made over in a renewal programme which began in August.
The Grocer understands discussions are being held for the opening of a further counter at M&S's Marble Arch branch in January.
Pasta Evangelists founder Alessandro Savelli said his ambition was for the number of concessions to raise to 50 in the future, replicating the success of supermarket sushi counters.
"We think there is demand for fresh pasta concessions in premium food retailers and would love to have more across the UK in the future," he added.
"Over 70% of our sales are outside of London, therefore we think the model could work well across the country."
The pasta and sauce on offer will be available both cooked and raw to boil at home.
Pasta Evangelists has already trialled the in-store concession model with a similar offering in Harrods' food hall, which has seen monthly sales trebling since last year's launch.
The latest move fits within the business' omnichannel strategy, Savelli said, expanding its presence from online DTC to retail and foodservice.
"Online DTC e-commerce is the fastest and best way to launch a brand, however, 90% of food and beverage sales are still in bricks and mortar, so if you are limited just to DTC you are addressing only a 10th of the market," he said.
Pasta Evangelists launched three SKUs on Ocado six weeks ago, and plans to expand that number.
In October the brand also started selling cooked pasta on Deliveroo from two London dark kitchens and in 2020 it will become available on Amazon Fresh.
"Pasta Evangelists is a modern, unique, hybrid brand," Savelli said. "It is a digitally-native DTC brand, but it has also evolved into a luxury fmcg and restaurant brand."