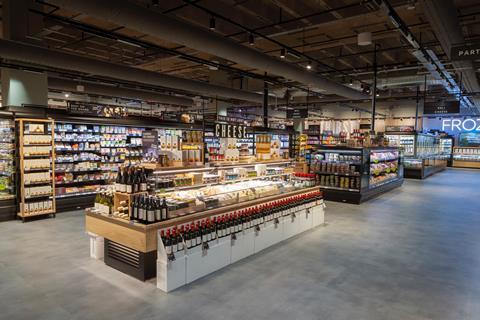 M&S is bidding to realign itself as a destination for the full weekly shop with a new store format launched as a trial in Kent.

The Hempstead Valley store has been overhauled to draw family shoppers from nearby Tesco, Asda, Morrisons and Aldi branches.

The Food Hall has grown from 9,500 sq ft to 16,900 sq ft, with floor space doubled for fresh produce, ambient, bakery and frozen.

The Hempstead Valley branch, which was already one of the retailer's larger food stores, now stocks 6,000 lines, up from 4,900 and well beyond the 2,000 more typical of M&S stores.

There are 50% more fresh produce lines and 40% more loose varieties as M&S seeks to push its sustainability credentials. Twenty-five new roles in the store include "greengrocer" to "help customers select and weigh" as well as providing advice on food waste, said store manager Suzi Price.

In frozen, bigger freezers accommodate larger pack sizes to cater for the full-trolley shop, along with new frozen lines of popular ingredients such as chopped herbs and onions.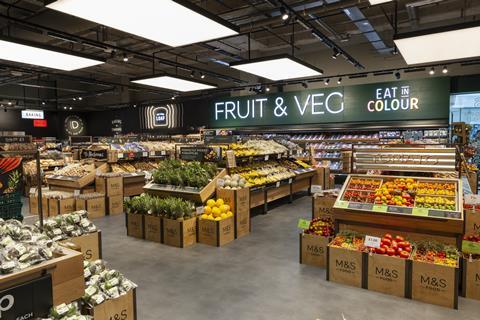 Hempstead Valley joins only around a dozen other branches in stocking M&S's complete grocery range, while also gaining features intended to make it more family friendly, including wider aisles and a giant Percy Pig.

"We're testing out some fun new interactive features such as our oinking Percy Pig sweet stand and new kiddie-sized trollies, which we ran out of on Saturday," said Price.

"There are some practical features to help make shopping quicker and easier for busy customers - such as our scan and shop facility. The click & collect point is now better located adjacent to the Food Hall, which is particularly helpful when over 70% of our online orders are collected in store."

The "store renewal" programme is seeking to boost M&S's family appeal ahead of its products replacing Waitrose's on Ocado from September next year, in a joint venture which was finalised this morning.

Feedback from the trial will inform a wider rollout, with at least two new larger Food Halls to open before Christmas.

The Hempstead Valley branch, which is 62,500 sq ft over two floors, was chosen as the first because of its proximity to rival supermarkets, in an area where M&S Food MD Stuart Machin began his career working in Sainsbury's aged 16.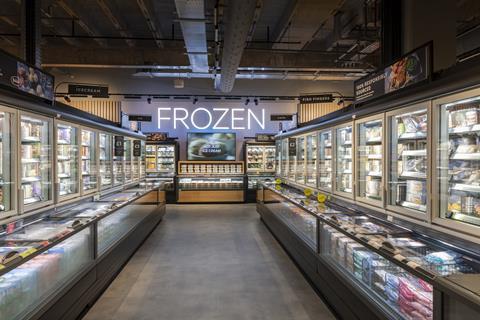 "It's an ideal location for us to test and learn," said Machin. "The store is just minutes from the M2, benefits from over 300 free car parking spaces and thanks to its great commuter transport links and attractive market towns, Kent's Medway region has a growing family population.

"As part of a wider shopping centre, it's a competitive location and the proximity of other major supermarkets help us to scrutinise the format commercially."

It follows eight months of planning and is part of a wider transformation programme.

"Developing our store estate and renewing our format is an important part of our modernisation," said Machin. "We want M&S Food to be an enjoyable shopping destination, where customers come to buy delicious tasting, quality food at a great everyday price. To do this we need to broaden our appeal and be more relevant, more often."