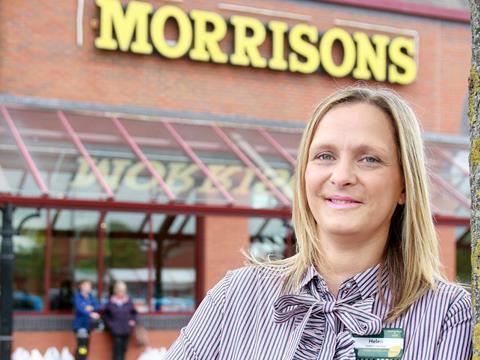 Your win was built on providing our shopper with a full trolley. What is your availability secret? It is a really key focus for us and something we are digging deep into every day as a whole team. Of course we also have the new Morrisons ordering system as well, which has made a big difference, not just in terms of maintaining great availability but on the amount of stock we need to keep. It is a huge difference from how it used to be and we have recently been able to take a lot of racking out of the store room as we just aren't using it any more.

How do you ensure everyone is delivering strong customer service? We have a great team here who all believe in providing excellent customer service. We also have regular Your Say meetings in which colleagues can provide us with feedback or raise any issues they have. At the end of the day customer service is vital. Nobody wants to go to a store where they have a bad shopping experience. Morale is really high in the store and this award shows that everyone's hard work is paying off.

Has Morrisons' overall performance lifted morale? Absolutely. It has been great to see how the business has been doing over the last couple of years. It is nice to know that we are working for a good, strong company that has really turned a corner.

Morrisons had another Price Crunch event last week. How has that gone down? Very well. It is crucial these days to be competitive on price and the reaction from our customers has been very positive since we lowered another 1,000 prices last week. We definitely saw an increase in our footfall as well.

What's next for the store? We are having a new café installed this week, which will be a lot brighter and fresher than the old one. I think the new Nutmeg womenswear range will be extended to more stores. I'm sure it would go down well here as it is really good quality.
Winner: Morrisons Dunwoody Way, Crewe
Store manager: Helen Seabridge
Size: 42,000 sq ft
Opened: 2000
Market share: 13.2%
Nearby rivals: Iceland - 0.5 miles, Tesco - 0.7 miles, Aldi - 0.7 miles, Sainsbury's - 0.8 miles
Store data source: Analysis by CACI. Call the market planning group on 020 7602 6000