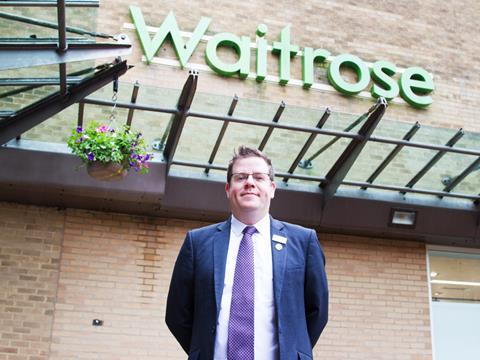 Have you had any refurbs as part of the Waitrose store modernisation programme?
We had a refit about two years ago and we refurbished the chilled section and the counters. It was just to enhance the customer experience and update some of the fixtures and fittings. We also installed self-service checkouts around two months ago.

How have the self-service checkouts been received?
We've had a really positive response. People who prefer a more traditional service can still go to a manned checkout but it means some of the more convenience-oriented shoppers can use the self-service tills. We now get about 28% of transactions through the self-service tills.

How is the Quick Check mobile app going?
We are seeing a lot more people using it. Just this morning, I've seen three or four customers going around with their mobiles.

You've had online shopping in your store for a few years. How is that going?
It has gone really well. The customers really enjoy it because they get a good offer - the orders are picked by partners in our store and they only send out what they would want themselves. So they get that personal service and the feedback has been positive. It is definitely growing year on year.

Waitrose is looking at potential future sites for its supper clubs. Would you be interested in having these at your store?
I don't know about supper clubs but we do customer tasting evenings, like wine and cheese tastings. We've hosted a few for teachers, businesses and local wine clubs. They are very popular.

We've just come to the end of half term. How has trade been?
We tend to see people shopping at different times during half term - you don't get so much of the lunchtime rush. But trade was very strong. When the sun shines, it helps. Strawberries are starting to go well and the picnic lines, too. Sometimes we can't keep the traditional seasonal stuff on the shelves!
Winner: Waitrose Bowen Square, Daventry
Department manager: Richard Edwards
Size: 23,000 sq ft
Opened: 1975
Market share: 21.8%
Nearest rivals:
Tesco - 0.1 miles
Aldi - 0.1 miles
Co-op - 0.6 miles
Store data source: Analysis by CACI. Call the market planning group on 020 7602 6000