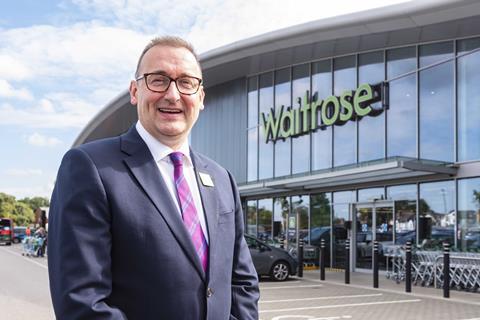 Store manager: Gary Collyer
Opened: 2015
Size: 21,000 sq ft
Market share: 11.6%
Nearest rivals:
Sainsbury's – 2.7 miles
Tesco – 5.4 miles
Asda – 5.6 miles
Morrisons – 6.1 miles
Store data source: Analysis by CACI.
Call the market planning group on 020 7602 6000
Our shopper found staff were polite and helpful. How do you motivate them?
It's about rewarding them for their hard work and empowering them to do the right thing for customers. We follow three words everyday: welcome, which is about making everyone feel welcome at the branch; pride, which focuses on doing your best in your job; and together, which is about understanding the entire team of 170 partners needs to work together to give shoppers the best service possible. We also run weekly meetings to keep employees engaged with what's going on at the store and Waitrose, and have an internal social media site to share updates and positive feedback.
Have staff and shoppers adhered to coronavirus measures?
I couldn't be prouder of how well the team has adapted. I had a sleepless night when the government announced face masks would be mandatory for customers in shops, but it was so great that our partners opted to wear masks without being asked to. It's things like that which reflect their fantastic attitude. With regards to shoppers, some have only just started doing their shopping in the store again and I've had many tell me they feel very safe. If customers don't feel safe in the store they won't come back – it's as simple as that. We've had very few issues with customers not following the protocols, because they're inspired to follow the lead of our partners.
Availability was the store's only snag. What could improve it?
It's disappointing availability wasn't 100%. Now, the store tends to be back at the supply level it was before the pandemic began, aside from the odd item we still can't get, such as Marmite and Worcestershire sauce. While individual stores don't have control over some aspects of the supply chain, such as the ordering which is now done centrally, we can influence the stock we have with an accurate stock file. If that system knows what items you have and what you need, you're more likely to get availability right.
The store just had its five-year anniversary. Were you able to celebrate?
We had planned a massive party, but because of Covid-19 we had a socially distanced lunch instead. One of the partners baked a wonderful five-tier cake, and as the traditional gift for five years of marriage is something wooden, we gave partners who have been at the store since it opened a pin that looks like it's made from wood. It was fantastic to mark the occasion because the 43 partners who have been here since day one have helped create the team spirit we have.
How have partners and customers reacted regarding Waitrose's split from Ocado?
We've had very little noise about the change, but I've seen a lot of comment on social media about whether joining up with Ocado is the right thing for M&S. Shoppers have a lot of choice now and although Ocado is a great platform, we're investing big-time in our e-commerce offer, and the quality of Waitrose products speaks for itself