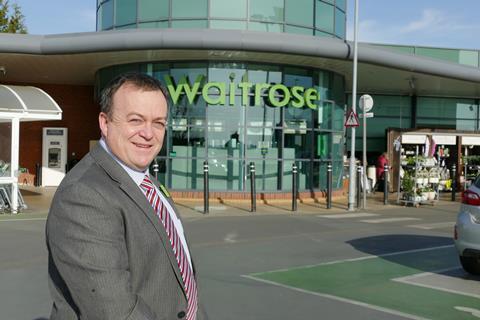 Our shopper encountered plenty of helpful and knowledgeable staff. How are they rewarded for good performance like that? Peer to peer recognition is the main way we reward partners for a job well done. We have a Partner of the Month scheme to recognise those who have gone above and beyond for customers with certificates given to winners and nominees.

Can you give us an example of when your team has gone the extra mile for a customer? We recently had a young teenager come into the café who had missed a lift home and had been told by their parent to wait in the store. The team chatted to them and gave them something complimentary to eat and drink while they waited - partners are trusted to make those decisions without pre-approval from a manager.

How do you ensure the store stands out from local competition?
Product differentiation and high store standards are among our priorities, and building relationships with customers is vital. Partners are encouraged to get to know customers and there's a real sense of family here.
How is your online offer performing? It has seen 30% to 40% year-on-year growth, and the potential to keep pushing that forward is huge because we have a lot of back office space.

How do you maintain strong availability? We introduced multifunctional handsets for every team member a few weeks ago, which give access to our stock management system so partners can instantly see whether an item is available. They can also tell the system what products we do and do not have on our shelves to keep it updated.

You've been in retail for almost 30 years. How do you use that experience now? I have worked my way through every supermarket department over the years, so I have a deep understanding of what does and doesn't help staff. I have insight into what they go through on a daily basis which helps me make better decisions on their behalf.

How do you tailor stock to Leicester's diverse demographic? The branch does a lot to appeal to customers' and partners' needs when it comes to religious festivals and food and drink items. We expanded our World Foods offer by 200% compared to Waitrose's standard range recently by introducing larger pack sizes of ingredients, snacks and locally-sourced items following customer and partner feedback.

Is the store giving away less free coffee now customers have to bring their own cup to redeem one? There has been a decline, but it's still rare the self-service coffee machine isn't attended by at least one customer. They still enjoy the offer and understand why we made the change.
Winner: Waitrose Oadby, Leicestershire
Manager: Darren Welsford
Opened: 2010
Size: 22,000 sq ft
Market share: 9.4%
Nearest rivals: Iceland - 0.3 miles, Asda - 1 mile, Sainsbury's - 1.2 miles, Aldi - 1.9 miles
Store data source: Analysis by CACI. Call the market planning group on 020 7602 6000