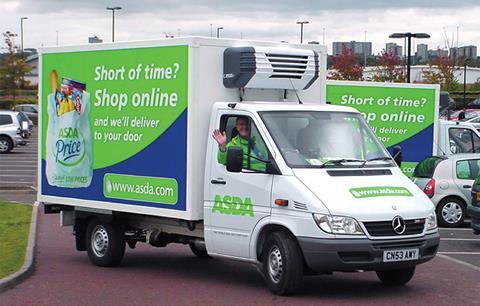 Asda has become the first supermarket to launch a one-hour delivery service for its full online range.
The express delivery service has been launched this week at three Asda stores, following a short trial at its Halifax superstore.
Rotherham and Poole stores have now also launched the service in which customers can order up to 70 items from Asda.com for express delivery within an hour.
The supermarket is charging a flat fee of £8.50 for the service, although it has no minimum basket spend.
Earlier this month Tesco expanded its 'Whoosh' service to 11 stores, after a trial in Wolverhampton. Sainsbury's expanded its Chop Chop service to 50 stores last year, and Morrisons also offers same-day rapid deliveries as part of its partnership with Amazon Prime.
Meanwhile a raft of companies, including Dija, Getir, Gorillas and Weezy have launched deliveries within 15 minutes.
Asda's new service will be available to anyone within a three-mile radius of the stores involved and the supermarket said it hoped to roll the service out more widely in the coming months.
It also announced today it was extending its partnership with Uber Eats from 200 to more than 300 stores, offering a range of 500 products including fruit, vegetables, beer, wine and spirits and meal solutions for rapid delivery.
"After successfully trialling an express delivery service, we know this is something our customers want as part of our online grocery proposition and we are delighted to be able to offer this service to even more customers," said Simon Gregg, Asda VP of online grocery.
"The launch of our new express delivery service and extension of our existing partnership with Uber Eats to 300 stores means customers can get their order delivered to the doorstep at market-leading pace."