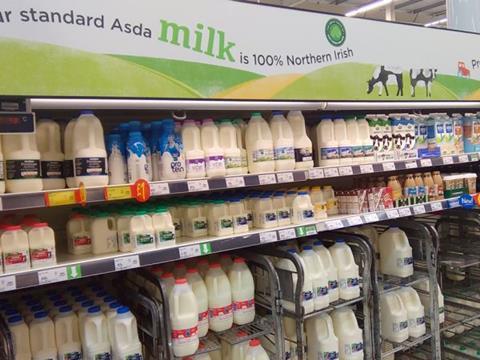 Asda looks to have reacted to tightening milk supplies and Brexit-related inflationary pressures by hiking its prices on a raft of milk SKUs.
This week it increased the price of four pints of fresh milk to its highest level in almost two years (by 4p to 99p), and increased the price of premium milk brand Arla Farmers Milk by the same amount (from £1.20 to £1.24) for a four-pinter [BrandView.com].
The price increase means only Iceland, Lidl and Aldi now charge 95p for four pints of own-label fresh milk, with Ocado also charging 99p and the rest of the mults charging £1. Asda has also increased the price of 2-litre bottles of Cravendale (up from £1.50 to £1.80) and several other milk and dairy alternative SKUs over the past two weeks.
The move follows warnings of rising inflation by the retailer, with latest figures from its Income Tracker report revealing annual consumer spending growth dropped to under £10 for the first time since 2014.
Dairy commodity prices have also been rising steadily over the past two months, with supplies continuing to tighten into the autumn and AHDB data showing UK milk deliveries were down almost 9% year on year. An Asda spokeswoman said milk and dairy prices moved around "for a variety of reasons, but we always make sure we're offering the best value".
However, a dairy industry source this week told The Grocer the price increases showed "retailers are running scared" ahead of a potential milk supply crisis next year and the fact no retailers had made any money out of milk for a long time.
Asda was the first of the big four to cut a four-pinter to 89p at the start of 2015. It was followed by Morrisons in June 2015 in a move that prompted widespread farmer protests over the perceived "devaluing" of milk.
Analysis by The Grocer in August 2015 revealed the average price of four pints of own-label milk sold in the big four was 6p per litre cheaper than the price of a similar-sized bottle of water.