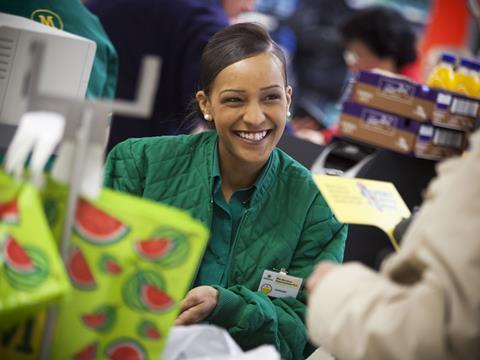 Morrisons is today formally launching a new checkout promise in which it will open extra tills for shoppers if there is more than one person ahead of them in a queue.
The Grocer revealed in June that Morrisons had introduced the one-plus-one system internally to get staff prepared for a shopper-facing launch at a later date.
It is now making a public pledge that checkout managers will now direct customers to newly opened checkouts when they see queues building.
Thousands of Morrisons staff have been given checkout training in order to be able to take over a till when stores become busy.
"While we are proud to have one of the shortest queue times in the industry, we want to serve our customers better," said Morrisons group retail director Gary Mills.
"Our new checkout promise will ensure our 11 million customers get the best shopping trip possible even as our stores become busier."
The retailer is also launching a new marketing campaign to highlight the promise. A new TV ad, which airs tonight, features a family with a newborn baby. When the grandad spots that the elder sister is looking a little put out by the attention being given to the baby, he rushes into Morrisons to get her a giant cookie.
However, his mercy mission is thrown into jeopardy by queues forming ahead of him only for a new checkout to be opened just in time for him to cheer up his granddaughter.
Morrisons said it was making the promise after listening to its customers. It said 70% flagged up queuing as their top frustration in supermarkets, ahead of unhelpful service (67%) and poor-quality products (66%).
Research conducted for Morrisons found the average person can only last a maximum of 6m 48s in a queue before losing their patience.
It also found that more than 56% of UK adults avoid shopping at places known for queues and that two-thirds (64%) would leave shops rather than join queues at tills.