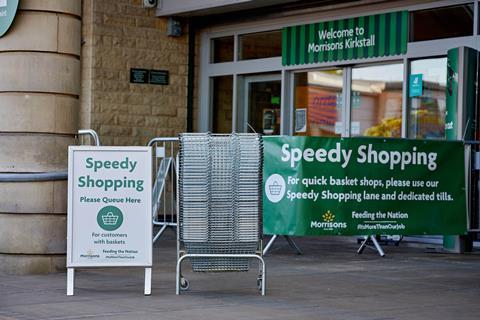 Morrisons has revealed it is to use use its car parks to help with the rollout of the government's Covid-19 vaccination programme.
CEO David Potts said today portable buildings would be operating from three store car parks from 11 January, with another 47 on standby to provide facilities for authorities to offer the jab.
"We have offered up another 47, subject to requirements of the country and the availability of the vaccine," Potts told reporters today.
The moves comes as Potts revealed today Morrisons had incurred £10m of new costs because of the impact of new Covid measures introduced in December, including being forced to close its cafés as well as a big dent in fuel sales due to tier restrictions.
It takes its estimate for total Covid costs for the year to £280m.
Other supermarkets are also in talks with ministers about how they can use their logistics to help the vaccination operation, following Boris Johnson's announcement yesterday of plans to vaccinate 13 milion people by mid-February.
"We have made clear to government that the retail industry is willing to make its resources available to support this effort," said BRC CEO Helen Dickinson.
"The government's testing programme and a rapid rollout of vaccines are the key to bringing an end to this cycle of lockdowns."