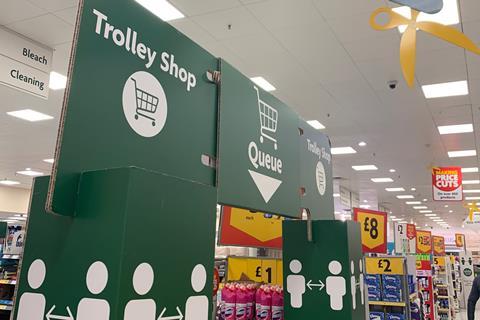 Stores in Scotland have reintroduced tighter social distancing measures, despite a recognition from the government it will lead to the return of queues outside stores.
All stores north of the border were ordered to reintroduce two-metre rule restrictions from Saturday morning, including queueing signage, one-way systems and marshals in store to keep distancing at the checkouts.
Measures that had been paused during the summer were brought back into action, despite fears that large queues could again become commonplace outside stores.
Scotland's national clinical director Jason Leitch told the BBC it was vital retailers played their part in trying to stem the increase in cases.
"Retail did a very good job at the end of March," he said. "The mitigations were really good, like plastic sheets and two-metre distancing.
"That is why we are asking them to go back to two-metre physical distancing and one-way systems.
"It will mean a bit of queuing outside again, maybe the Covid officers helping with some of that. We need people to realise the virus is the same and it is not going away."
The moves north of the border come with prime minister Boris Johnson due to announce a wave of new lockdown measures today. Pressure is growing on retailers to reintroduce measures first brought in during the first lockdown in March.
Supermarket sources told The Grocer they were monitoring the situation with lockdown measures to see if further measures would follow south of the border.
Last week, Tesco announced it was rolling out a traffic light system at store entrances to help maintain distancing.
The lights control the number of shoppers inside based on the store's capacity and two-metre social distancing guidelines.
Aldi became the first retailer to begin putting traffic lights at its store entrances in May, as a way of limiting shopper numbers.
Last month Asda announced it was tightening its Covid-19 safety measures, including employing 1,000 new safety marshals and making it compulsory for store staff to wear masks.
Morrisons also reintroduced door marshals, first used when the pandemic hit in March, to limit shopper numbers in stores.