Put customers centre-stage
Customer satisfaction and brand value have featured highly in industry news recently. This, in turn, has sparked debate about the importance of customer-centricity.

Reputation Institute, a corporate management consultancy, published its UK RepTrak 150 ranking at the end of April. It found the reputation of companies operating in the UK declined for the first time since the financial crisis of 2008, following a major drop in trust and confidence over the past year.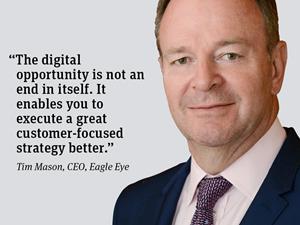 The study, based on data from more than 31,000 UK consumer ratings in Q1 of 2018, recorded an 11% year-on-year decline in the proportion of those saying something positive about a brand (37%), alongside a 12% fall among those who think brands communicate regularly enough.

Retailers would do well to recognise how the ability to put the customer at the heart of the business is also essential to maintaining brand value, particularly with Amazon the only one to feature in RepTrak150's 2018 top 10.

I was keen to seek out those with this ability at the World Retail Congress event in Madrid recently, and was shocked by how debilitated the industry felt - like one caught in the headlights of an Amazon truck. By contrast, JD.com and Alibaba representatives were full of confidence, illustrating how their new, generation-jumping model was producing remarkable results in China. An alliance between one of these businesses and a major Western retailer, perhaps like the one Alibaba announced with Auchan last November, will be a very potent force.

While there was a lot of talk about what should be done in digital, with Google and Facebook promoting their merits as advertising platforms, only three businesses stood out as having the confidence to describe how they were harnessing their staff's talents and energy to do a better job for customers: Metro, Tommy Hilfiger and Williams Sonoma. Listening to them reminded me what running a retail brand is all about. The digital opportunity is not an end in itself, but enables you to execute a great customer-focused strategy better.

For retailers who think customer-centricity is a fad, or something 'nice to have,' it can truly separate winners from ­losers. Back in the early days of mass direct marketing grocery schemes, when I became known as "the Clubcard guy," a marketing director could be forgiven for procrastinating over how to prove the value of loyalty investments.

Today, that same marketing director cannot afford to question the value of investing in stronger customer relations: building connections with customers and creating compelling content to foster connections. In other words, to put the customer at the heart of the business.

Tim Mason, CEO, Eagle Eye