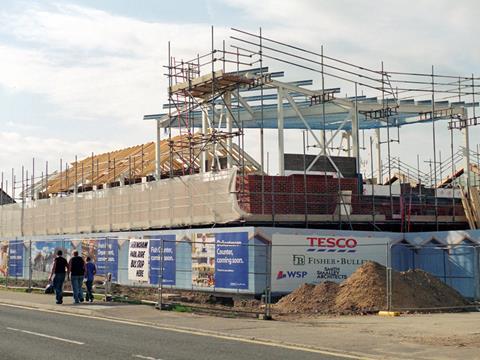 As Tesco boss Dave Lewis this week announced unprecedented plans to close 43 unprofitable stores, he also further scaled back Tesco's store opening programme, cancelling 49 in total.
More than half the stores earmarked for closure would be Express formats, while almost all the stores it no longer plans to open were to have been Tesco Extra hypermarkets.
Analysts have been talking for a number of years about an end to the so-called 'space race', in what is an increasingly saturated market. But while significantly reducing its investment in new stores in 2012, ex-CEO Philip Clarke continued to open new ones.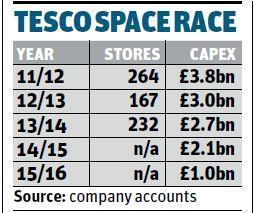 Indeed, after the retailer added 167 new stores in 2012/13 it accelerated this to 232 the following year.
However, this week Lewis said that just 23 projects would go ahead over the next three years.
The 49 shelved stores amounted to just under two million sq ft of space. "Pretty much all those in the pipeline we are not going ahead with are big stores," confirmed Lewis.
"We don't think the market is right to press ahead with those."
Experts have forecast that the big supermarket groups will be forced into costly property write-downs as store openings are scrapped - with speculation Tesco could be forced to write down the value of its property estate by a further £1bn.
Asked what would happen to unused land, Lewis said it would be decided on a case-by-case basis.
"We have been working in these areas, sometimes for a number of years, so we need to be sensitive," he admitted.
"We're going to sit down with the communities and see what we can do to use the land responsibly."
However John Witherell, senior director of real estate consultancy CBRE, warned retailers may now face the ire of local authorities who originally granted planning permission on the grounds that a new store would bring an ­economic boost to the local economy.
"Authorities may have given planning ­consent based on job creation, even if the site didn't comply with town centre first planning policy," he said. "They may be reluctant, therefore, to allow change of use."