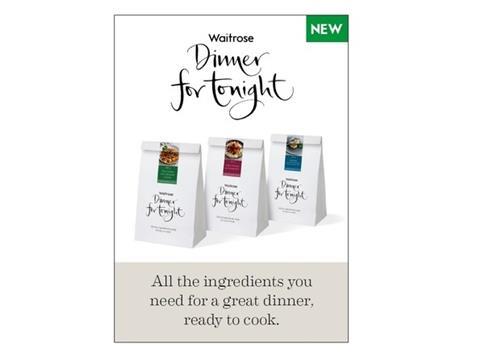 Waitrose is trialling a new "ultra convenience" meal kit bag to help its customers cook fresh dinners from scratch.
With echoes of the Hello Fresh offer, the kit bags were being trialled in 20 stores and would be rolled out further if successful, the retailer said today.

Called Dinner for Tonight, the kits come with a recipe for a meal designed by Waitrose in-house chefs.

Each kit has all the ingredients needed to prepare and cook a meal for two people.

Waitrose said the ingredients, which included some "unusual" ones for what it described as "exciting meals", were measured precisely to eliminate waste or leftovers.

The recipes will be changed regularly with a new vegetarian and a new meat recipe on offer every day.
"This trial is designed to test the demand for ultra convenience - even when it comes to scratch cooking," said Natalie Mitchell, Waitrose head of brand development and product innovation.

"We know that our customers love cooking but often don't have the time to do so, and we wanted to provide them with an easy solution.

"We've carefully crafted our Dinner for Tonight kits to make sure the recipes are inspiring as well as quick to make, keeping cooking interesting."

The recipes have been inspired by flavours and influences from different cuisines and include Sticky Korean Beef with Sesame Infused Cauliflower Rice & Kimchee, Soy & Ginger Seared Salmon with Sesame Vegetable Noodles, Harissa Spiced Aubergine with Tabbouleh Salad and Butternut Squash Laksa with Rice Noodles & Chilli Toasted Soya Butter.

Meal kits are priced between £8 and £12 for a meal for two.