Asda chief financial officer Rob McWilliam speaks to The Grocer after today's announcement that EG Group owners the Issa brothers and TDR Capital have secured a majority stake in the retailer, in a £6.8bn deal.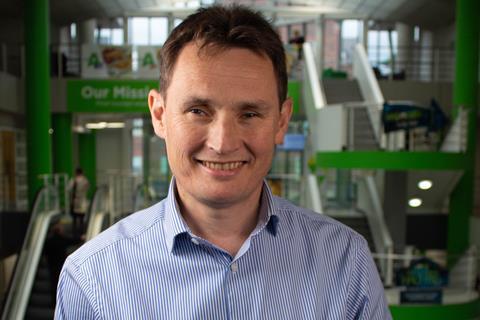 What stake will Walmart keep in the business?
This transaction is about growth, about bringing together the best of what Asda brings with our customer-centricity and brands, plus what Walmart will continue to bring with their involvement with global sourcing.
The detail of the transaction which has just been signed this morning has not been made public. What I can tell you is that Walmart maintains a significant investment. It is a minority investment but the Issas, backed by TDR, have a majority. The board of the new entity will consist of an Asda rep, rep from Walmart, TDR and the Issas.
Do you envisage any competition issue and disposals as a result of the deal?
We are right at the start of that process. We will clearly engage constructively with the CMA, but we expect this transaction to go through without too much trouble.
Will Walmart still be able to suck talent out of Asda as it's done in the past?
We will no longer be part of the same company, because we won't be majority owned by Walmart. It will no longer be the case that you are moving within the same company. We will have Walmart as a supporter providing us access to innovation and sourcing, but we will be different companies. Whilst it doesn't stop Walmart seeing good people and hiring new people, it won't be within the same group.
In the past we've seen Walmart run Asda "too hot" as a separate company. Will they be able to do that and how will the dividend situation with the international section work?
This deal is about growth. The Issa brothers and TDR are the majority shareholder and their track record is taking a business from one forecourt to 6,000 forecourts over 20 years. We presented a strategy to them which was about growth and they bought into that and add to that convenience. That is the basis on which we are going to compete and trade.
Did you go to them or did they come to you?
We received an incoming request to engage from a number of private equity firms. Clearly where we have ended up is not a traditional private equity deal, this is led by two entrepreneurs supported by private equity, a relationship they have had for a long time. So, this is us receiving inbound, including from TDR Capital.
So this is all about growth whereas Sainsbury's was all about synergies?
I wouldn't necessarily comment about the Sainsbury's deal but that was then, this is now and growth is the key. We have had several representation sessions with them and presented our strategy to them and they buy into it.
What autonomy and say will the Issa brothers have in running the Asda business: how in control will they be?
It's a question for them but if you watch their video that gives you a sense of their vision for our business and shows you a lot about their values and how well aligned they are to us. They are certainly enthused by our strategy.
Will we see that £1bn of fresh capital spent on refurbishing Asda's stores?
It's a combination of stores, distribution centres and home shopping. We clearly will need capital to get beyond a million delivery slots which we've committed to do for next year. It's across the whole business, but yes it will include stores. An important part of that will be partnerships. Partnerships is a real strength for EG Group and a core part of our strategy, as you saw with our announcement with B&Q in the past few weeks.
What about prices? You have been telling suppliers you want to become more of a discounter and improve your EDLP. Surely that will take up the £1bn in itself?
We have presented our strategy and a core part of our strategy is lowering prices. Great products, lowering prices, making products more accessible to all people through online growth and potentially now also through more convenience. Price is fundamental to our existing strategy and that's what the Issa brothers and TDR have bought into. We can't give numbers but you're exactly right, it's an important part of our strategy.
What will happen to EG's supply chain? Will it be supplied through Asda?
This is day one so there are no specific plans yet, but we know what our capabilities are. We want to build our convenience business. We want to build our wholesale capability. This is all well set up for growth, which is the objective of the transaction. At the end of the day EG and Asda will be separate businesses.
When it comes to the food to go business will they be Asda-branded own-label products?
In the Asda on the Move trial there is Asda own label but not exclusively – there are some brands in there too. Own label is part of it and the Asda brand is very important to it.
EG is seen as a premium convenience retailer and Asda is a budget supermarket with super-cheap fuel. How will you square that circle?
The two businesses are separate businesses. What may well benefit Asda is the entrepreneurship and 20 years of experience in convenience retailers. The propositions don't need to be the same.
Online is where all the growth has been during Covid. What do the new owners bring to the party on this and how important is Walmart's continuing involvement?
A lot of Walmart's global innovation will be focused on online and with the trials of Asda on the Move we are putting in new delivery stations into those units so there is clearly an online component. Online is incredibly important to the proposition but actually we've got some amazing capability there that we have developed ourselves, here in Leeds. Some of the innovation has come from the US but we have been leading a lot of that agenda. On grocery home shopping the UK is ahead of most other countries in the world. We have been the innovators and we have grown rapidly. We are the second-biggest online players and have picked up about two percentage points of share over the last year so it's an area of real strength for us that we want to go from strength to strength on.
Is it true that EG needs Asda and Asda needs EG?
There is certainly complimentary business such as what we are announcing today. It's good news for customers and colleagues.