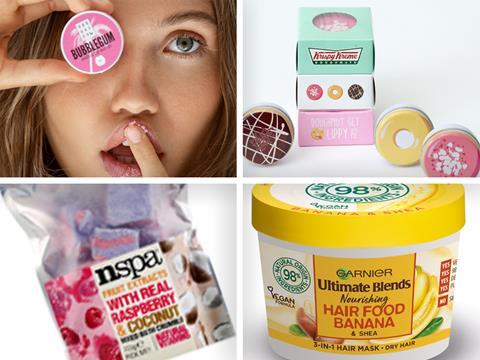 Nearly one third of UK shoppers say they have been tempted to eat or taste their personal care products, as the line between food and beauty is increasingly blurring.
In a survey of 1,214 consumers by Streetbees, commissioned by The Grocer, 32% admitted to having been tempted to eat or taste beauty products, with 6% saying they were tempted 'often'.
It comes as use of food ingredients as well as food-themed language and packaging is soaring in the beauty sector. Use of fruit in new personal care launches, for example, has increased from 5% in 2013 to 10.7% in 2017, according to ingredients supplier Cornelius.
Experts say this reflects two key consumer trends: a growing desire for simpler, more natural products with fewer ingredients on the one hand; and a desire for indulgent 'duvet day' treats on the other.
The first has resulted in a slew of beauty launches formulated around popular 'superfoods' such as coconut, pomegranate and kale well as 'vegan', 'natural' and even 'gluten-free' product claims, while the latter has seen the rise of playful sweets and treats-themed products, such as doughnut-flavoured lip glosses and bon bon bath bombs.
Products reflecting these trends include Garnier's new range of vegan 'hair food' masks and Herbal Essence's 'gluten-free' shampoos as well as Kripy Kreme lip glosses, edible lip scrubs from Grounded and bath crumbles from Asda's Nspa range (pictured above).
Opportunity for food brands
While the 'foodie beauty' trend is primarily driven by beauty brands embracing food credentials, our research also reveals consumer appetite for beauty products from food brands.
In our survey, 28% of shoppers said they either slightly or strongly agreed with the statement 'I would like to see more food brands offer beauty products and toiletries made with their ingredients.'
Foods or food ingredients shoppers would be most interested in seeing in the beauty aisle include healthy juices and smoothies, coffee shop flavours and chocolate.
One food brand already embracing the trend is Vita Coco, which is increasingly pursuing dual sitings for its coconut oil SKUs to take advantage of coconut oil's credentials as a beauty product and make-up remover.
In the US, the brand has even trialled Vita Coco-branded wipes, though it is not looking to roll these out further at this point.
In our survey, shoppers picked coconut as the top food ingredient they would find appealing in beauty and personal care products, followed by honey and citrus fruit.
For more insight on the foodie beauty trend, read our Focus On Personal Care