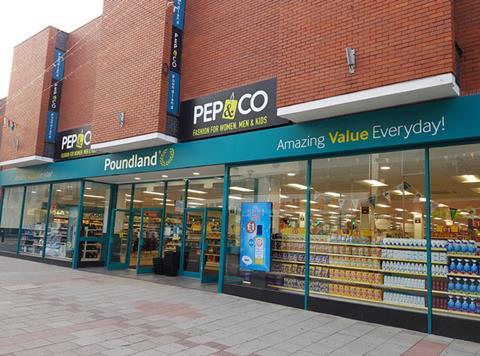 Other retailers could learn a lesson in customer engagement from Poundland, as I discovered on a visit to its latest new branch in Worthing, West Sussex.
Products are relevant and targeted. There are headphones and Bluetooth speakers for a fiver. Duvets at the same price are part of a back-to-university range. Boxes of Maltesers for a quid. Brands people know and things they want.
"It's got to be relevant, hasn't it?" says Poundland MD Barry Williams. "Cheap doesn't work. It's value that people want. It's got to be something they want to buy anyway, at a great price."
And while the variety discounter has moved to multiple price points, with £2 and £5 added to the traditional £1, the ranges are clearly delineated and well signposted. They never share a shelf.
But there's more going on here than ranging, as any customer using self-checkout will find. Press start and instead of the usual nameless voice saying "please scan your first item" you hear the king of rock 'n' roll. "Elvis has entered the building," it says.
When it comes to carrier bags, you hear "quantity needed, hound dog". Instead of "choose payment method," it sings "press one for the money, two for the card". And at the end it says "than' you very much".
Repeating the phrases barely does the scene justice, because Elvis's voice is all around, as other customers use the machines.
"We've changed all of our self-checkouts to Elvis and it seems to be going down a storm with customers," says Williams. "We just thought we'd give it a go.
"What happens if people start saying 'I've been to Poundland and Elvis was on the checkout'? And what if it's someone who'd never shopped at Poundland before, who came in and gave it a go? I might just get a new customer.
"Actually, a self-checkout experience can sometimes be a negative experience for a customer. So how can you turn it into a positive and put a bit of fun into it? All the feedback we're getting is that plenty of customers are having a laugh in store, thinking it's fun. And the colleagues think it's fun as well."
The challenge for new shops can be getting plenty of customers in store in the first place, raising awareness that a branch has opened. Poundland has set an example there, too.
As the branch opened for the first time on Saturday, a troupe of professional dancers performed an unannounced routine outside on Worthing's pedestrianised Montague Street.
The stunt was a promotion for Pep&Co, the clothing retailer with outlets in more than 300 Poundland branches. The Worthing Poundland has the last of the 'shops in shops' planned in a rollout that began early last year.
As the opening chords of 'What a Feeling' blasted from a single speaker, placed in front of a Pep&Co poster, first one dancer began leaping around, to the surprise of shoppers. As people stopped to look, another joined her, and another, until six of them – four women and two men, all in Pep&Co clothing – were dancing on the busy street to a string of 1980s hits. The routine lasted four minutes and ended with a round of applause. I expect some visits to Pep&Co as a result.
Poundland announced its latest financial results last week. Like-for-like sales were up 1.7% in the nine months to 30 June. A 5% fall in overall sales was attributed to the closure in the comparative 2017 period of around 60 99p Stores – the chain Poundland bought in 2015 and then put into administration after converting the majority to its own fascia.
Williams sighed when I asked him what Poundland was doing right that direct competitors such as Poundworld got wrong. Perhaps he wonders why it should be a mystery. The answer isn't hidden.
Poundland was already notable for its social media customer engagement. Who could forget the smutty Christmas elf? Elvis and the street dancing show the business knows just as well how to engage customers directly.
"Shouldn't retail, and life in general, be a bit more fun?" asks Williams. Customers seem to think so.