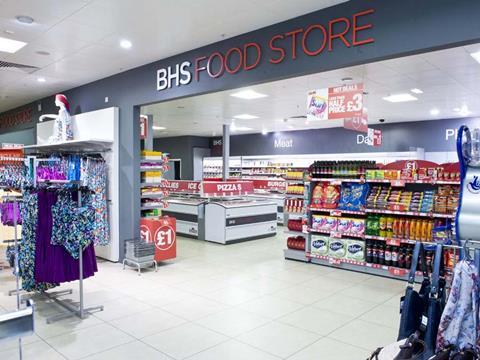 BHS Food will not be 10% cheaper than Tesco despite previous reports, according to Sir Philip Green.
The Arcadia boss said the figure, which was attributed to him, was "pure fiction" and that BHS Food, which is being solely supplied by Booker Wholesale, would primarily focus on product quality rather than getting involved in a price war.
"I never said we would be 10% cheaper than Tesco – the media created that," Green told The Grocer. "It is clear we are being led by Booker at the moment, who are doing a fantastic job, and I won't really dictate until I can gain more knowledge on how this will work across the estate. Of course, value and price is a factor at any grocery business, but first and foremost I want to sell quality produce. I don't want people turning up and saying it is awful."
Green, who was speaking during a visit to the 3,000 sq ft BHS Food department within its store in Romford, said that 140 stores could host a food hall and that there was the potential to open 50 of the outlets by the end of September.
The Romford store is the third trial following recently opened departments within BHS stores in Staines and Warrington. However, Green admitted that BHS could still choose to work with a "major food retailer" in terms of filling the space.
The potential to grow the BHS Food offer is "limitless", according to Green, who ruled out standalone c-stores. "Whether it is changing the food and drink ranges or thinking about an online offer, nothing is a no here. If I decide I don't like something, I can change it tomorrow. But standalone stores are not on the agenda. We cannot compete with the scale of a Tesco and I really don't see the point of paying extortionate rent on new premises."
He added the trials had so far been a success and created double-digit growth in general merchandise sales throughout the store. Green said research had shown that 80% of BHS customers supported a food offer and that its inclusion had so far "permanently increased footfall".
A full interview with Sir Philip Green will be published in next week's issue of The Grocer.