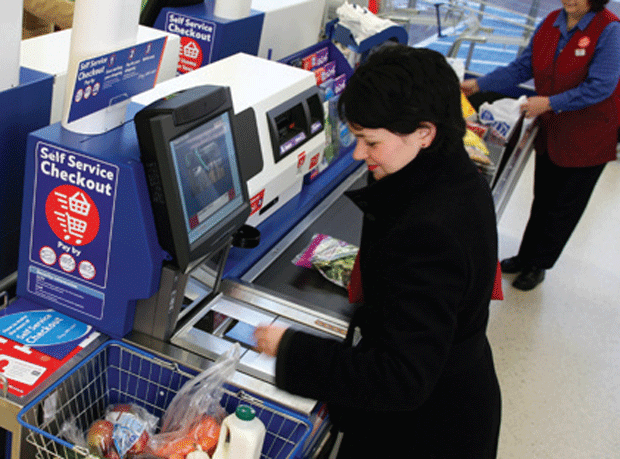 The Department of Health has denied making a U-turn on 'guilt lanes' at supermarket checkouts, as new public health minister Jane Ellison confirmed they were back on the government agenda.
In a written response to a Parliamentary Question, Ellison said: "Parents have indicated that positioning of sweets at checkouts can increase pestering to purchase by their children.
"We have identified food promotion as an area for action under the Responsibility Deal, and will be discussing with the food industry actions it might take to reduce exposure to marketing and promotion of less healthy foods."
A Department of Health said today early conversations had taken place with retailers, but denied this amounted to a U-turn in policy.
"We have been clear that legislation is not necessary and that the voluntary approach through the Responsibility Deal is working," said a spokeswoman.
"It has already significantly reduced artificial trans-fat, calories and salt in foods, and set up consistent front-of-pack food labelling which all the major supermarkets and several big manufacturers have signed up to."
In an interview with The Grocer earlier this year, Ellison's predecessor at the DH, Anna Soubry, said it was not up to government to tell supermarkets where to put their shelves.
"It's up to us as individuals to lead healthy lives," she said. "There's a responsibility that the supermarkets have, but it's important for us to take the industry with us, rather than impose things on them."
Move welcomed
Malcolm Clarke, a co-ordinator at the Children's Food Campaign, said today he was pleased with Ellison's comments, after Soubry appeared to "blow hot and cold" on the issue. "It's definitely positive. We welcome it. Now we look forward to seeing the flesh on the bones."
But Clarke said that legislation and tougher powers for a regulator such as the ASA to monitor in-store marketing were needed. "Instead of a voluntary pledge that often is short term, [we would like] something much more stringent – realistically some form of regulation to get junk food off the checkouts."
Last week, Tesco said it would increase the amount of healthy food at self-scan checkout areas in 40% of its Express stores and in all of its larger stores.