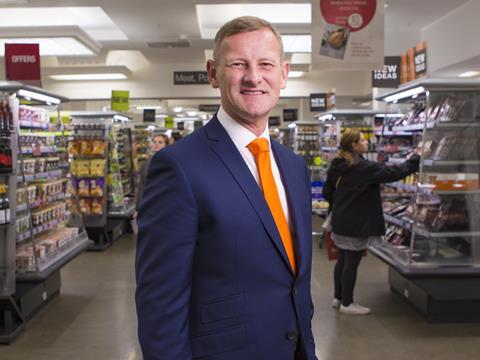 Steve Rowe's ascension to the Marks & Spencer (MKS) hotseat was widely welcomed, but his first set of annual results at the helm of the high street stalwart sent shockwaves through the City.

The results themselves were not particularly troubling. While M&Ssaw profits before tax in the 52 weeks to 26 March fall by 19.5% to £483.3, underlying pre-tax profits were up 3.5% to £684.1m. M&S' struggles in clothing and home, where like-for-like sales were down 2.9% in the year, are well established and its food business continues to outperform the grocery market, with 0.2% like-for-like growth and 3.6% higher sales overall.
But what disturbed the City was Rowe's warning that his strategic plan - sharpening prices, putting more employees into stores and opening 200 more Simply Food stores than previously planned - will "have an adverse impact on profit in the short term".
This roundabout profits warning sent the shares down 10.2% on Wednesday back to 399.4p – almost a third down on where the shares were trading this time last year. Consensus analyst pre-tax profit expectations had been around £710m before the announcement, which caused broker forecast cuts by about 10%-15%.
House broker Morgan Stanley took a measured view, arguing: "It is worth bearing in mind that the company made pre-tax profits of £623m in FY 2013/14, so one could argue that management, with its new strategic plan, is preparing to use the last two years of profit growth in order to put the business on a more sustainable footing."

However, Credit Suisse said it saw Rowe's new business plan as "disappointing", arguing that the increased roll-out of Simply Food "seems risky in an increasingly crowded market". "We do not believe that M&S can trade its way out of trouble, given the store estate, GM infrastructure and underlying market," the broker said. Liberum analysts noted M&S also avoided grappling with its store estate with a review kicked down the road to the autumn . "Closing a large number of stores, which we believe that the company must do to make a real difference to profitability, will be difficult politically and socially".
Pork and poultry producer Cranswick (CWK) saw its shares rise by 1.6% on Monday to 2,328p on the eve of reporting a healthy rise in full-year revenues and profit boosted by acquisitions and lower input costs. Revenue for the year to 31 March rose by 6.6% to £1.07bn, with adjusted group operating profit increased by 12.8% to £66.2m. However, shares fell back 1.4% to 2,298p after an article in the Telegraph saying they "look a little overcooked".
Tate & Lyle (TATE) shares were up 1% to 620p by Thursday lunchtime after announcing a 5% increase in adjusted profit before tax for the year to 31 March after major restructuring of its business. Jefferies said the "stage is nicely set for a stronger 2017", noting: "Sucralose profits are back to respectability and major structural change initiatives have been delivered, with interest."