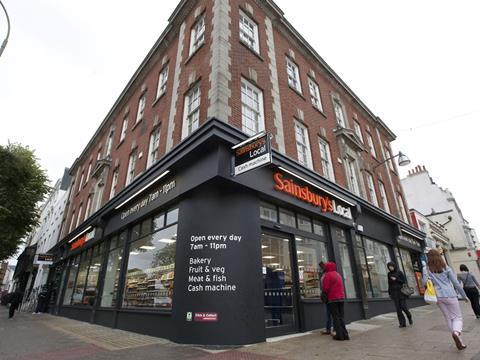 Sainsbury's continues to outperform the rest of the big four, according to the latest grocery market share figures from Kantar Worldpanel, as the sector as a whole was boosted by an early Easter.
Figures published today for the 12 weeks to 27 March show that supermarket sales were up 1.1% compared with the same period a year ago.
"An early Easter gave the market a sales boost of £152m compared to last year, adding 0.6% to the overall growth rate," said Kantar Worldpanel head of retail and consumer insight Fraser McKevitt.
"Britain's love of all things sweet was in evidence, with 63% of households buying at least one chocolate egg during March, spending an average of £12 over the month. Over half of the population bought hot cross buns, while 15% purchased a fresh leg of lamb for their Easter celebrations."
As far as the big four were concerned, Sainsbury's delivered a sales increase of 1.2% while its market share held at 16.4%. Tesco, the UK's biggest retailer, saw its sales fall just 0.2% in the period. This was the fourth month in a row Tesco's decline lessened. Partly hindered by recent store closures, Tesco's market share fell by 0.3 percentage points to 28.1%.
"A small increase in shopper numbers suggests Tesco could return to growth in the next few months; welcome news after 12 months in decline," explained McKevitt.
Morrisons' share fell to 10.5% as its sales fell 2.4%, though this represented an improvement on last month. Like Tesco, its performance was also hampered by store closures.

Asda had the biggest decline of any of the leading grocers, with sales down 3.9%. This resulted in a decline in market share from 17.1% to 16.2%.

Elsewhere, Lidl retained its place as the fastest-growing supermarket, increasing sales by 17.7% to capture 4.4% of the market, while Aldi grew sales by 14.4% to reach a new record-high market share of 6.0%.

The Co-operative Group saw sales increase by 3.9% - its fastest growth since the Somerfield acquisition in 2011 - increasing its market share by 0.1 percentage points to 6.1%. Kantar said consumers had been visiting The Co-operative's stores more frequently, especially for fresh food and own label products. It was also able to take advantage of the fact that most of its stores remained open on Easter Sunday, providing an additional opportunity to shop when many larger supermarkets were closed.

Waitrose retained its market share of 5.1% as sales increased 1.7%.

Kantar also revealed that like-for-like prices were 1.5% lower than this time last year.

"While saving money on the basics, consumers are not averse to treating themselves. Premium own label sales grew by 6.6% in the past 12 weeks, well ahead of the overall grocery market. Aldi and Lidl are leading the way, growing their premium lines more than twice as quickly as the rest of their ranges, but we've seen this across the retail spectrum - from Morrisons and The Co-operative to the likes of Waitrose, whose forthcoming launch of Waitrose 1 is the latest attempt by a traditional grocer to reclaim sales from the discounters," said McKevitt.