Tesco's first full year of UK like-for-like sales growth in seven years will undoubtedly be cause for celebration. But the latest results still pose significant questions over the future of Tesco's strategy.
To use Dave Lewis' terminology, what are the "big six" issues facing the retailer amid rampant discounters, the spectre of inflation and questions over the Booker deal?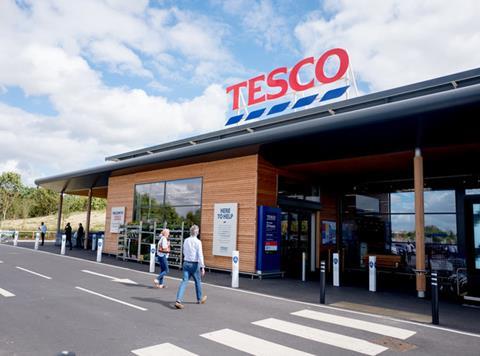 1. Does Tesco face a new fundamental shift towards the discounters, and how will it fight back?
No wonder Dave Lewis is desperate, in his own words, to "do anything" to keep inflation down despite pressure from suppliers. The Tesco boss is all too aware the discounters have been resurgent since Christmas.

Both Lidl and Aldi reached new record high market shares according to the latest Kantar figures, now accounting collectively for 11.7% of the grocery market. Sales growth of 15% made Lidl the fastest growing retailer, while Aldi grew sales by 14.3%.

Lewis goes as far as to say that the figures potentially represent a "fundamental shift" in the retail market, although he says Tesco is waiting until after Easter to make a final verdict.

What is certain is that Tesco will have to launch a post-Easter price offensive to try to regain competitiveness, as the gap between its prices and those of the discounters shows alarming signs of widening again.

The question is how much more fat can be trimmed. Lewis says Tesco's grocery prices have fallen 1.8% over the past year, despite inflation of 0.6% in the fourth quarter and prices, are still 6% cheaper than when he came in. But that has already gone down from 7% in October.

Shore Capital analyst Clive Black says the impact of inflation on Tesco and the big supermarkets is going to hand the advantage again to the discounters. "We do expect the discounters to get a second wind, but not the hurricane they got last time," he told The Guardian.
2. Could Tesco's moves to keep down inflation mean longer term deals and bigger volumes for key suppliers?
With Marmitegate still fresh in the memory, Tesco is in a hurry to secure long-term deals with suppliers to keep a lid on inflation. The Grocer revealed this week that the supermarket has in some cases brought forward talks on range reviews, scheduled under Project Reset, with the onus on securing price agreements that do not pass the full impact of inflation on to customers.

Tesco's chief product officer Jason Tarry says Tesco is in some cases offering companies longer-term deals on the shelf in return for keeping prices down.

Others may be pressed to agree to further product culls as Tesco concentrates on the volume of key lines.

Tarry says Tesco will also move further away from price promotions, having already slashed the depth of promotions by 15% and the proportion of products on promotion from 36% to 32% in the last financial year.

"Is there an opportunity to remix some of our promotions so they are maybe not so rich or so frequent and does that mean we can maintain our base price at a lower level?" says Tarry. "Another way is to say can we look at the range and see is there an opportunity to be able to have less range but not reduced choice because of substitutability,and therefore we can have fewer products going through but with bigger volumes."
3. Can Tesco succeed in Watford Mark II?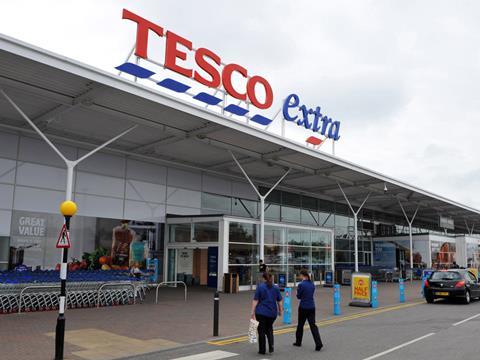 It was always going to be a jumbo task to prevent Tesco's large stores becoming white elephants. But it looks like they have a new man ready to take on the task in the shape of former Dutch retail boss Duncan Hoy. He is spearheading trials of a new store concept for its Extra stores, with hypermarkets in Swansea and soon-to-open Scunthorpe the first to receive major makeovers.

But has Tesco learnt from past failures on this front? It was only in August 2013 that ex-boss Philip Clarke was parading the TV cameras around his revamped Watford prototype store telling journalists they were looking at a glimpse of the future. Sadly for Tesco, the store - the first to feature a Giraffe restaurant, plus posh coffee shop concept Harris & Hoole and Euphorium Bakery - remained an exception rather than the rule as the accounting scandal put store makeovers on the back burner. Since then, all of the above "assets" have been jettisoned by Lewis as "non-core". Instead, the dramatic makeover being trialled by Hoy includes, like Watford, a drastic change in the way Tesco displays food.

Fresh food concession counters, low level shelves for frozen as well as fresh food, new lighting and signage, as well as upmarket propositions such as sushi bars all feature in this new-look model.

Hoy certainly has form in this area. He joined Tesco as managing director of large stores last summer, having been operations director of the Netherlands' second-biggest supermarket chain, Jumbo. Hoy is bringing elements of the sort of fresh food lineup he led with its Food Market proposition, which Jumbo billed as a low-priced version of Whole Foods Market, by offering bakers, butchers, sommeliers and cheese specialists in store.

"What we are seeing now being trialled is very much Hoy's influence from what he has done in Holland," says TCC Global analyst Bryan Roberts. "Tesco has rediscovered its love for concessions, although of course a lot of the previous names that were trialled in places like Watford have bitten the dust."

Tarry says Tesco wants to make stores more "experiential". "Our fresh food is more open and the counters are much closer to the pre-packed," he says.

Tesco is also trialling new displays for F&F, which former F&F chief Tarry describes as "stunning."

The big sheds are in need of change. The latest figures show the performance of its Extra estate had gone flat by the fourth quarter, despite showing signs of growth earlier in the financial year.

That said, can Tesco afford a massive store makeover given the economic backdrop? Having already refreshed 202 stores last year, how can it roll out the sort of changes been trialled in Swansea and Scunthorpe without sending its capex soaring through the roof?
4. Lewis wants Tesco to be more "choiceful", but what does that mean for suppliers?
Heineken and others victims of Project Reset might have another word for it, but Dave Lewis's neologism this week was making Tesco more "choiceful" in the products its stocks.

Lewis is frank about what that will mean - using its brand cull in the beer, wines & spirits aisle as an example.

Describing the previous incarnation as "big slabs of beer", Lewis cites this as an example of retailers committing commercial suicide by chasing volume at all costs. "There's no profit in it at all" he says. "It was the equivalent of blowing your brains out."

"We became more choiceful and that is our new concept. We need to be now thinking about which are the right categories to be putting discretionary effort into."

Tarry, who has already overseen a 24% reduction in Tesco's range under the Reset, says the concept is having a massive impact on the mix across food and GM. "It's not that we won't compete on beer, he says. "It's just that we believe the customer is moving into more specialist beers and that's why we've gone after things like craft beer.

"There's loads of this sort of thing going on. Look at what has happened front of store and look at the proportion of our meal deal that is sandwich versus salads and sushi, and away from the sort of brown and white sandwich to flatbreads and brioche.

"Take our GM businesses," he adds. "We decided to get rid of the Clubcard Boost. It was only working for a few customers but of course that has had an impact on the profit of our GM businesses.

"So we've started to look at what are the categories that we want to grow, which are declining, and to make sure that we follow the market."
5. Is Tesco back on the acquisition trail for property or planning a fire sale?
Tesco is buying back more stores, including seven announced on the day of the results. That takes it to 23 for the financial year alone with the latest batch, brought back from its JV with British Land, saving Tesco £14m a year in rent.

"Two years ago only 41% of our business was freehold fully owned by Tesco," says Lewis. "Through the actions we've taken that's back to 51%."

But there's more to Tesco property strategy than just saving on the rent bills. The retailer has also begun looking at selling space at its big stores, in a bid to both offload unnecessary space and generate revenue from property.

Tesco has sold the so-called "air rights" for its Hackney stores for £55m, a move Lewis claims is a win-win for Tesco and the community, and it will be followed by others.

"We'll get back a store and advantageous rent and they will build affordable housing above that store. That's the first of the air rights we've talked about," says Lewis.

Tesco is also locked in negotiations to sell off big chunks of its car parks to developers and other retailers. Lewis said there were 17 sites where Tesco was in "advanced talks about how we can use excess car parking space to actually sublet and use". These include plans to sell the space to McDonald's for a drive-thru site.
John Percy, head of retail development consultancy at Cushman and Wakefield, said the sell-offs to third parties made sense "especially where that development will be complimentary to the food store".
The Hackney store was a prime example of how selling air rights could also "add real value" in certain locations. "In some out-of-town locations where there is little other comparable development, the opportunity from both a town planning and commercial perspective is likely to be more limited, at least in the short term. What is clear is that the requirement to build new housing in the UK is only likely to increase, and pressure on brownfield sites will result in more demand for this type of opportunity in general."
6. Can Lewis boost the numbers behind the behind Booker deal?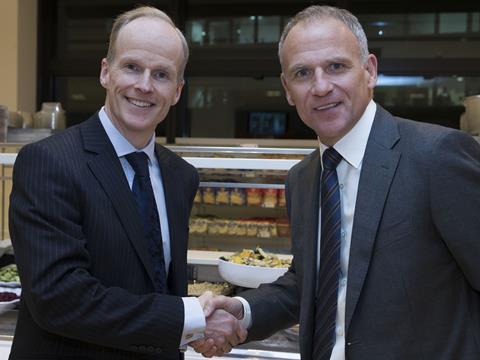 Dave Lewis was at pains to point out that the positive figures for Tesco's recovery were completely separate from its proposed merger with wholesale giant Booker. Yet it is impossible to separate the two issues when it comes to potential for future growth.

Lewis starkly highlights that Booker operates in an £85bn out-of-home market growing at 4% a year. In contrast, Tesco operates in a market he values at £110bn for in-home consumption, which is "flat".

However, Lewis crucially admits he has not yet been able to do enough to convince shareholders of the true growth potential posed by the takeover, even if it does make it past the probing of the CMA.

Tesco has come up with a figure of £25m guaranteed growth from the deal, although Lewis is "sure there is much more" and promises to update that figure before going to shareholders. Yet it is unclear how Tesco can guarantee greater growth.

Lewis claims the deal could still go ahead by the end of 2017 or early 2018 but that, some believe, is optimistic given the CMA involvement.

Shore Capital's Clive Black is one of the sceptics. "We remain to be wholly convinced but particularly worry that the CMA may become immersed in postcode analysis constipation and that the outcome could not only result in an extended timeframe for considering the proposed merger but also remedies, which damage the attractiveness of the deal."

John Ibbotson, managing director of Retail Vision, claims the success of the Booker deal could be "decisive" in tackling the big questions facing Tesco's future strategy. "It will help Tesco to keep costs and prices down for longer than its rivals, increase its margins, gain more exposure to the growing 'out-of-home' food market and grow all-important market share."


Watch Dave Lewis, Jason Tarry and Alessandra Bellini discuss Tesco's Full Year Results for 2016/17