Retail staff faced a huge rise in verbal and physical abuse at the start of the pandemic. New mask regulations could reignite the problem, or even make it worse
"ll give you coronavirus." Sadly, these words have become part of life for many retail staff since the onset of the Covid-19 pandemic. Threats to cough and spit at staff have now become a regular feature of workplace abuse, says the British Retail Consortium – with 150 such threats made every day at one national retailer.
The abuse doesn't stop at verbal threats, either. Unions and retailers have reported a worrying rise in violent incidents over the past few months.
"Such actions leave a lasting impact on all those affected, at a time when retail staff have gone above and beyond to help support the nation in getting the products they need during this difficult time," says Tom Ironside, director of business and regulation at the BRC.
In a newly fraught store environment, the triggers are multiple: sometimes it's down to enforcement of social distancing measures, sometimes a mundane request such as an age verification check. Now new rules on wearing face masks in England threaten to create yet another flashpoint for shopworkers already stretched to breaking point.
So what is being done to remedy the epidemic of crime against shopworkers?
Shopworker abuse in numbers
61% reported verbal abuse during the pandemic [Usdaw survey of 5,000 retail staff]
28% were threatened during the pandemic [Usdaw]
4% were physically assaulted during the pandemic [Usdaw]
150 Threats to spit or cough a day at one major retailer [BRC]
£2.2bn average cost of crime to retail industry [BRC]
40% of convenience stores have seen a rise in violence or verbal abuse during lockdown [ACS]
Retail crime was growing even before the pandemic reared its head. The issue was already costing the industry around £2.2bn a year, according to the BRC. Incidents against staff, in particular, were on the rise. In 2019, there were over 420 incidents of violence or abuse towards staff every day, found the BRC's annual crime survey – an increase of 9% on the year before.
The pandemic took abuse to the next level. Bev Clarkson, national officer for the food industry at Unite, first noticed a spike as in-store rules and restrictions came into place.
"Coughing on people was a big one, and saying 'I hope you catch Covid'"
"At the start of Covid, we were being told supermarket staff were being verbally abused for a number of reasons – because people weren't social distancing, because they had to queue, or because there was a limit on items they could buy," she says.
"Coughing on people was a big one," recalls Clarkson. "And saying 'I hope you catch Covid'. That sort of thing was happening."
Doug Russell, health and safety officer at Usdaw, tells a similar story. "In March, we saw a massive increase in verbal abuse and physical assaults," he reports.
In an Usdaw survey of 5,000 shopworker members conducted in March and April, 3,069 were on the end of verbal abuse. Meanwhile, 1,426 were threatened and 196 were physically assaulted.
Russell believes the levels of abuse have "died down" somewhat since the survey, as social distancing has become more normalised. Plus, some of the common triggers, such as shortages and restrictions on certain items, no longer apply.
Second wave of abuse
But with the requirement from 24 July to wear face masks in stores Russell worries that violence and abuse could creep back up again.
He recalls that "customers were often angry at being asked to wait in the queue or stand back" at the start of the pandemic. "The reason that is worrying is because it doesn't bode well for face coverings," he explains.
Being reminded to wear a face mask could provoke a similar reaction to the onset of social distancing measures, he says.
"There will be people who kick off at that point as well as fights between customers if one doesn't wear a mask, even if there is a legitimate reason. Although we do support the rule on face coverings, we anticipate it will get worse rather than better," Russell forecasts.
He's not the only one. A report by the Lords Secondary Legislation Scrutiny Committee, published this month, also voiced fears over the impact of face covering rules. "When we discussed this issue, the committee had real concerns that staff in shops asking customers to wear a face covering could find themselves in a potentially difficult position if customers challenge them in return on why they aren't wearing face coverings themselves," said Lord Hodgson, chair of the committee.
"Although we do support the rule on face coverings, we anticipate it will get worse rather than better"
That's why the BRC and the unions are strongly opposed to retail staff enforcing the rules. Rather than refusing entry to customers who aren't wearing a mask, retailers should be able to call the authorities if there is an incident, argues the BRC. "While retailers will play their part in communicating the new rules on face coverings, they must not be the ones enforcing these rules," said BRC CEO Helen Dickinson at the time.
Unite's Clarkson is equally clear that staff are not responsible for ensuring face coverings are worn. "What we've said to our members is that you are not the mask police," she stresses. "You just go about your daily jobs as you would. And if you see someone without a mask, it's not your responsibility to tell them you can't come in the store." If retailers do want to take a more stringent approach, Clarkson stresses it should be security staff – not retail workers – who are tasked with highlighting or enforcing the rules.
So far, retailers have largely avoided challenging customers on face coverings. However, the first week of the new rules suggests they have still triggered an alarming increase in incidents. At least in the case of the Co-op, which recorded 990 incidents of antisocial behaviour and verbal abuse from Monday 20 July to Sunday 26 July. That's the highest number seen in its history.
Convenience crunchpoint
While many other retailers reported a smoother transition, the sharp rise in incidents at the Co-op highlights another issue at play here. Because the convenience sector appears to have been hit particularly badly by shopworker abuse overall. The Co-op has seen store crime increase by more than 140% year on year since lockdown began, in what it branded an "epidemic" of crime. "We've had scores of instances of customer abuse, with colleagues also facing incidents of antisocial behaviour, verbal assaults and aggression," said a spokesman.
Central England Co-op has also been badly hit. Since the start of the year, the number of assaults at its stores has jumped by 100%, while threats and intimidation are up 25% and verbal abuse is up 175%.
There have been three ­particularly serious violent ­incidents: one Central England Co-op worker ended up unconscious in hospital after a violent attack in Leicester, one was brutally attacked with a knife during a robbery in Barnsley, and a customer destroyed a shop kiosk in Leicester after being refused an age-restricted sale.
The Association of Convenience Stores is aware of the issue. Its survey on the impact of Covid-19 found 40% of stores had seen a rise in violence and verbal abuse during lockdown. The NFRN has also seen growing reports of violence among independent retailers in certain areas of the country. "Some members are even too afraid to work alone now because of the violence and abuse they have been a victim of," says national president Stuart Reddish.
Still, it's important to recognise this isn't just a convenience problem. Tesco has reported a rise in violence and aggression towards staff. Unite has seen a growing number of incidents among the Sainsbury's workers it represents. In fact, of the retailers that responded to The Grocer's request for comment, only Waitrose said it hadn't seen any increase in incidents since lockdown.
Security measures
So retailers of all sizes and formats have taken measures to tackle the rise in abuse. The Co-op has arguably taken the most high-tech approach with its bodycams – a measure Waitrose will be trialling in 50 of its stores this month.
In other cases, it's simply about ramping up more basic measures. Tesco, Central England Co-op and Waitrose have increased the presence of security guards at their stores, for example, while many retailers have used signs to warn customers of the rules before they even enter the store. Central England Co-op also points out it has ramped up security in general over the past two years, fitting stores with external motion detectors and a centrally monitored CCTV system that allows colleagues to call for assistance at the touch of a button.
But the retail industry is keen to stress that it can only do so much alone. For years, the BRC and retailers such as the Co-op have lobbied the government to tackle the issue of shopworker abuse.
"We are disappointed the government has not supported retailers' calls"
As a result of that lobbying, the Home Office outlined plans to tackle the issue in a 22-page document. Its proposals included working with the National Retail Crime Steering Group on a best practice guide to support staff in reporting crimes, strengthening and making full use of existing laws, and improving data sharing between businesses and the police. In addition, crime and policing minister Kit Malthouse will write to Police and Crime Commissioners and chief constables underscoring the importance of working closely with local businesses to reduce this type of crime – and emphasising that the theft of goods valued up to £200 from a shop should be prosecuted as a criminal offence.
While the BRC has welcomed the sentiment of the plans, it believes they don't go far enough. "We are disappointed the government has not supported retailers' call for the introduction of a specific offence of violence towards shopworkers," says Ironside. Co-op also says it will continue to press for the introduction of "a new offence that dishes out stiffer sentences to those guilty of harming shopworkers".
The unions feel the same way. Unite's Clarkson says "a lot more needs to be done" to protect retail workers – a feeling shared by Usdaw's Russell. "We've been clear all the way through that what we really need is a simple change to the law to make clear it's not right to abuse shop­workers," he says.
The government argues that existing laws on assault and theft should be enough, and that retailer communication and police interpretation are the more meaningful catalysts for change.
One thing is clear: threats to cough and spit at staff must not become the 'new normal'.
Five ways retailers are supporting their staff
Bodycams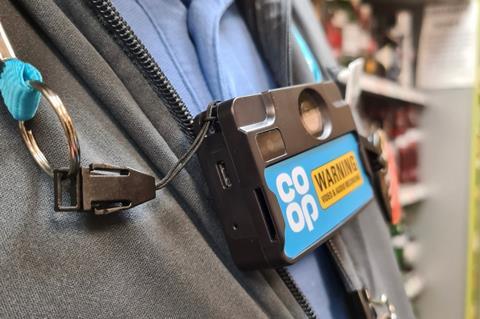 In July, Co-op supplied body-worn cameras to frontline staff at 250 of its stores.
The cameras capture real-time audio and visual feeds, which are remotely monitored by Co-op's security partner Mitie. Staff at the stores have been told to turn the cameras on if they believe an incident is about to happen, and to let the perpetrators know they are being filmed.
Co-op says it has received positive feedback on the cameras from staff, who say they feel safer in the store environment. Waitrose is also set to trial body-worn cameras this month.
Security guards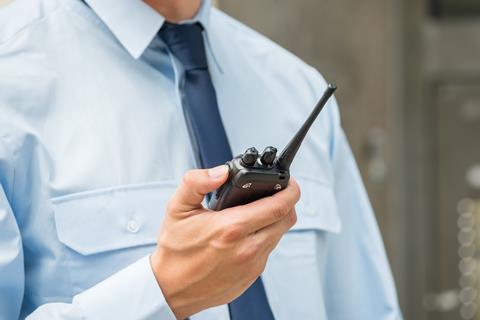 Here's a less tech-heavy, but equally effective, solution to improving security in stores.
A number of the major retailers employed extra security guards when the pandemic first hit, to help manage queues and reduce the risk of abuse.
Tesco says it has provided extra security to stores where necessary, while Waitrose put in place a security guard at each of its stores.
Meanwhile, Central England Co-op employed 150 extra security guards in stores and its distribution network, equating to "almost 2,000 extra hours of support".
Signage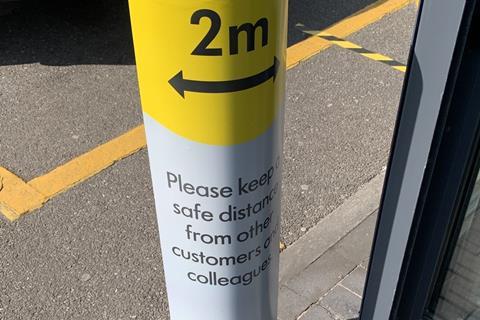 Sometimes simple solutions can have a big impact. As soon as the pandemic hit, all of the supermarkets put signs outside stores warning of the changes inside.
Most followed a similar format to the ones used by Aldi, which warned of queues and social distancing in-store, while advising customers to shop individually wherever possible.
The aim was to prepare customers and limit any points of friction. That made sense, considering being asked to socially distance was identified as a major trigger for abuse by the unions.
Counselling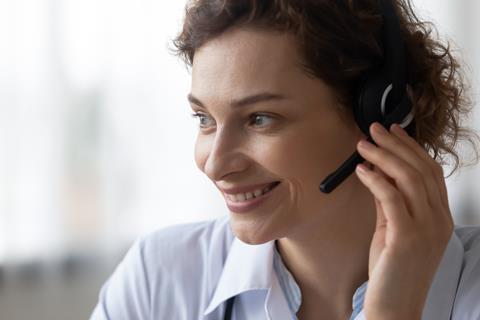 Ideally, the retailers want to stop abuse before it happens. But when incidents do occur, the mults have employee assistance programmes in place to offer counselling and support.
Tesco says it has an employee assistance programme, trauma training and an occupational health team to support its workers.
Waitrrose also has a Partner Support team that provides "confidential emotional and practical support", while the Central England Co-op offers "support and counselling both from within our business and specialists".
Lobbying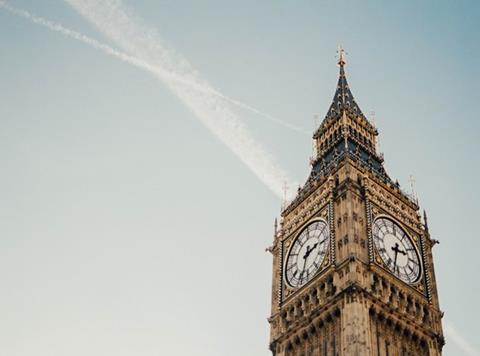 Retailers have been actively lobbying government on the issue of crime against shopworkers.
They want greater protection for retail staff in the form of a law that would deal out stiffer sentences for perpetrators of abuse.
The latest response from the Home Office has shied away from making that law. However, the British Retail Consortium is representing all retailers in calling for tougher measures.
The Co-op, which has taken a particular lead on the issue, has vowed to continue pressing for a change to the law.