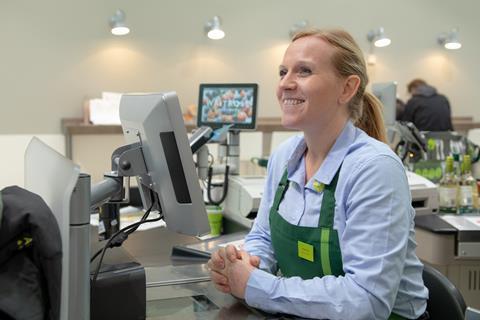 Waitrose is setting aside essential food and "hard to find" supplies from every delivery to its stores exclusively for NHS workers, to ease pressures on those on the front line of the coronavirus pandemic.
NHS staff will also receive priority checkout treatment in all Waitrose supermarkets, either through a dedicated till, being moved to the front of the queue, or staff opening new tills as needed.
Staff in stores from today will reserve core grocery items for healthcare professionals on production of an NHS card.
Empty shelves in supermarkets caused by a surge in shopper demand have made it hard for health professionals to stock up on groceries before and after shifts.
Sainsbury's this weekend also introduced separate priority shopping times for NHS staff, with 30 minutes set aside before stores open, from 7.30am to 8am. Morrisons has set an hour aside each morning, while Asda has reserved 8am-9am on Mondays, Wednesdays and Fridays in larger stores for health service workers. Tesco announced a priority "browsing hour" for NHS workers every Sunday before checkouts opened in all stores apart from the Express format. Frozen food retailer Iceland will reserve the final hour of trading from Monday to Saturday for NHS workers, with 7am-8am also set aside at its Food Warehouse stores.
"Through these steps we want to recognise the tireless work of NHS staff, supporting us all through these unprecedented circumstances," said Bérangère Michel, executive director for customer service at the John Lewis Partnership. "We hope these measures make their life a little easier; our partners are keen to do something to help, and we are offering this with sincere thanks from us all."
John Lewis is also donating items such as pillows, phone chargers, eye masks and hand cream, as well as 50,000 Easter treats, to hospitals for its workers to make breaks more comfortable.
These new measures follow steps outlined by the John Lewis Partnership earlier this week to support customers, including the launch of a £1m community support fund and a protected shopping hour for the elderly and vulnerable.
Many Waitrose shops had already been using their community funds to assemble care packages of essential items for vulnerable or elderly people in their local communities, the business added.
Waitrose partner business John Lewis will temporarily close all its 50 departments stores today in response to the Covid-19 outbreak. Affected staff will be redeployed elsewhere in the business, with many helping in Waitrose stores.