Supermarkets have made the headlines with hefty food donations. So how are suppliers using their reach and skills to help the world?
The world is facing its greatest trial in decades." So said Unilever CEO Alan Jope, as he announced a gargantuan €600m (£521.9m) coronavirus support package at the end of March. The aim was two-fold: to save lives by donating cleaning products across the globe, and to save livelihoods by giving its suppliers €500m worth of cashflow relief.

It's just one example of how the food and drink industry is responding to the global pandemic. Fellow giant P&G has announced mass product and cash donations (albeit at a lower level) including $10m (£7.8m) of household products and financial support to the needy, alongside a cash donation to the International Federation of Red Cross and Red Crescent Societies.

Few industries are quite as well-placed to help in these challenging times as grocery, which has taken on an even greater significance in people's lives. Until now, publicity has centred on the supermarket efforts. And with good reason. Supermarkets have been the public face of the food and drink industry during the crisis. Overnight, the major mults have had to deal with everything from stockpiling to social distancing in stores. They are also working to keep food donations going through redistribution charities.

But there is equally impressive work going on among suppliers. So what have they been up to? And how does their approach differ from grocery retailers?

As with supermarkets many are making food donations. As we've reported, a number of leading suppliers signed up to an emergency appeal to feed tens of thousands of vulnerable people.

But smaller companies are queuing up to help the relief effort, too. Peanut butter brand Pip & Nut is concentrating on feeding the hungry by matching customer donations to food banks. It has already matched 603 donations, which brings the total number of products to 1,206. And Original Biscuit Bakers is donating products to NHS workers, the homeless and those in food poverty via food redistributors.

"The biggest difference between the supermarkets and the efforts of suppliers is one of scale," says Rob Metcalfe, chairman of PR agency Richmond & Towers. "The support they're giving is often locally based. Some are contributing to FareShare, but initiatives tend to be in the locality near to the factories. And they're doing quite a lot. The collective effort is at least as good as the multiples but more fragmented."

While most supermarkets have eschewed fundraising, more brands have gone down this route, including Jimmy's virtual 'club quiz' to raise money for the NHS. Having quickly surpassed its £1,000 target, it now has plans for more quizzes in the pipeline.

As with supermarkets, some supplier initiatives aim to support customers and the trade, as well as industry charities such as Hospitality Action. Also staff: Burton's, for example, has given one-off bonuses to workers in its factories.

A number of brands are donating "percentages of profits to various charities", notes Ailana Kamelmacher, founder of Story PR. And there's another way in which brands are offering relief, she adds. "Brands are better able to speak to consumers in terms of social isolation. That's not just from a mental health perspective but with relief from boredom, with content and campaigns that recognise the mood. Brands can't all save the world; but brands can also offer distraction and amusement and that's just as valuable."
Leon's delivery service helps vulnerable, NHS, caterers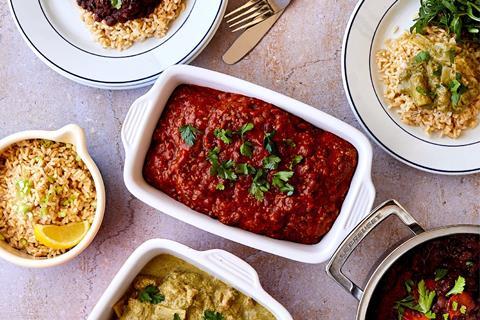 Getting food to those who need it most is the aim of this initiative by Leon. The healthy fast food chain has launched a new online delivery service - Feed Britain - for Londoners who are struggling to get to the supermarket.
OK, so it's not free of charge. Prices start at £28 for a box of 15 varieties of fruit & veg, and go up to £36 for a family box of "slow-cooked, chef-quality ready meals" for four.
But for the duration of the Covid-19 crisis, 100% of the profits will be donated to FeedNHS - an initiative launched by Matt Lucas, Damian Lewis, Helen McCrory and Leon to ensure NHS critical care workers get healthy meals. The initiative will only operate on a commercial basis once the pandemic is over.
It's also worth noting that Leon has partnered with external providers. Premier Fruits is providing the fruit & veg and everyday essentials, while Mustard Foods is offering the prepared meals. Because helping the catering industry is another aim of the scheme.
Leon founder and CEO John Vincent points out that many suppliers have lost their out-of-home customers. "By working closely with British food producers, farmers and wholesalers who no longer have restaurants to sell to, we are able to help them avoid the threat of closure."
Leon isn't the only one concentrating on feeding the nation. Cook has established a 'kindness fund' - which involves giving away 100,000 meals in the coming weeks.
"We know that what Cook can contribute is tiny in terms of the need," the retailer wrote in an email to customers. "But we also know we're in a time when small kindnesses are more important than ever."
Nestlé and Procter & Gamble provide donations to medical charities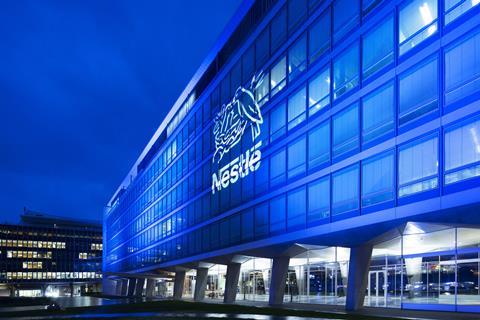 Medical charities are making huge efforts to fight the pandemic. That's why the International Federation of Red Cross and Red Crescent Societies (IFRC) have launched an emergency appeal for CHF 150m (£124m) to provide healthcare support, including protective equipment and help with monitoring.
Two major contributors to the cause are Nestlé and P&G, who have both made the IFRC a key part of their relief efforts.
In the case of Nestlé, it has pledged CHF 10 million (£8.3m) for immediate deployment in countries where it is most needed, and will also match any IFRC donations made by its employees. At the same time, the giant is donating food, medical nutrition products and bottled water to those most affected by the virus.
"The pandemic is a global problem and consequently we are offering help on the ground everywhere, drawing on our extensive presence and experience in 187 countries," says CEO Ulf Mark Schneider.
P&G has also put $1m (£800k) towards the IFRC's appeal, while donating $10m (£7.8m) worth of personal health and hygiene, household products, sanitisers and financial support. "We've mobilised the full capabilities of P&G and our partners to help out in this time of need, and we will be there for our employees, consumers and communities - however long it takes," says Loic Tassel, European president of P&G.
Andrex's campaigns for kindness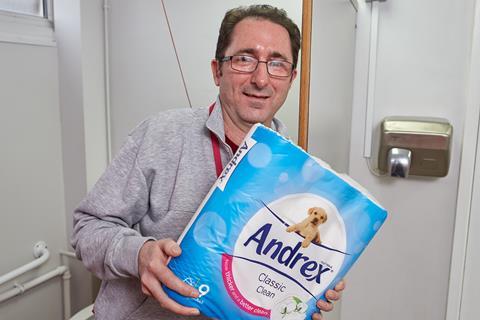 Toilet roll has made the headlines for all the wrong reasons of late. So Andrex is hoping to turn stockpiling into more positive associations with its #ShareASquare social media campaign.
That doesn't literally mean sharing a piece of toilet roll. The aim is to celebrate and support acts of generosity, such as safely sharing products when you have more than enough, or even calling an elderly neighbour for a daily chat. Andrex has pledged to donate £1 to 'product giving' charity In Kind Direct for each use of the hashtag (up to £100k).
Ori Ben Shai, UK & Ireland MD of Andrex brand owner Kimberly-Clark, says it is "important to hero the acts of kindness that are already taking place".
On a practical note, Andrex has also donated a million toilet rolls to charities such as such as Age UK, Women's Aid, food banks and community centres.
BrewDog's salary sacrifices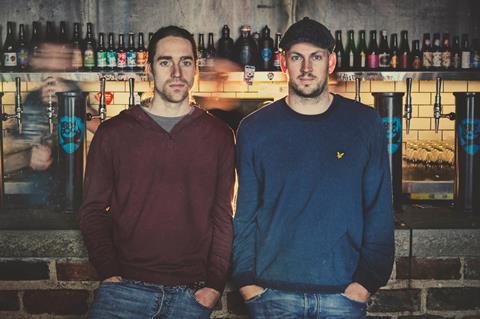 Talk about putting your money where your mouth is. BrewDog bosses James Watt and Martin Dickie have sacrificed their own 2020 salaries to avoid making staff cuts in the business.
Watt revealed the move on Twitter at the end of March, when he disclosed many of its senior team had also accepted significant hits to their salaries, including COO David McDowall, who has taken a 50% cut.
"This is a very tough time for all businesses and we have two priorities. Firstly to survive and secondly to protect as many jobs as we can," Watt told The Grocer at the time.
The punk brewer is even making use of staff in its pubs, which have been forced to close down across the UK. These employees have been drafted in to help pack the free hand sanitiser the brand is making for the NHS.
Hand sanitisers from distilleries and breweries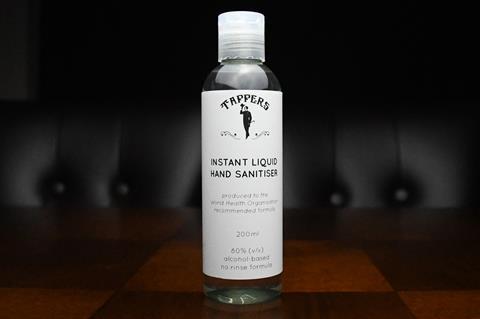 Demand for alcohol-based hand sanitisers has never been higher. So brewers and distillers are pitching in with their own efforts to ease the global shortage.
In the UK, the charge was led by independents. Names including The British Honey Co, Leith Gin, Tappers and BrewDog have all created their own sanitisers, many of which are going to a good cause. Tappers, for example, is donating sanitisers to frontline workers, while BrewDog is giving all of its product to the NHS and charities.
Giants such as Budweiser Brewing Group, Pernod Ricard and Diageo have also joined the race, donating sanitisers to frontline workers including NHS and police staff.
Unilever's £600m plan helps suppliers, vulnerable and lonely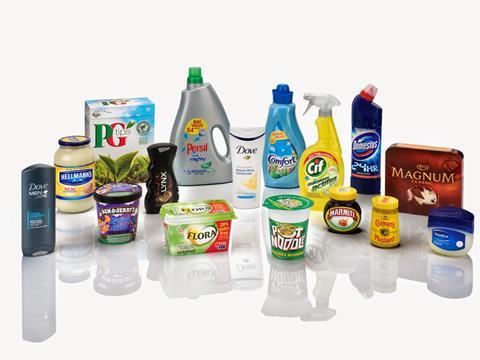 Keeping businesses going during this tough time is at the forefront of Unilever's efforts. The fmcg giant is offering €500m (£462m) in relief to both suppliers and retail customers in the form of early payment and credit extensions. CEO Alan Jope believes Unilever's strong cashflow and balance sheet means it could "and should" give additional support to customers, suppliers and workers during the crisis.
Unilever is also donating €100m (£79.6m) in hygiene products to help fight the pandemic, at least €50m (£39.8m) of which will go to the Covid Action Platform of the World Economic Forum.
That's the global picture. In the UK, Unilever will donate £3.5m worth of food and essential products to support vulnerable people. It has also delivered an initial 3,000 care packages for staff at the Nightingale Hospital in East London, containing products such as Simple face wipes, Alberto Balsam shampoo and conditioner and Vaseline hand lotions and lip balms.
Plus, it has stocked the hospital cupboards with PG Tips tea, healthy Graze snack pots and food pots including Pot Noodle and Prep Co. (Britvic has taken a similar approach by installing 20 chillers at the hospital, which have so far supplied more than 38,000 soft drinks.)
Unilever is also putting together some smaller initiatives at brand level.
Dove, for example, is redirecting some of its planned media investment towards reinforcing the WHO guidance on the importance of handwashing properly and frequently.
And, as part of its purpose to reduce loneliness in the UK, PG Tips has partnered with Re-engage, a charity combatting social isolation. The brand is funding the training of 2,000 volunteers who will phone the elderly and the isolated during the pandemic.
Jimmy's virtual pub quiz fundraiser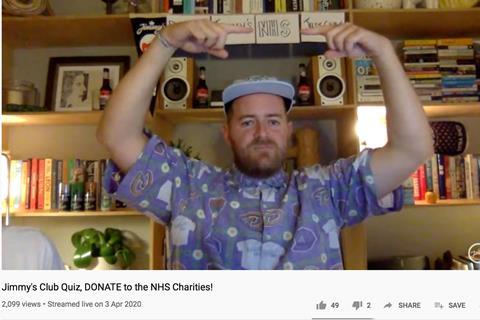 Who says fundraising can't be fun at this time? Iced coffee brand Jimmy's is aiming to both entertain and raise money for the NHS with its virtual 'club quiz' idea.
The first quiz aired on the brand's YouTube channel on 3 April, and was hosted by co-founder Jim Cregan with support from his wife Sophie.
The aim was to raise a total of £1,000. However, the brand surpassed this target to raise £5,000 for NHS Charities Together.
Cregan says he wasn't expecting the quiz to do as well as it did. People tuned in from all over the UK, and even a few from Romania.
"It felt like a really nice break away from it all and I'm so glad myself and Soph could host. We've never done a live YouTube thing before - it's quite a weird set-up but easy to get used to. I'm happy to say there will be more."