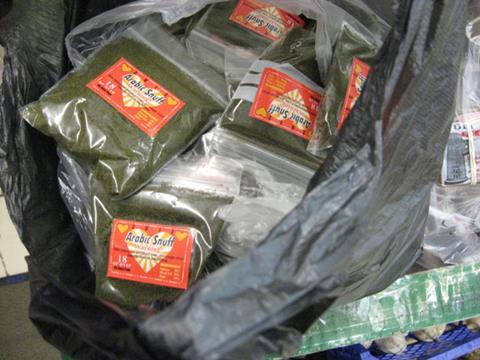 HMRC has seized illicit tobacco and alcohol worth £2,000 in unpaid duty in South London.
Ten officers from HMRC and Lambeth Trading Standards took part in the series of raids last Thursday seizing 50 bottles of spirits, half a kilo of snuff and chewing tobacco and 12kgs of shisha tobacco. The illicit goods were taken from independent stores and cafes in Lambeth, Clapham Common and Streatham.
"This illegal trade has a devastating impact on legitimate retailers, who have to compete with black market traders," said HMRC assistant director, criminal investigation, Peter Millroy.
"It's robbing the UK economy of vital funding and those selling these goods do not promote they are buying them from criminals – the profits of which are funding organised crime to the detriment of all our communities."
The raid was part of an ongoing crackdown on crime by HMRC and Bexley, Bromley, Greenwich, Lambeth, Lewisham and Southwark councils. Unpaid duty on alcohol and tobacco costs the UK around £4bn a year, according to HMRC estimates.