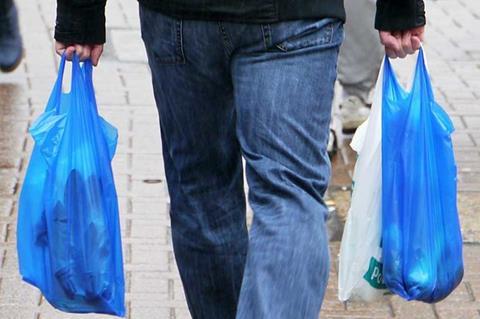 A group of the UK's biggest suppliers and retailers have launched a major effort to tackle a lack of soft plastic recycling facilities in the UK.
A £1m fund has been set up, backed by companies including Mars UK, Mondelez International, Nestlé, PepsiCo and Unilever.
It will seek to drive investment in soft plastic recycling facilities, in stores and kerbside locations, by creating a sustainable market for soft plastic recycling, including plastic bags, salad bags, crisp packets, biscuit wrappers, bread bags and frozen food bags
The Flexible Plastic Fund, managed by Ecosurety with the support of environmental charity Hubbub, will guarantee companies that sign up a minimum value of £100 per tonne of recycled product. The aim is to create a UK-wide recycling network, with government plans to enforce the collection of such material not due to come into force until 2026.
Supermarkets Sainsbury's and Waitrose have also signed up to the scheme. They will host flexible plastic collection points, in the hope that recyclers, retailers and suppliers will come forward to build a comprehensive system ahead of plans to make companies responsible for the cost of packaging recovery, under Extended Producer Responsibility (EPR).
The companies said they hoped to tackle the postcode lottery of local recycling for such items. Latest figures from Recoup show just 16% of UK local authorities currently offer household collection of flexible plastics.
The scheme covers plastic bags, wrappers, films, pouches, packets and sachets. It comes weeks after new guidance from Wrap was launched in a bid to set up more consistent collections for more types of flexible plastic packaging.
Wrap has targeted that by the end of the year a much larger proportion of the population will be able to take all types of plastic bags and wrapping into their local supermarkets to be collected for sorting and recycling.
This would include items like salad bags, crisp packets, biscuit wrappers, bread bags and frozen food bags.
The Grocer understands talks have been held between The Flexible Plastic Fund and other supermarkets in the hope of creating a single system. So far, supermarket efforts in the area have been patchwork. In March, Tesco announced 171 stores were collecting all types of plastic bags and wrapping across the south west of England and Wales, with plans to roll this out to all stores nationwide. Sainsbury's has been trialling collection in the north east, with full rollout expected by the end of this year. Other supermarkets are also conducting trials, including 51 Co-op stores across the south east.
"Historically the UK recycling system has not provided enough motivation to recycle flexible plastics," said Robbie Staniforth, head of innovation and policy at Ecosurety.
"By creating a sustainable market for this material, longer-term improvements can be made to ensure the flexible plastic that remains necessary for packaging is reliably recycled and eventually contributes to a circular economy, thereby tackling plastic pollution.
"We hope that by boosting this infrastructure, government and local authorities will be motivated to quickly facilitate flexible plastic recycling in the UK by making it easy for consumers to recycle via household collections in the future."
Hubbub CEO and co-founder Trewin Restorick added: "The Flexible Plastic Fund is a really important initiative to show that flexible plastics can be recycled and be financially sustainable.
"People are ready and willing to recycle their flexible plastics – we just have to make the infrastructure work. Collaboration is key to making this a success and we are urging more manufacturers to invest in the fund, more retailers to collect flexible plastic for recycling and more recyclers to recycle flexible plastics."The Flexible Plastic Fund, managed by compliance scheme Ecosurety with support from environmental charity Hubbub