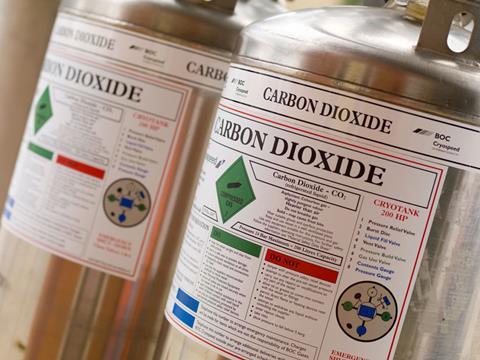 Nobody saw it coming, which is surprising given how CO2 is an integral component of food production across multiple sectors. It's an input used on a massive scale that had never before shown signs of supply limitations, and therefore wasn't contemplated as the route by which British food production could grind to a halt.
I'm writing this as we're, hopefully, moving towards a conclusion of this crisis. We still await confirmation of when CO2 production will be fully up and running and normal levels of supplies will resume. With poultry being half the meat the UK eats, if sites do run out of CO2 the impact of not being able to slaughter and process birds will quickly lead to supply problems and the need to hold birds on farm, with the welfare implications that presents.
A great deal of praise is due for the professional and unified manner in which the meat sectors and government departments have worked over the last weeks, but it begs two questions: why didn't we see it coming, and are we prepared for the future? The first perhaps needs some time for reflection and analysis, and the second should surely be a wake-up call for British food security.
We all think British food is the best, with great standards and values we can trust. However, we also have to be realistic – to feed over 60 million people three square meals a day the scale of production has to be enormous, and that means supply chains that extend beyond our own borders.
The majority of CO2 is produced in a handful of plants across Europe, and the same can be said of much of the machinery we use on farms and in factories. We rely on cross-border movement to supply some of the fundamentals that we then combine to produce British food, whether that's technology, ingredients or workforce. If British food is to be the future of feeding our nation, then we need to be an outward facing and inclusive country, not one with hard borders and barriers.
A shortage of CO2 is just an illustration, indicative of the integrated nature of food supply. One thing going wrong has the potential to jeopardise the choice and amount of food that reaches our supermarket shelves. It also, so far, demonstrates the resilience and robustness inherent in both our production chains and our people. If some similar shortage happens in the future when the movement of goods, services, and people is limited then our current 'getting by' could very easily turn into 'catastrophic failure'.
To achieve any sort of scale there is no such thing as a self-contained supply chain. Any contingency plans must allow for easy and quick movement, and indeed our everyday logistics for the just-in-time supply of perishable goods is predicated on it. To compromise that is unthinkable. One of the first questions asked when CO2 began to run low was 'can we bring more in from mainland Europe?' The question assumed there would be no barriers to doing so, apart from availability. No blockages, no checks, no tariffs, just the movement of goods when urgently needed.
This situation also shows the scope of sectors that are part of food supply. Farmers have always been proud to be food producers, but what about gas suppliers, machinery manufacturers, government regulators, and the plethora of skills and services that we rely on? Do they see themselves as integral to feeding people? If not, they should, and they should be proud of it.
I've seen that pride time and again when the poultry meat sector meets a challenge head-on, and I've seen it in all the people who have stepped up to deal with a lack of CO2. Yes, we have international supply chains, but what makes food British is not isolationism, it's the values and pride we put into producing it.
Richard Griffiths is chief executive of the British Poultry Council