It was supposed to be a wakeup call.

In August 2014, an explosive document appeared on the website of US juice supplier ITI Tropicals. The company had hired an independent laboratory - Krueger Food Laboratories in Massachusetts - to run tests on 20 coconut waters on sale in the US. Krueger's brief was to look for undeclared added sugars and preservatives - and it found plenty.

The results (anonymised for legal reasons) suggested many of the products sold to American consumers were not what they purported to be. Twelve out of 20 contained added sugar not declared on the label; two had undeclared preservatives.

These results weren't ever going to be popular. The coconut boom was already in full swing, and consumers were paying top dollar for a drink meant to be purer, more natural and 'better for you' than traditional soft drinks. A scandal about undeclared 'nasties' was the last thing the sector needed. ITI's president, Gert van Manen, braced himself for impact.
What followed was deafening silence. "After we ran our tests we tried to get the attention of the retailers and the regulators, but they weren't interested," van Manen says today. "The regulators have bigger fish to fry because it's not a safety issue, but the consumer is being cheated."
A few small trade publications subsequently reported on the results, but there was no major media coverage, no public outcry. Attention soon waned.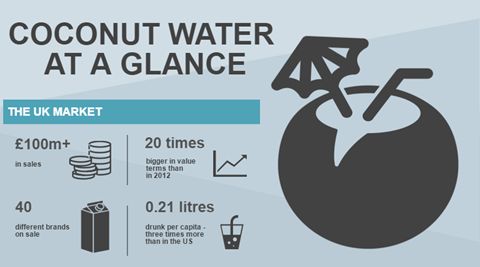 But two years on, the mumblings about the coconut water sector just won't go away. And not just in the US, either. A 2015 study by researchers at São Paulo State University found 11 out of 17 coconut waters on sale in Brazil had been adulterated with added sugar; in May 2016, investigators in Trinidad & Tobago pulled fake coconut water, made from a concoction of chemicals and additives, off the market; and late last year here in the UK, the Food Standards Agency forced a recall of a coconut water drink from Thailand because it was contaminated with undeclared milk protein.
Speak to coconut water suppliers themselves, and you'll hear plenty of "rumours" and "anecdotes" about dodgy practices and less-than-honest labelling happening in some parts of the market. There are stories of brands that pop up one day and are gone the next; stunningly sweet and intense-tasting coconut waters with squeaky clean ingredients lists; oblique references to the "alternative ways" some suppliers may have found to keep pace with booming demand.
The question is: how much substance is there to this talk, especially for coconut water on sale here in the UK? And what should - and can - be done to clamp down on bad practices?
Not a priority
Coconut water is controversial in other ways too. There has been litigation on health claims in the US, while the wider coconut sector has come under scrutiny over sustainability, fair labour practices as well as the use of macaques to harvest coconuts in some countries.

But this is different - this goes right to the heart of the integrity of the product itself.

Of course, without comparable test results, it's impossible to say with certainty how big a problem adulteration might be in the UK. For "operational security reasons" the FSA won't discuss if the National Food Crime Unit is looking at coconut water, although it says the sector "is not a current sampling priority" for authenticity testing in general.

Many brands, however, run their own tests. And while they say they rarely find something wrong with products sold in the UK - and certainly less today than in the early days of the coconut water boom - their feedback nevertheless suggests there may be good reason why regulators should start paying more attention.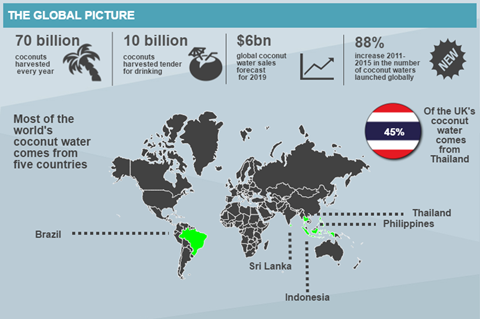 Is there enough coconut water to meet demand?
Concerns about raw material supply have fuelled rumours about the coconut water sector, but the world isn't about to run out of coconuts or coconut water.
"We are aware of reports that demand for coconut water is increasing potentially beyond current available sources, implying obvious scope for food fraud in the supply chain," says a spokesman for Holland & Barrett. "However, our own suppliers estimate that, based on their extensive sourcing and production experience, the industry is using only 5% of the world's available supply of coconut water."
Vinay Chand, a development consultant, agrees "there is no shortage". He estimates about 10 billion coconuts are harvested for drinking, of which just 10% go into the packaged coconut water market. On top of that, there's water from mature nuts.
But there's no doubt the coco craze has put a strain on the system.
"We don't have an issue from our perspective, but we can see demand outstripping supply in some areas," says Giles Brook, EMEA CEO at Vita Coco. "Brands have withdrawn from a couple of markets because they didn't have the supply."
Brands that use specific cultivars - such as the premium Nam Hom coconut from Thailand - can be especially vulnerable.
"Yes, it is tight," says Jonathan Newman, founder and CEO of Chi Ventures, which uses Nam Hom. But robust forecasting can help. "You have to plan a little better and perhaps pre-buy," he says. "It also comes down to how much you are prepared to pay: we pay three times as much for our raw organic coconuts as the people who buy for pasteurised products."
Pricing data for the sector is hard to come by, but many suppliers agree strategies to deal with pricing volatility in the face of soaring demand are increasingly vital - especially as UK retail prices are down 15% since 2014 to £2.83/litre [IRI], so margins are under growing pressure.
"Added sugar is a big problem for the sector," says Jacob Thundil, founder of the Cocofina brand, who has been selling coconut water since 2005. "The biggest problem is with cheap, imported brands. Brands that don't have a long-term presence in this market. If there's a problem, they'll just change the name to something else tomorrow. The risk for them is very low."

Jonathan Newman, founder and CEO of Chi Ventures, which supplies the Chi brand as well as some own-label coconut water, also worries about opportunism. "Lots of people have jumped on the coconut water bandwagon," he says. "The result is coconut water from concentrate or mixed with fruit sugar or something that is 50% coconut water with added sugar and water."
Such products aren't a problem in and of themselves (though they may not be to the liking of premium suppliers like Chi), provided they are labelled correctly. But in a category where 'no added sugar' is the second most popular on-pack claim after 'not from concentrate', it's easy to see incentives to stretch the truth. "There are lots of players who are just about turning a quick buck," says Tamara Arbib, founder of Rebel Kitchen. "I am in no doubt some people are doing things they don't declare."
However, it's important to retain a sense of perspective, suppliers say, when looking at test results like those published by ITI Tropicals. There are different brands on sale here; plus, the UK coconut water sector is more heavily geared towards chilled - as opposed to ambient canned - products than many other parts of the world. That's key as some experts believe canned supply chains may be more vulnerable to problems.

At Vita Coco, the UK's biggest player with a near 50% value share of the market [IRI 52 w/e 21 May 2016], EMEA chief executive Giles Brook says such "a huge, fast-growing market is going to get shot at, but the vast majority of players today are doing the right thing. There's a very, very small minority that's trying to jump on the bandwagon, but those typically fall by the wayside quickly."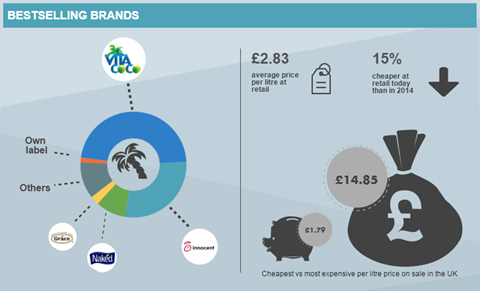 Thundil at Cocofina agrees. "It's actually got better in recent years," he says of undeclared added sugar. "It used to be more common before but now most people are at least declaring it, though not everyone."
However, the UK can't afford to be complacent. "Coconut water is an obvious product to set red flags flying," says Lisa Jack, a food crime expert and professor in accounting at the University of Portsmouth. "It's a product you'd want to keep an eye on."
And Michael Walker, a scientist at LGC, says: "You will have a broad spectrum of people involved, from legitimate commercial companies selling a high-quality product to those with lower quality. And by analogy with the horsemeat episode, it's possible to foresee fraudsters who will sell ordinary water with added sugars and additives."
Red flags
There are several factors that make such experts nervous: the long international supply chains, reaching deep into the Tropics; the huge premium coconut water can command at retail (UK prices can be as high as £14.85/litre, our research shows); the fact most Western consumers (and many retail buyers) know little about the product and what to expect in terms of quality.

And, most importantly, the insane growth rates.

At more than £100m, the UK coconut water market is now 20 times the size it was back in 2012. British consumers can choose from a staggering 40 different brands on sale. (Click here for our detailed infographic on the market, including data sources.)

Globally, growth has been similarly explosive. Euromonitor predicts the category will be worth $6bn by 2019, up from $1.9bn in 2014. The Philippines, one of the world's biggest producers of coconut water, exported 71.7 million litres last year. Five years ago, exports stood at just 1.8 million litres [United Coconut Association of the Philippines].

As the sector has boomed, official standards and quality controls have struggled to keep pace. Authenticity testing is being hampered by the lack of a reference composition for coconut water; there is confusion over labelling standards; plus, there is a dearth of reliable data - be it on production, consumption or prices - for the sector.

None of this stops legitimate players from conducting their business the right way, of course. But for less scrupulous operators there is potentially a lot of grey area to exploit.
Supply chains under strain as coconut water demand soars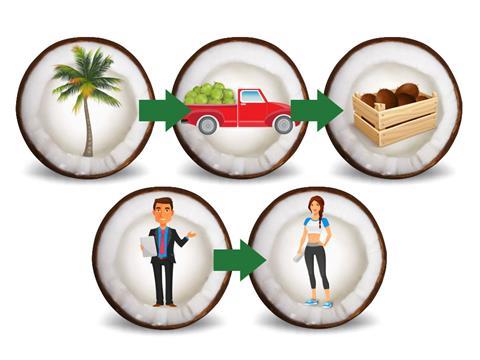 Most experts agree there isn't a shortage of raw material for coconut water at the moment. But processing capacity is becoming a growing focus.
"We have reached near total utilisation of installed plant capacity for processing," warns Vinay Chand, a development consultant. "There has to be new processing capacity."
Samit Chowdhury, a coconut water expert at Tetra Pak, agrees "there will have to be investment in processing capacity" but stresses this is already happening. "Tetra Pak right now has at least 15 processing and packaging facilities in South and South East Asia focused on coconut water. There isn't a problem with capacity."
Some brand owners are choosing to take a direct stake in ensuring they have the processing capacity and supply they need, with vertical integration and co-investment becoming increasingly popular strategies. PepsiCo, which owns the Naked coconut water brand, acquired Brazil's largest coconut water processor, Amococo, in 2009. Vita Coco, which sources its water from 11 sites in seven different countries, has co-invested directly with farmers and producers. "This has been a major competitive advantage," says EMEA CEO Giles Brook.
The coconut sector involves numerous smallholders, and so dealing with highly fragmented supply chains can be a challenge in some countries.
As the market continues to grow, it will be important to improve supply chain structures, says Chowdhury. "One of the biggest challenges will be to continue sourcing coconut water to supply the processing and packaging facilities. There may be enough coconuts, but there is not enough coconut water that can be tapped. The structure and economics of the current supply chain don't make it easy to quickly increase supply of coconut water in line with the rising demand."

Supply chain and risk management are therefore top priorities for the sector. Many brands stress the importance of common sense measures like not buying on the open market and having a physical presence at source to build relationships - and to keep an eye on things. "We have people on the ground making sure our standards are adhered to. Our guys are in factories on a daily basis," says Brook.

Similarly, Innocent says it has a team dedicated to visiting fruit suppliers around the world. "Our team has spent considerable time in Thailand, and will continue to do so over the forthcoming months," adds head of fruit Rozanne Davis.
Direct co-investment with growers and processors is another way for brands to keep a close eye on standards, and it's emerging as an increasingly important strategy for shoring up raw material supply and clamping down on risk in supply chains.

This may not be a viable option for smaller brands, but there are other ways for them to forge close relationships and manage risk.

Arbib at Rebel Kitchen, for example, says her brand pushed and paid for the organic certification of the farms and the manufacturer it uses. Newman says exclusive supply arrangements help ensure traceability for Chi. "Our raw coconut water is purchased from organic farms and is exclusive to us when bought," he says. "We can't trace it back to a particular tree, but we can trace back to a batch that corresponds to the farmers we have bought from."

From a quality perspective, it also pays to be picky about processors and packers. As demand for coconut water has soared, many juice makers have moved into the sector - but coconut water requires specialist expertise, says Brook. "Coconut water is not as easy as people think. There are a lot of packers around the world, and not all would meet our standards of requirement."

In addition, certain supply chain structures are considered riskier than others. Van Manen says canning plants (typically based in urban areas, and often in Thailand) that don't crack open their own nuts but buy the liquid through intermediaries are more vulnerable: "From the moment the nuts are opened, there's scope for something to be added."
To keep taps on possible adulteration, brands stress they put their products through full microbiological testing to ensure safety, and say they have authenticity procedures in place, though detail on actual testing protocols is hard to come by. This is partly because tests are often proprietary, and partly because efforts to define a standard authenticity test for coconut water are still at an early stage (see box, below).
How do you test coconut water?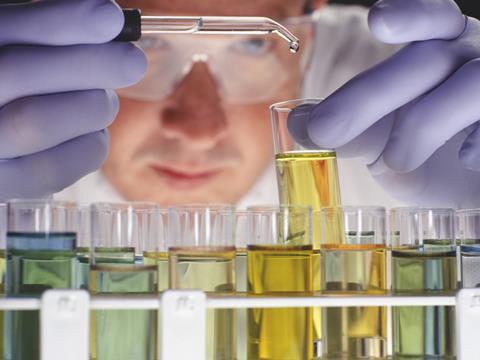 Ever since the horsemeat scandal authenticity testing has been high on the agenda, but checking if coconut water is the real deal can be surprisingly tricky.
For starters, there isn't an official compositional standard for coconut water so it's hard to know what test results should be compared against. Plus, authenticity testing can be fiddly – and costly.
To build up a picture of the product, laboratories will typically look for several key markers, including sugar levels, the presence of artificial sweeteners and other additives such as benzoic acid, sulphites or formaldehyde.
Chi Ventures, for example, tests for sugar ("any raised sugar levels beyond what you would expect would certainly be a red flag" says founder and CEO Jonathan Newman), the presence of preservatives and the correct mineral content.
Individually, such tests aren't particularly difficult but taken together they can be complex and expensive, says Michael Walker, consultant referee analyst at LGC. "The question is, who has the incentive or the motivation to invest that much into testing?"
Streamlining the testing process is therefore a big focus for the sector. Waitrose says it is working with its supplier to develop more targeted authenticity tests, which "compare a number of isotopic and non-isotopic parameters against a comprehensive database of authentic coconut samples".
Knowing what to compare results against is especially hard because the compositional makeup of coconuts can vary enormously depending on variety, maturity, growing region and cultivation conditions. And most commercially sold coconut water is a blend of different varieties and ages.
However, the European Fruit Juice Association is working on a reference guidance for coconut water, with a provisional guideline to be published within six months.
"Of course, the absence of such guidance wouldn't have stopped anyone from conducting their own tests," says John Collins of the International Fruit & Vegetable Juice Association. "But it will help in the interpretation of results."
Waitrose technical manager William Watts agrees: "A common compositional standard would help support the industry's work."
Labelling is another minefield – and not just as far as accurate ingredients lists are concerned.
"There is no policing of standards in coconut water at the moment," says Newman at Chi. And Walker at LGC, warns: "There is much more work needed to standardise this sector."
That is easier said than done, however. Because while most players agree adding sugar or preservatives without saying so on the label is a big no no, there are many other areas where they do not see eye to eye. Are multinational brands adding much-needed professionalism or ruining the sector with their mass-market instincts? Is pasteurisation necessary to keep consumers safe or does authenticity dictate only raw water will do? Is it acceptable to source from multiple countries or is single-sourcing the way forward? How does quality differ between various producing countries?
Fundamental disagreements
And perhaps the most fundamental disagreement of them all: what is coconut water? Or, to be more precise, what should coconut water be - and what not?

The issue here is that there are two types of coconut water: water taken from young, tender, green coconuts harvested specifically for drinking; and water taken from older, mature nuts as a by-product during the production of other coconut products such as oil, milk or desiccated coconut.

Young coconut water is considered vastly superior by some, and several brands in the UK - particularly at the premium end of the market - make a point of saying they only use water from young coconuts. Most mainstream products, however, contain mature water. It's a huge bone of contention.
"I hate what they're doing," says Vinay Chand, a development consultant who's worked with the coconut sector for 40 years, of the big brands. Mature water may be good as a base for mixing fruit drinks, but it shouldn't be marketed as 'coconut water' - and it certainly shouldn't be allowed to benefit from the positive health halo associated with coconut water, he believes.
"They are two entirely separate products. Brands are selling a second-best product because consumers have no choice, and profits are good."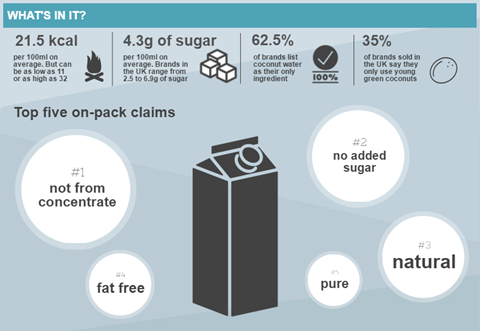 A labelling minefield
Superbly hydrating. Rich in electrolytes. More potassium than a banana. Coconut water brands haven't been shy in making the most of the health halo associated with their tropical beverage.
But it's an increasingly tricky area to navigate.
In the Tropics, coconut water has long had a reputation for having health benefits, particularly around hydration, but efforts to substantiate this are still at an early stage, and there is no EFSA-approved health claim for coconut water at the moment.
"Ever since the new EU health claims rules came in, it's been very, very difficult to make any sort of claim, even though there is lots of research on coconut water and hydration," says Giles Brook, EMEA CEO at Vita Coco. "Coming out of Europe, we'll hopefully get some change on that now."
For the time being, many mainstream brands are opting to steer clear of marketing on health. They are right to be wary. Brands like Vita Coco have faced litigation in the US over their nutritional information (Vita Coco settled its case for $10m in 2012).
Some smaller brands, however, continue to make colourful claims. "There is definitely an issue with health claims being overstated," says Jacob Thundil, founder of Cocofina. "You get some smaller brands that will make claims and get away with it because they're too small to register on the radar of Trading Standards."
A further labelling grey area is that coconut water is now considered a juice – and juices come with specific rules in the EU. Those with added sugar or sweetener, for example, can't be called 'juice' but must be labelled 'juice drink' or similar. This is not happening consistently with coconut water. Conversely, the claim 'no added sugar' isn't supposed to be used on juice but is the second most popular on-pack claim for coconut waters.
Labels may well have to change to comply with the rules. But that won't happen overnight, says Fiona Palmer, technical executive at the British Soft Drinks Association. Although the European Fruit Juice Association has agreed to join Codex and consider coconut water a juice, "this has only just been agreed and we are still waiting for a provisional reference guideline to be established. Once this is in place, some education will be required and it will take time for any packaging changes."
Because mature coconut water is less sweet than tender water, Chand also suspects a link between the growing reliance on mature water and adulteration with undeclared added sugar and other substances. "There are efforts to give mature water some of the feel of tender water, so additives are widely used," he adds.

Not everyone agrees with this theory. Van Manen at ITI Tropicals doesn't have a problem with mature coconut water. Quite the opposite, in fact. "This whole idea of only green coconuts being used is really BS," he says. "If you travel to the Tropics, yes that's what you get. But what is produced in factories in most cases is from mature coconuts."

Joey Quimson, president of Peter Paul, one of the world's largest coconut processors, agrees. "There is no sustainable business model in South East Asia based upon young green coconut water," he says. "Packing it commercially makes no sense. All of the major brands use mature coconut water, and it has a better taste balance between sweet and salty."

Such fundamental differences make joined-up action on standardisation difficult. There is, however, broad agreement on one point: retailers have a huge role to play here - and they're not yet stepping up to the plate.
Retailers have to step up
"If the retail chains laid down guidelines, the brands would conform," says Chand. But buyers' knowledge of the sector right now seems patchy at best. "Some retailers are asking very good questions about sourcing, others don't," says Thundil at Cocofina. "With a new product like coconut water, retailers often only ask about the price."
Quimson is similarly damning: "Only one UK retailer has ever audited our factories and plantations," he says.
Retailer engagement is low partly because, at 1.5% [IRI], own label accounts for a tiny share of the market. Most major retailers approached for this article declined to respond and pointed to brand owners instead; of those without an own-label line, only Holland & Barrett was willing to engage.

It needn't be this way. In the US, Whole Foods Market wrote to coconut water brands back in 2012, demanding supply chain audits. There is no reason why UK retailers today shouldn't be asking equally probing questions about the products on their shelves. "Supermarket buyers can't test everything they buy, and they don't have to when dealing with big, reputable companies," says van Manen. "But when dealing with start-ups, you have to ask more questions. Buyers should be demanding samples - and have them tested independently."

There are good reasons for retailers to take an interest in the long-term health of the category. Innovation continues apace, with numerous new brands and variants hitting shelves. Consumers are becoming more sophisticated in their understanding of the sector, driving segmentation and the emergence of value and premium brands. These include Coco Community, a new artisanal coconut water brand from Vita Coco owner All Market, which will be coming to the UK this side of Christmas. "Juices and smoothies are having a tough time - much of the traditional soft drinks market is having a tough time," says Brook. "Coconut water is delivering strong growth in a very challenging market."
Arbib at Rebel Kitchen is similarly upbeat. "Coconut water as a category is here to stay," she says. "A few years ago, it could have been just a fad. But that's not in question anymore."

Few would disagree with her, given the stunning success coconut water has achieved to date. To keep building on this, however, the sector now needs to prove it really can take action on standards. As van Manen says, the stakes are high: "It's in everyone's interest to make sure this doesn't blow up. The bigger the sector gets, the bigger the chance these issues will blow up at some point - and that would be a damn shame."
(To see the sources for our infographics, click here for the full-size version.)