Robot density in the UK is below the global average. As countries like Germany and China forge ahead with new bot technologies, the UK must catch up to avoid being left in the automated dust
From flipping burgers in California to packing up slices of cake in Barnsley, robots are fast making contributions to the global workforce. By 2020 there will be more than three million industrial robots at work, estimates the International Federation of Robotics (IFR), as the capabilities of these automated assistants are improved and more and more businesses recognise the value of a bot that doesn't require sick leave, holiday or a salary.
At least that's the case around much of the world. The UK however is lagging behind. For every 10,000 human workers there are currently 71 robots active in the UK, compared to the global average of 74. That leaves us ranked only 22nd in the world for robot density, falling way behind countries such as the Republic of Korea where that number is 631 and Germany where it's 309.

Dragging our heels like this makes even less sense given that the UK's productivity rate has never recovered since the 2008 financial crisis. It takes a UK worker five days to complete what the average G7 worker can do in four, according to the 2017 Made Smarter review, an independent study commissioned to push Brits to adopt what's been termed the 'fourth industrial revolution' or Industry 4.0. Robots, insists the IFR, could be the answer to our productivity woes by increasing output and creating new job opportunities along the way.

So what's holding the UK back?
"There's a whole range of factors as to why the UK is reticent," says Mike Wilson, business development manager at ABB, a global robotics manufacturer. "There is a lack of skills availability and little awareness of the benefits of automation. The way we justify investment tends to be short term as well."

Focusing on short-term profit rather than long-term investment puts us behind other European countries, adds Nigel Smith, CEO of TM Robotics. "On the continent they take a more aggressive line to automation and take the plunge, even if the payback is longer than two years." In Germany for example, where the manufacturing sector is only 2.7 times larger than the UK's in size, it reportedly invests 6.6 times more in automation, according to its industry body ZVEI. A poll by the Royal Society for the Encouragement of Arts, Manufactures and Commerce (RSA) showed only 14% of UK businesses are currently investing in AI and robotics or plan to do so in the near future.

What's more, the governments of these countries actively seek to increase robot density, with Italy, Germany and Spain all outlining development strategies to increase productivity by adopting new technologies. Outside Europe too the US launched its 'America Makes' initiative in 2012, Japan revealed its new Robot Strategy in 2015, and China has bold ambitions for its Made in China 2025 initiative, aiming to dominate the global tech market over the next seven years. The UK has no such strategy in place.

Despite leading the first Industrial Revolution Britain is more of a spectator of the fourth. This could partly be a cultural issue, says Wilson, an idea picked up by the All-Party Parliamentary Manufacturing Group in its Making Good report five years ago. It explored whether the UK's 'industrial culture' keeps us from investing in new technologies, concluding that UK manufacturers have a 'make do and mend' mentality, priding themselves on the ability to retain outdated kit rather than explore new solutions. As a result it argues the UK is 'under-competitive due to its reluctance to engage in the widespread use of automation'.

Another sticking point is the idea that automation leads to job losses. "There's a lot of scaremongering about robotics and automation," says Jake Norman, innovation and marketing manager at OAL, which provides engineering solutions to food and drink manufacturers. A report by PwC last year for instance found that 30% of jobs in Britain were potentially under threat from breakthroughs in technology such as robotics, with wholesale and retail the two sectors most at risk and 2.3 million jobs under threat. It also estimated that 1.2 million jobs could be replaced by robots in the manufacturing sector. "But there is a strong case for robotics and automation creating jobs instead."

Of course there are some companies that do consider head count when looking to automate, Wilson admits. "Often there are a number of areas where you can gain savings from using robots. Labour is only one of them, and often not the largest, but people often use perceived labour costs versus the cost of automation."

These companies are "ruthless optimisers" and it would be dishonest to say they didn't exist, adds Mostafa ElSayed, co-founder of Automata Technologies.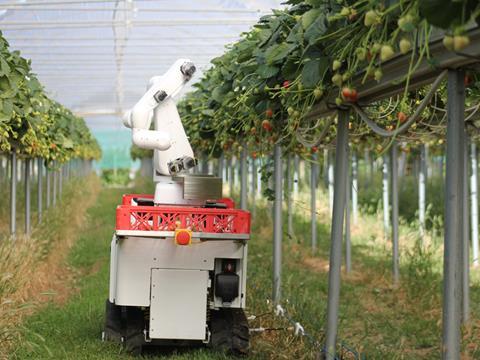 Areas for adoption
Over the next three months, as part of a new robotics miniseries, we'll be showcasing the use of robotics in three areas of the global food industry:
First mile
Few millennials would consider fruit picking as a job, the Soil Association has revealed. And that's a huge concern for the industry. "They're going to have fields of crops but not enough people to pick them," says Mike Wilson at global robotics manufacturer ABB. This labour shortage could lead to higher prices and less soft fruit being grown in the UK, according to a report by Andersons Farm Business Consultants. Could robots fill the gaps? As well as requiring a delicate touch, the fruit also needs to be assessed for ripeness. But robots are being developed by Dogtooth (above) to do exactly this with strawberries. And not just fruit. From picking cauliflowers in Cornwall to harvesting lettuce in Japan, robots are entering the first mile.
Manufacturing
Though the quick wins are at the end of the line, there are solutions being implemented earlier in the process. OAL's April Robotics can be used to weigh ingredients, which reduces waste and labour costs, making the process more efficient. The company has also developed a 'robot chef' for soup, sauce and ready meal manufacturers which it says takes up less space in the factory, improves consistency of products and has a fully automated cleaning system to eradicate cross contamination. Packing and palletising might be the most common automation in food manufacturing but there are plenty of other opportunities for food and drink companies to adopt robotics throughout the process.
Retail
Ocado's fleet of 1,100 robots can put together a grocery shop of 50 items in five minutes. Amazon has also embraced robots, now using more than 100,000 in its warehouses (though the company revealed they were sent into disarray when there was a butter spillage on the floor). Robots are not just being deployed in warehouses, though. For incoming deliveries, TM Robotics has developed a box cutting robot that removes the need for workers to use knives, contributing to the 127,050 workplace injuries Made Smarter says can be avoided by using robotics. And earlier this year the Co-op trialled robots for delivering groceries in Milton Keynes - though humans are still required to escort these robots on busy streets.

But there is a silver lining, according to PwC. Though a multitude of jobs are under threat additional jobs will be created too, productivity will rise, and better products will be developed, albeit we'll have to wait about 20 years for that balance to be achieved.

Wilson says he has already seen examples of UK companies implementing automation and as a result improving productivity and competitiveness as well as taking on more staff. "As they grow, they employ more people, and these employees undertake more skilled tasks and in most cases get paid more as a result. Robots are typically used for mundane, arduous and repetitive jobs which people really ought not to be doing."

Norman agrees. "You won't have a person weighing out ingredients by hand, for instance, but why would you want that anyway? There are lots of opportunities to make food manufacturing even safer than it already is by removing these tasks from human intervention."

Utilising staff in less mundane roles could in turn lead to a more skilled workforce in the future. The Made Smarter review believes we need to upskill a million industrial workers within the next five years for these new technologies to be adopted. The review, still awaiting a government response, says this has the potential to increase job satisfaction by 13%. And though a YouGov poll this week revealed six million workers are concerned about the impact of automation on their job security, it also showed 73% were confident that they could update their skills, and over half (53%) were optimistic about future job prospects.

Cost is another obstacle though, points out Benedict Dellot, an associate director at the RSA. "It is still considerably cheaper to make use of human labour in low-skilled and low-paid sectors. As well as the price of machines, companies have to consider the cost of retraining workers, taking out the necessary insurance, and paying for regular upgrades. All of this adds up."

Existing factories struggle to upgrade, adds Norman. "If you want to remodel a factory then there are big challenges around continuing to supply whilst inputting robots." But the benefits outweigh the costs in his view. "It can cost the food manufacturer between 1% and 5% of their turnover just in labour costs for handling and preparing ingredients. So there is a big opportunity to reduce that cost and make the process more efficient."

The price of robotics and automation could also be dropping. "Traditionally, robots have been viewed as expensive and difficult to program and install," says Smith. "But it's now increasingly seen as a cheaper, more standard component that is reliable and efficient. Automation has become faster too and can be interfaced more­ easily with peripheral equipment such as vision systems."

Chris Roberts, head of industrial robotics at Cambridge Consultants - the company behind Ocado's automated warehouse - points out that this applies only to robots which are mass manufactured. "Automation and robotics are expensive. Prices only drop when items are mass manufactured, when lots of people buy the same robot.

"The problem is that a lot of the next-level tasks to be automated are very different from industry to industry, they're specific installations. It's hard to get economies of scale with that much variation."

And for this reason the food and drink industry is particularly difficult to automate. "The tasks that you can automate in the food industry are generally one step beyond tasks that can be automated on a production line. This is due to the natural variations of food and drink. Picking up an apple is different to, say, picking up a circuit board. A circuit board is always exactly the same shape and size and in exactly the same place. But apples vary in shape and size, they're not always the same colour and they roll around. A human finds this easy to deal with but a robot would struggle. This is a challenge for the food industry."

Because of this, picking, packing and palletising are the areas in the sector most likely to embrace automation. The latter is the best place to start, believes Wilson. "Palletising is a well-proven application where automation has existed for many years. For these applications we can use relatively standard robots because they are not operating in a hygiene-specific environment. The more you move into food processing, the more you have to consider hygiene, and the variability and flexibility of the robot.

"Sometimes it's better to pick an easier application which doesn't necessarily have the best payback but which takes you on a learning curve. You can then move on to harder applications which have the best payback."
Automate the right tasks
End of line packaging is another good entry point, adds Smith. Premier Foods invested in a machine three years ago at its factory in Carlton, Barnsley which can pack 1,000 Angel slices a minute. It can also sense ­imperfections ahead of packing the Mr Kipling cakes, an ability to inspect a product that is key for industry adoption, he says. "A robot can be used together with a vision system to inspect the quality of the products, ensuring it has the right label and that this is on properly. It can then be rejected before going through the process."

But starting at the end of the line doesn't make business sense, argues Roberts. "There isn't one particular task where robotics will have the biggest impact. Companies should work out where they can save the most money and try to automate this rather than pecking around the edges.

"If you automate a task which doesn't save you much labour then, even if successful, the return will be low. It's got to be business first, looking at where you get the most benefit and where you find it difficult to get people to do the job."

Wherever you start in the supply chain the business benefits could be huge. According to Accenture, an extra £55.8bn could be unlocked over the next 10 years in food and drink alone through the adoption of technologies in robotics. And that isn't even looking at how it might mitigate the impact of Brexit as concerns of a labour shortage outside the EU reach fever pitch. "It's hard to talk about automation these days without mentioning Brexit," says ElSayed. "Anyone in the food value chain, from growing fruit and vegetables to making and selling sandwiches is concerned about Brexit. This is an industry that heavily relies on contract staff."

"Labour is often cheap and seasonal," adds Smith. "Some companies decide that it's not worth investing in automation because they only need workers for three or four months of the year. But as labour has tended to come from Eastern Europe, Brexit could change this."

Wilson says ABB is already seeing greater levels of interest in automation driven by the fear of this low-cost labour no longer being available. "It's becoming more attractive to automate, and if labour isn't available then to a certain extent companies have no choice but to look at it. They can then utilise the people they have where they are most effective, using the automation to do the repetitive, mundane and arduous tasks. They're looking for alternatives and robotics and automation is the obvious step."

So with all this in mind is there any downside to increasing the UK's robot density?

The poorest levels of adoption are among SMEs, according to Made Smarter, so it's hardly surprising that over half of SMEs in the UK are concerned that robots will drive them out of business, according to a poll commissioned by Ultima. Though 77% were keen to invest in it for mundane tasks, with 56% saying a key driver was freeing up their employees' time to focus on more skilled work, 57% also fear that robotics and automation could have a negative impact on their company in the next five years.

"There are both large and smaller players in food production," says ElSayed. "They're both facing the same challenges, but the larger players are taking automation a lot more seriously. They are able to automate first because you have to put out a large capital. They'll then have an unfair competitive advantage." Meanwhile SMEs could start to fall behind.

"SMEs will probably struggle," accepts Smith. "The capital expenditure is still a factor because the robot is part of the wider automation system. It's not the robot that's expensive, it's everything else that goes around it."

Wilson isn't convinced. "There is finance available, which is relatively cheap at the moment. The bigger challenge is that smaller companies are less likely to have the skills or be able to develop the skills that might be required. Large companies can afford to have engineers to look at these technologies, whereas a relatively small business can't.

"There are organisations out there such as the High Value Manufacturing Catapult which can assist and effectively provide independent consultancy services. There are many automation suppliers and system integrators that are willing to advise and assist.

"So, the expertise is available. It's more about the lack of willingness of these businesses to interact with this expertise."

This reluctance could have serious repercussions in the long term, warns Dellot. "Low adoption rates may save workers and businesses disruption today, but in the long run it will be detrimental to productivity and the earning power of workers."
Cobots
One way smaller companies could get involved is via collaborative robots or 'cobots' suggests ElSayed. "The collaborative robot movement has become a predominant field in industrial robotics over the last 10 years. It's the idea that smaller, safer robots are the way forward. They could make a big difference in the food supply chain. They are easy to deploy, cost effective and less disruptive. Whether you're looking to move valuable items around the production line to more skilled tasks such as final inspections or the initial placement of ingredients, you could automate a lot of the processes with the collaborative robots because it's affordable and easy to do.

"It's still a relatively expensive technology - at the bottom end of the scale it's currently at least £20,000 for a single robot, and usually you'll pay the same amount for an expert to deploy it. But that's a much better situation than, say, 10 years ago.

"They're fundamentally safer than their industrial counterparts too, especially in the food and beverage industry. The robot will not be operating in an environment where it's either handling unsafe equipment or has unsafe attachments on the end, like some industrial manufacturing. That drastically brings down the safety barrier."

Roberts agrees that cobots could be useful for some companies. "They are a good starting point for a certain class of task. If designed properly they can be a great solution because you don't have to worry about putting in light gates or fencing off parts of the factory, which is more space efficient."

The IFR says cobots are particularly positive for SMEs as they can be "easily set up by workers rather than specialist systems integrators and also adapted quickly to new processes and production run requirements. Humans are still needed to carry out tasks such as ­refinishing, but the robot assistant that fetches and carries parts will significantly increase workers' productivity."
Safety is key
Wilson urges caution though. "Cobots have a place, but people need to proceed with calm. The key to collaboration is not just the robot but also the whole application. It is very much about assessing whether there is a risk of anybody being injured through contact with equipment. If the robot is truly collaborative it can either not carry very much or has to move slower to ensure it's safe, whereas a normal industrial robot can carry greater loads and move at greater speeds, providing better productivity."

Whether collaborative robots are the answer to improving productivity or not, there is a beacon of hope for the UK's participation in robotics going forward. In 2016, sales of industrial robots increased by 9%, partly driven by the UK's largest manufacturing sector, food and drink, according to IFR. Cadbury invested £75m in a state-of-the-art production line last year to keep manufacturing in the UK, and Nestlé is set to spend £55m on a highly automated warehouse in Leicestershire.

Government initiatives such as Innovate UK - though a world apart from the ambitious plans of other developed countries - are also hoping to improve adoption of new technologies by supporting the development of these solutions and funding partnerships with companies or research projects.

It's about time. Those who fall behind get left behind. And on its current trajectory the UK may get lost in the smog of the world's fourth industrial revolution.
Robotics around the world
Germany
Germany has the highest robot density in Europe. Kickstarting 'Industry 4.0', or the Fourth Industrial Revolution, it has not only improved its own robot adoption but has influenced a number of other European countries to focus on the implementation of new technologies as well.
Sweden and France, for instance, have each released their own Industry 4.0 initiatives since Germany announced its plans for becoming a market leader in advanced manufacturing solutions.
The German government is reportedly investing nearly €500m on developing new Industry 4.0 technologies which will automate the manufacturing sector. As a result, nearly half (46%) of manufacturing companies use Industry 4.0 technologies, with a further 19% planning to implement them (Bitkom]. Three quarters (75%) of these companies agreed that Industry 4.0 'is a necessary requisite for maintaining competitiveness on the German industrial market as well as securing jobs'.
Most German food companies use automation, says Nigel Smith of TM Robotics, particularly chocolate companies which have automated the packing line. This could be why Germany was revealed by The Times as the world's number one exporter of chocolate last year. An impressive 17% of all global exports came from the country in 2016.
And this could rise if Chocolate Frey's experiment is commercialised. The company has teamed up with a university in Sweden to test an automated process whereby consumers can order chocolate through Twitter from anywhere in the world. Their order is then packaged, labelled, sealed and shipped, making Charlie and the Chocolate Factory look like child's play.
US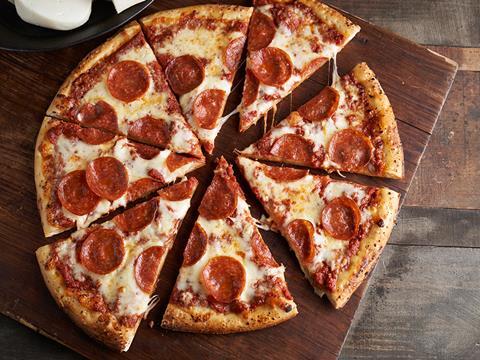 California-based Zume Pizza hit headlines last year with its fleet of robots which can make 372 pizzas per hour, five times faster than humans. In the same state, burger flipping robot Flippy has proven a tourist attraction at CaliBurger, and a start up in San Francisco, Creator, will be opening its first robot run restaurant in San Francisco later this year.
And it's not just the food service industry which is turning to robots. Over half (53%) of manufacturers said that adopting Industry 4.0 is a priority in the US [Made Smarter] and the food manufacturing sector is now expected to reach a value of $31.5bn by 2020 [BCC Research].
Across the US, demand for industrial robotics increased by 6% between 2016 and 2017 [IFR] and 94% of food packaging operations are already using robotics [APPT].
Robots have even been introduced into greenhouse farming, with startup Iron Ox gradually automating the entire growing process, from planting to packing. In retail, Walmart is using drones for stock checking, and Target trialled robots for the same purpose in one of its stores earlier in the year. And an egg manufacturer in New Jersey invested in a robot which can palletise 144,000 eggs per hour and has since reportedly upped its staff numbers along with its productivity.
The US might rank seventh in the world, with 189 robots per 10,000 workers, but its innovations in different areas of the food and drink sector could have a huge impact on how other countries use automation in the future.
China
Eager to catch up with other countries, China is now the "rising star in automation adoption", says Mostafa Elsayed of Automata Technologies. Its robot density remains below the average at 68, but this has more than doubled since 2013 as China works towards it ambitious goal of making it into the world's top ten most automated countries by 2020. It aims to have a robot density of 150 units, over double its current number, in just two years' time.
Made in China 2025, the country's own Industry 4.0 plan, aims to boost China's manufacturing sector. And since the strategic plan was revealed in 2015, China has gone full speed ahead. The following year, the country installed 90,000 robots, 30% more than the year before.
And retail is also set to change drastically. The country's unmanned retail sector is set to triple in size to £7.5bn by 2020 [iResearch], leading the CEO of Chinese e-commerce giant JD.com to predict that robots will eventually replace all human workers in retail.
Robots are already being used in a number of applications in China, from producing dumplings in a fully-automated factory in Qinhuangdao to taking fried chicken orders at a KFC in Shanghai. Not all have been as successful, with restaurant chain Hewelai having to close two restaurants after hiring robot waiters which couldn't take orders or pour drinks and consistently broke down.
But despite this, China's adoption of robotics and automation is on an upward trajectory and its ambitious goals seem entirely within reach.