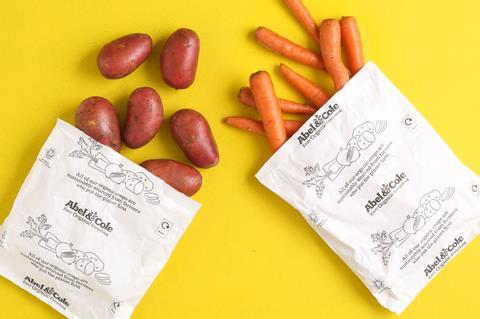 Abel & Cole is "urgently" scrapping all compostable plastic packaging from its range after it emerged the material only broke down under very specific conditions.
The organic food delivery company said it was removing compostable plastic from all its fruit and vegetable boxes "effective immediately" and was working with suppliers to remove the material entirely from its offering by the end of 2023.
Abel & Cole is calling on the wider food and retail industry to do the same after research conducted by University College London found evidence that compostable plastic only broke down under certain conditions, and that the composting process was not happening properly or consistently across local authority facilities and in-home compost heaps.
The research from UCL added that compostable plastics were a "growing contaminant in the plastics recycling and some food waste collection systems", which were not able to process compostable plastic packaging properly.
"There is currently no working technical solution to the automatic separation and sorting of compostable plastics," it stated.
The online retailer said it was still working on alternative packaging options, but that it will remove packaging altogether "where it won't compromise food safety or quality".
Its carrot and potato bags have already been replaced with a recyclable paper alternative, and it is currently working in close collaboration with its suppliers to find the right material for them to use going forward.
It called for the industry to act swiftly on scrapping compostable plastic packaging to prevent further contamination of recycling facilities across the country, as compostable plastics were currently responsible for some recyclable material ending up in landfill every year.
"We can't fix the problem of compostable plastic pollution alone," said Abel & Cole's sustainability project manager Hugo Lynch. "We're calling on decision makers in the food industry to join us too.
"Until recently we thought compostable plastic ended up as compost. Growing evidence shows that's not always the case.
"It turns out that compostable plastic only breaks down under certain conditions, and unless your local authority has access to the right equipment, compostable plastic behaves a lot like regular plastic.
"That's why we've made the decision to remove compostable plastic in our core Fruit & Veg Boxes. And we're working hard with all our suppliers to completely remove it from our range by the end of 2023."
In 2021, the online grocer used nearly 11 tons of compostable plastic to package its potatoes and carrots, with an additional two tons of packaging material used across the remainder of its range from suppliers.
As well as scrapping compostable plastic packaging, Abel & Cole is also doubling down on reducing and reusing packaging by extending its Club Zero refillables range, as well as launching the innovative 'Plastic Pick-Up Scheme' that collects hard-to-recycle flexible plastics from customers' doorsteps.