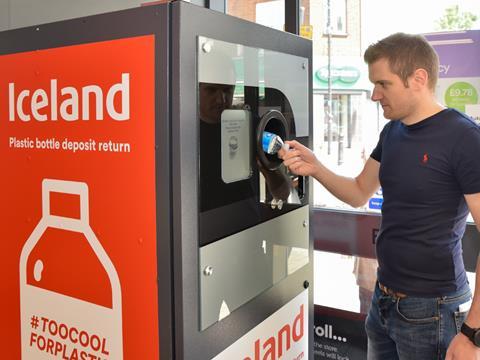 Retail leaders have proposed a new model for a deposit return system targeted at on the go recycling, warning that any attempt to impose a much wider system would be hugely expensive and disrupt local authority collections.

The BRC pre-empted a consultation expected to be launched by Defra secretary Michael Gove in the following weeks, as it set out plans for a DRS system to reduce plastic pollution.

Proposals released by the BRC say supermarkets would be willing to sign up to key elements of a DRS but have huge concerns about the cost and practicality of overstretching plans.

The BRC said there was a "window of opportunity" in which retailers could work with ministers to shape plans.

The BRC document estimates that, based on a DRS in Denmark, a UK-wide "full scale" scheme would cost £1.1bn a year in collection and administration, with at least £400m falling on retailers.

"Consideration must be given to the upfront costs and time required to purchase and install thousands of reverse vending machines across the UK," it said.
The BRC is calling for a size threshold on retailers taking part, with only those above 2,000 sq ft mandated to operate a returns system but with an option for smaller operators to opt in. It said online sellers should be excluded from returns.

The BRC is also asking Gove to limit the scope of the plans on types of material, with the government having indicated it will cover all types of bottles, including glass bottles used for alcohol.

The BRC said the scheme should allow multipacks but specifically not include fruit juice or milk, glass containers, tetrapaks or laminated pouches.

It also said it was vital the UK government did not operate a separate scheme to plans being developed north of the border.

A raft of leading retailers have already been trialling DRS reverse vending machines, including Asda, the Co-op, Iceland and Morrisons.