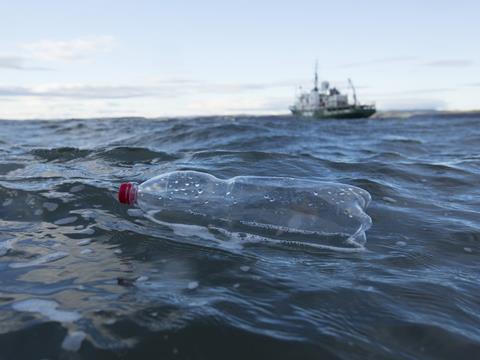 Nestlé, Coca-Cola, Unilever, PepsiCo and Pernod Ricard are among 274 signatories of a new global initiative to clamp down on plastic pollution.
The Ellen MacArthur Foundation today (29 October) launched its New Plastics Economy Global Commitment, backed by companies that produce 20% of all plastic packaging worldwide, as well as governments, NGOs, universities, industry associations, investors and other organisations.
The core aim of the commitment – its "vision" – is a circular economy for plastic in which it never becomes waste. To achieve this, signatories have pledged to eliminate all "problematic and unnecessary" plastic; innovate to ensure all necessary plastics are reusable, recyclable or compostable; and circulate all plastic items to keep them in the economy and out of the environment.
The global commitment will build on and reinforce initiatives including the G7 Plastics Charter, the EU Strategy for Plastics in a Circular Economy, the Commonwealth Blue Charter, and the Communities of Ocean Action established by the UN. It will aim to contribute to the implementation of the UN Environment Assembly resolutions on marine litter and microplastics.
To achieve this, each sector of signatories has agreed to a "minimum level of ambition". Businesses such as fmcg suppliers have four main targets for 2025: eliminate problematic or unnecessary plastic packaging; move from single-use towards reuse models where relevant; ensure 100% of plastic packaging is reusable, recyclable or compostable; and markedly increase use of recycled plastic.
The minimum ambition levels would be reviewed every 18 months "and become increasingly ambitious over the coming years to ensure the global commitment continues to represent true leadership" said the Ellen MacArthur Foundation, which has partnered with UN Environment.
The global commitment was "a step-change we urgently need in order to move from a linear to a circular economy" according to Nestlé CEO Mark Schneider.
"We want to act and lead by example. We will do our part to ensure that none of our packaging, including plastics, ends up in the natural environment."
Pernod Ricard's chairman & CEO, Alexandre Ricard, said the problem of plastic pollution wasn't "a new one, but it feels that we have now reached a tipping point. To make a plastic-free world possible we have a collective responsibility, and it starts with businesses."
Dettol and Durex owner RB is another major fmcg signatory of the latest Ellen MacArthur Foundation initiative. The company's senior VP of global corporate affairs & sustainability, Miguel Veiga-Pestana, remarked: "Alone, RB will never solve the global plastics challenge. Only through partnerships such as those announced today will we be able to truly deliver the change we all need."
Fisk Johnson, chairman & CEO of household products supplier SC Johnson, said the Mr Muscle maker measured its success "not by the financial report of the next quarter, but by what we can do to make the world better for this generation and the next.
"Together with the Ellen MacArthur Foundation and other global organisations, we are making ambitious commitments and taking united action to create a new plastics economy that helps stop plastic from becoming waste."