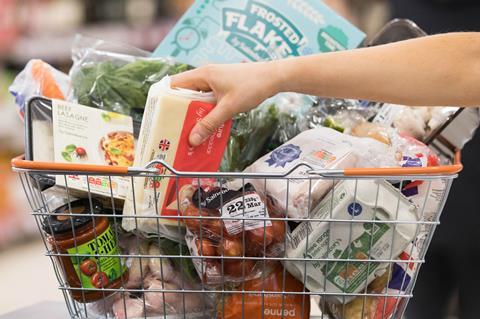 Greenpeace has delivered thousands of tweeted complaints to Sainsbury's HQ in London from customers concerned about plastic packaging.

The environmental group analysed all tweets published in 2018 which made reference to plastic and mentioned one of the top four supermarkets.

Sainsbury's was mentioned in 37%, or 4,724 in total, closely followed by Tesco with 4,716. Morrisons accounted for 2,305 complaints and Asda had the least, at 1,136.

Greenpeace activists delivered each of the 4,700 Twitter complaints to Sainsbury's head office on Monday 29 April, demanding the supermarket 'tackle its plastic problem'.

A large banner with 'Couldn't care less' written on it was erected in the HQ lobby and messages from customers were pasted to the front of the building.
Another engaging afternoon talking to shoppers in Angel Islington about how @sainsburys#couldntcareless about seriously reducing their plastic packaging footprint. They're at the bottom of our league table 👎. Thank you to everyone that stopped by and left a message. pic.twitter.com/zoIZWQgw1G

— Greenpeace Shoreditch (@GPShoreditch) April 14, 2019


Protesters pushed trolleys filled with unwanted packaging collected from customers outside some of the retailer's stores, as the Twitter complaints were delivered along with a further 2,309 handwritten complaints from customers.

Greenpeace is urging Sainsbury's to commit to a plastic-specific reduction target to eliminate unnecessary and unrecyclable packaging.

"Each and every day Sainsbury's own customers are urging them to ditch throwaway plastic," said Elena Polisano, Greenpeace UK ocean plastics campaigner. "Yet right now Sainsbury's is failing them. In fact our research shows they are worst in class on plastic amongst all of the UK supermarkets.
Did you see our April Fools video about @sainsburys lack of plastic action?

It was tweeted at them over 1000 times! 😂

Here it is again - RT and let the world know Sainsbury's #couldntcareless pic.twitter.com/2dq47tRkhw

— Greenpeace UK (@GreenpeaceUK) April 29, 2019

"It looks suspiciously like Sainsbury's couldn't care less about plastic pollution. If they want to keep their customers coming back they should step up and pledge to eliminate all unnecessary and unrecyclable plastic by the end of next year."

A Sainsbury's spokesman said: "We can reassure customers we're serious about reducing plastic and have committed to removing over 2,400 tonnes from our supply chain this year alone."