The growth of electric cars marks a new opportunity for forecourts, with consumers charging on site for 10 to 20 minutes. So how can they take advantage?
Not that long ago, the idea of owning an electric vehicle was laughable to most people - what's the point in having a silent car? Wouldn't it just run out of charge halfway through your journey? And where on earth would you charge it anyway?

But growing public interest in the environment and climate change issues - and a government commitment to reduce UK greenhouse emissions by at least 80% compared with 1990 levels by 2050 - have seen a surge in the number of EVs on the road.

The number of new battery-powered vehicles registered was up 54% on the year in Q1 2019 (5,997), according to a May report by the European Automobile Manufacturers Association. And new registrations of plug-in cars hit 210,000 at the end of April 2019, compared with just 3,500 in 2013, figures from nextgreencar.com suggest. The International Energy Agency estimates the number of electric cars on roads globally could hit 125 million by 2030. If governments increase their policy ambitions, this number could be as high as 220 million.

The UK is at the forefront of this revolution. In 2017, it ranked fourth worldwide by market share, with EVs representing 1.7% of all new car and van sales, and seventh by volume, with 47,250 EVs sold, according to a 2018 parliamentary report.

But if this dramatic shift towards EVs is good news for the environment and air quality, does it herald the end of the petrol forecourt? Far from it, say the experts. In fact, they insist, EVs could herald a new and improved forecourt of the future.
"Their forecourts are lit up like football stadiums, making them look and feel much safer"
Many large forecourt operators are starting to realise the opportunities presented by EVs. Shell, for example, is quickly expanding its portfolio of EV chargers. The oil and gas giant says there are around 1,000 Shell-branded service stations in the UK. Roughly half are owned by Shell and operated by its retailers, and the other half are dealer-operated - essentially a Shell-branded fuel supply agreement. It has so far installed EV chargers at 34 of its company-owned sites.

Most of these have been 50kW rapid chargers, which charge a car to 80% in 15-20 minutes depending on the size of the battery. This leaves an EV owner with far more time on their hands than when topping up fuel. "The customer has maybe got 15 minutes to spare," says Bernie Williamson, general manager of Shell's UK retail division. So "one thing we are doing is really expanding the range of food that customers can choose from." In fact Shell launched a new range - Deli by Shell - in partnership with Jamie Oliver in January this year, to give customers a healthier choice of products on the go. "We've co-created a range of 85 different products with Jamie Oliver," says Williamson. "Sixty per cent of that range is healthy - how we define that is that they have no 'reds' in the traffic light system."

Shell is moving in the direction of convenience retail anyway, and has signed alliances with Waitrose and Budgens. "We've got around 75 stores now which provide a top-up shop offer as well as lunch, snacking and 'food for tonight' offers. We're seeing customers really fill up their baskets," Williamson says, adding that the rise in EV uptake has provided even more of an opportunity for it to be a "one-stop-shop" for consumers. "In terms of our convenience retailing, we are growing well ahead of the market. Nielsen data shows April YTD 3% growth in the market vs 9% growth in Shell for convenience retail. So customers are enjoying our shop offering, which is entirely complementary to EV dwell time."
In June last year, fellow oil and gas giant BP announced a deal to buy Chargemaster, which operates the UK's largest EV charging network. By 2040, the company estimates there will be 12 million EVs on UK roads, up from around 135,000 in 2017. Both BP and Shell are prioritising the rollout of rapid 150kW chargers, which they claim can charge a car battery to 80% in as little as 10 minutes - but that's still significantly longer than it takes for a customer to fill their car with petrol or diesel.

There are 1,220 BP-branded petrol stations in the UK, and the company has deals with M&S Simply Food and Wild Bean Cafe.

Other forecourt traders, too, have realised there are opportunities. Stephanie Kyle, senior property associate at law firm Burness Paull, says: "Electric charging bays accommodate the growing section of drivers who have made the switch to electric cars. Additional parking encourages more 'dwell time' by users. And their forecourts are lit up like football stadiums, making them look and feel much safer.

"It's perhaps no surprise, then, that Euro Garages derives around two thirds of its income from its shops and fast food outlets. A significant change from the ­traditional petrol station, which used to get 80% of income from fuel sales." Euro Garages recently announced a second trial with Sainsbury's in which the supermarket will again supply food-to-go lines at a "small number" of its sites.
Forecourt offerings
But forecourt retailers can and should be offering EV owners, essentially a new type of customer, more.

"They're going to have to respond also to time-of-day retailing," warns Robert Onion, chairman of brand and design consultancy Circle. He says it's not just forecourts that will start to take advantage of these opportunities, but businesses around the site as well. For example, hotels are apparently doing well near to Tesla sites in Denmark by offering specific services to people charging cars.

So how do forecourt owners make sure EV drivers remain on their site for as long as possible? "Early in the morning, many people will be charging their cars on the way to work," says Onion. That takes a lot of planning for drivers - the customer is going to have to get up 30 minutes earlier. They will want to make use of the time they're there. "There could be a whole range of offers, like offering customers breakfasts, and obviously business facilities are going to be really important. The forecourt retailer will have to then adapt through the day to offer things like business lunches and work spaces.

"Maybe it's not just about business, maybe it's about relaxation as well," Onion adds. "Maybe it's 30 minutes out of your day where you can actually relax. So it may be offering customers box sets of TV programmes, or an element of wellbeing. Maybe they do a deal with a Gymbox or another leisure provider."
"There could be a whole range of offers, like breakfasts and business facilities… or relaxing TV box sets and gyms"
He suggests there are also opportunities to offer customers other services around looking after their cars, such as a valet service, light repairs in 30 minutes, or tyre changes. EV owners will likely be charging their cars at least twice a week. If retailers are sensible, they will want that repeat custom.

The main challenge when looking at additional services will be space. "Their existing sites are not suddenly going to get bigger. Some may be fortunate if they've got good locations or greenfield sites where they can re-engineer the layouts."

However, offering these additional services doesn't have to break the bank. "It's about being flexible. It's not about bricks and mortar, it's about offering a range of flexible services. It doesn't necessarily cost a fortune to do the things I'm talking about," Onion says. However, he adds, it will take some clever thinking and careful planning.

"Not everyone will be driving an EV. It's likely to be a mix of fuels, whether that's clean fuel, traditional fossil fuel, or electric," he adds. "So there's going to be a transition period over the next 10 years where you're going to have to be really flexible about offering those services."

One thing is certain: the shift to EVs is inevitable, whether it takes five, 10 or 30 years. Maybe one day we'll see a forecourt where a customer can plug their electric car in to charge, and get it cleaned and its tyres changed while they head into the mini gym for a 30-minute yoga class or a massage, or chill in a lounge-style café with their laptop and a chai latte.

Until then, though, the least forecourt retail companies should be providing for EV owners is a quiet place to sit and relax while they charge. If they don't, others will swoop in and take advantage of their missed opportunity.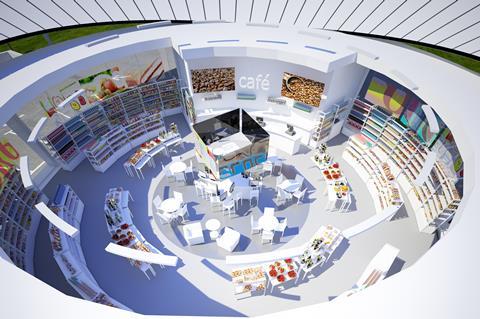 The reason behind the revolution
The transport sector is the most polluting in the UK economy, making up 28% of the country's greenhouse gas emissions in 2017.
The government ramped up efforts to cut emissions from the sector when it announced a ban on the sale of all new diesel and petrol cars and vans by 2040, as part of its 2017 'NO2 Plan' for tackling roadside nitrogen dioxide to improve air quality.
And in July 2018, the government also published its 'Road to Zero' strategy, which outlined a host of strategies for greening the UK's transport sector.
The report stated: 'We want to see at least 50%, and as many as 70%, of new car sales and up to 40% of new van sales being ultra-low emission by 2030.'
But there have been calls for the 2040 ban to be brought forward to 2032. A report by the BEIS (Business, Energy & Industrial Strategy) committee slated the government's EV proposals for being 'vague and unambitious'.