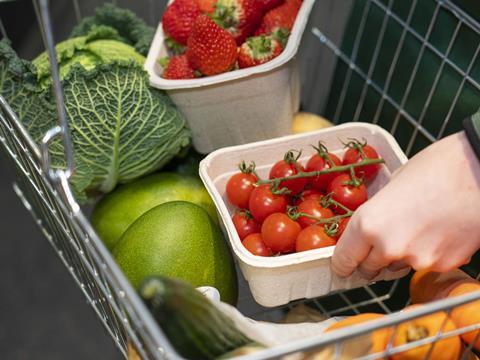 Marks & Spencer is trialling plastic-free packaging for fresh produce lines as part of its plastic reduction plan.

The retailer is stepping up a commitment to become a zero-waste business by 2025 by introducing 90 new plastic packaging-free fruit & veg SKUs at its Tolworth store in south west London.

The new range includes items such as potatoes, bananas, soft fruits and berries, all of which will be sold in compostable punnets. Best before dates have been removed from the lines.

As part of a three-month trial, M&S has introduced specifically trained employees as greengrocers to offer customers advice as they select items from two aisles of plastic-free fruit & vegetables. The staff will assist shoppers in choosing and weighing their products, and provide tips on how best to preserve fresh produce and prevent food waste at home.

It's one of a range of plastic reduction initiatives across M&S's store estate that could save a claimed 580 tonnes of waste over the next two years.
The upmarket grocer plans to replace plastic produce bags with paper versions and phase out plastic barcode stickers in favour of eco-friendly alternatives across its store estate.

M&S has also started phasing out black plastic from products such as ready meals and fruit & vegetables, and will extend this to fish, meat and poultry later this year. It has promised to make all its packaging widely recyclable by 2022.

"We're proud to launch a series of market-leading initiatives to help customers take home less plastic," said M&S head of food sustainability Louise Nicholls. "We know our customers want to play their part in cutting out plastic, while as a business our goal is to become zero-waste by 2025. That's why we're working hard to reduce the amount of plastic packaging we use without compromising on food quality and contributing to waste. Our trial at Tolworth is an important milestone in our plastic reduction journey and bringing back the traditional greengrocer will play a key part in educating customers."
A Plastic Planet co-founder Sian Sutherland, added: "Finally the pioneers behind Plan A are stepping up - we were getting worried that Marks & Spencer were getting left behind. We have been inundated with Marks & Spencer customers frustrated that they could not buy plastic free so this is great news that plastic free choice is coming their way."