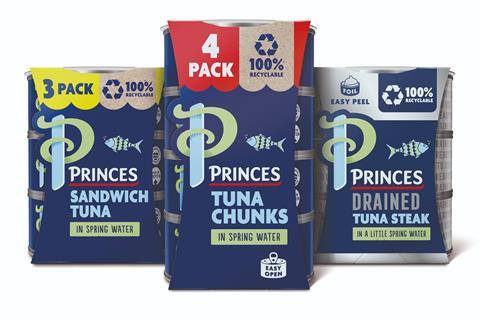 Princes is to make all of its tuna multipacks plastic-free by 2021 following a successful trial last autumn.
The move will see 96 tonnes of plastic packaging removed each year from 28 million products and replaced with FSC-certified cardboard.
The brand hopes the overhaul will attract new customers and encourage existing shoppers to "re-appraise" the Princes marque.
Updated packaging will begin to appear on shelves "in the next few weeks", according to Princes.
"This is a huge undertaking for the business, but one we believe is right for our customers and for the environment," said Princes commercial director for fish Mat Lowery.
"We have always championed the 100% recyclability of the can of course, but this latest initiative will make it even easier for our consumers to recycle more and feel better about what they buy. We must continue to embed sustainability as a foundation for our innovation and our growth."
Princes first announced it would commence a packaging trial in Tesco last September as the wider Princes Group aims to fulfil a commitment to make 100% of its plastic packaging widely recyclable by 2025.
It follows a £5m packaging overhaul announced just under a year ago which Princes hoped would bring "fresh energy" to the category.