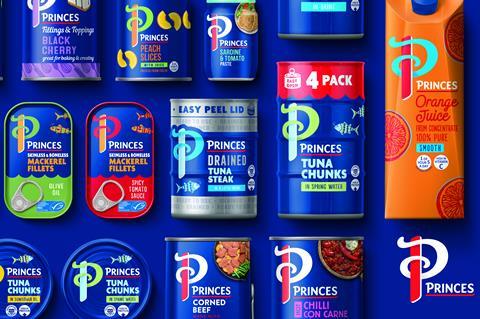 Canned food giant Princes is spending £5m on a radical packaging overhaul it says will bring "fresh energy" to the category and "drive a reappraisal of the brand".
The revamp is the first in 14 years for the brand, and represented the "most significant marketing push ever for the brand, both in terms of spend and activity," said Princes marketing director Alan Eriksen. It will be phased in across Princes' entire portfolio – from canned fish, meat and fruit, through to ready meals and fruit juice – from April to August.
Eriksen said the rebrand would be supported by NPD throughout 2019, backed by "a substantial integrated and upweighted marketing, PR and digital campaign", and was designed to "retain existing shoppers while also appealing to a new and younger consumer".
The modernised packaging kept core elements of Princes' old packs, such as the stylised 'P' and blue background, while introducing a simplified and more contemporary design that also "dialled up category specifics" such as high protein content, or omega-3.
"It's something that our consumers will recognise, but it also brings a new energy and perspective to the category and will drive a reappraisal of the brand," Eriksen added.
The move comes as Princes value sales fell by 2.7% to £142.4m last year, according to The Grocer's Britain's Biggest Brands supplement, published this week, while volumes fell by 10.4%, on the back of "challenging market conditions".
But despite these difficulties, now was a "great time to be in canned food" Eriksen insisted. "The category is really fighting back and we've seen value growth for the first time in five years." Cans were "more relevant than ever" due to the growing green outlook of consumers, he added.
"We've already seen positive performance in some of our core categories such as fish, which is now in significant value and volume growth. This relaunch will galvanise the brand and drive a positive picture to help us deliver on our targets."