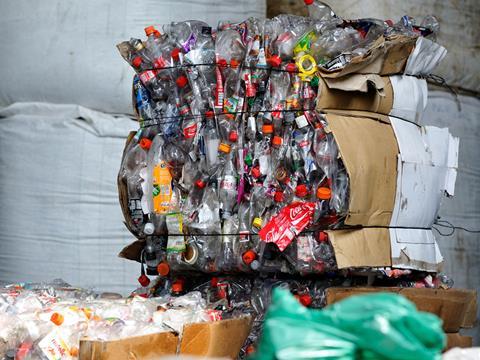 The government must provide urgent clarity over post-Brexit recycling rules - or risk blocking industry efforts to tackle plastic waste, The Grocer's guest editor and Iceland Food Warehouse MD Richard Walker has warned.
Walker, who is leading Iceland's bid to eliminate plastic from its own-label products by 2023, wrote to environment secretary Michael Gove this week warning the industry would not be able to invest in efforts to harmonise the UK's recycling infrastructure until the "nitty gritty" details of future legislation had been confirmed.

"We need urgent clarity in terms of post-Brexit recycling rules," he said. "We need to know exactly which EU laws we are going to adopt after Brexit and which we will go out and do ourselves."

Industry investment was urgently needed to boost the UK's recycling capacity, Walker warned, particularly in the wake of China's ban on plastic waste imports, imposed this month as part of the Asian nation's clampdown on "foreign garbage".

Defra must also ramp up investment in recycling infrastructure, he added, describing the recent funding cuts to Wrap, announced just days after the government launched new plans to tackle plastic waste, as "shameful".

Greenpeace's investigative journalism unit Unearthed this week accused the UK government of opposing new EU recycling proposals despite PM Theresa May's pledge to develop "ambitious" targets.

Leaked notes from an EU delegation, seen by Unearthed, allegedly revealed UK officials said they would not support an EU-wide target of recycling 65% of municipal waste by 2035, including 50% of all plastics.

Diplomats from three other EU nations had confirmed that UK officials voiced their opposition to the new targets, which are included in proposals for the updated Waste Framework Directive, Unearthed claimed.

A Defra spokeswoman said: "The government will make a decision on its vote following close scrutiny of the proposals, which are still provisional.

"Our recycling rates are rising, less waste is now sent to landfill and separate food waste collections are increasing, but as set out in the Clean Growth Strategy and 25-year environment plan, we are working with industry to improve the nation's recycling rates further.

"When we leave the EU we will have the opportunity to strengthen and enhance our environmental standards even further by delivering a Green Brexit," the spokeswoman added.