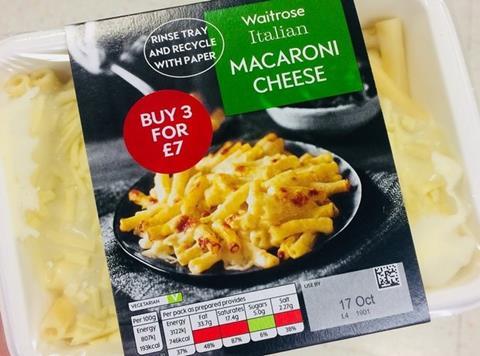 Waitrose is trialling a wood-based alternative to the plastic trays in three of its most popular Italian ready meals.

For the duration of the two-month trial, the retailer's own-label Macaroni Cheese, Spaghetti Bolognese and Tuna Pasta Bake will be served in a cream-coloured fibre-based tray, which is certified by the Forest Stewardship Council and deemed 'widely recyclable'.

The move builds on a smaller-scale similar trial conducted in June and forms part of the retailer's quest to remove own-label black plastic packaging by the end of 2019.
Waitrose said it had worked with packaging supplier Huhtamaki to ensure the sustainable trays withstand the heat generated by ovens and microwaves.

"Black plastic continues to be a challenge to recycle," said Waitrose packaging manager Karen Graley.

"This is why we see innovating in alternative materials as so important. If our trial is a success we'll be looking to roll it out further and this could potentially save millions of plastic trays going to landfill every year.

"Customer feedback from the June trial has been really positive, with shoppers asking where the fibre-based trays went after the trial ended.

"Ready meals have historically used a great deal of black plastic - but hopefully this will be the beginning of the end for this hard to recycle form of packaging."

Waitrose aims to make all of its own label packaging widely recyclable, reusable or home compostable by 2025.