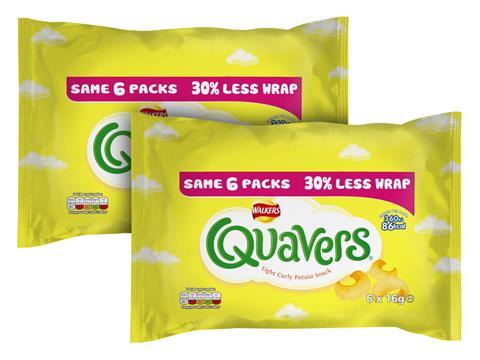 Walkers is to drastically cut the plastic across its crisps' multipacks as part of owner PepsiCo's commitment to reducing the environmental impact of its packaging.
From March 2019, the outer packaging used for some of Walkers' most popular six-packs and 12-packs will be reduced by 30%, with brands including Monster Munch, French Fries, Squares, Cheetos and Wotsits. This builds on the previous introductions of compact designs for six-packs of core Walkers crisps in 2009 and Quavers in 2013.
The latest sustainability plan has required Walkers to make "a multimillion investment" at plants in Skelmersdale and Coventry, which are currently being fitted with new machinery. The company would not disclose the amount of plastic that would be saved.
PepsiCo shared "people's concerns about the amount of plastic in the environment" said the fmcg giant's UK general manager, Ian Ellington. "This investment in compact packaging will reduce the volume we use in the short term, while we continue to develop alternative packaging solutions for the future."
Last week, Walkers announced its intention to launch the UK's first nationwide recycling scheme for plastic crisp bags. It will kick off in December to encourage shoppers to either drop off their bags at one of hundreds of public access collection points across the UK, or post them for free directly to TerraCycle for recycling.
Collected packs would be "cleaned, shredded and turned into small plastic pellets, which will then be converted into useful plastic items, such as benches and fence posts" said Walkers. Crisp packets were technically recyclable, but "the issue until now has been that they weren't being separated or collected for recycling".
Both Walkers initiatives come as PepsiCo aims to make all packaging 100% recyclable, compostable or biodegradable by 2025.
This week, Greenpeace named PepsiCo as one of the world's three "worst plastic polluters" along with Coca-Cola and Nestlé. An audit by the environmental NGO, in conjunction with campaign group Break Free From Plastic, found the trio of suppliers to be for responsible for 45% of all plastic pollution in Europe alone. Polystyrene, which is not recyclable in most locations, was the most common type of plastic found, followed closely by PET.