Reports of vertical farming's death have been greatly exaggerated. While some have failed to take root, others are thriving
The list of struggling or failed indoor farmers grows longer by the week. Well-funded major players such as AeroFarms, AppHarvest, Kalera and Future Crops have filed for bankruptcy; Upward Farms, Agricool, Fifth Season and Glowfarms have ended all operations, and InFarm and Iron Ox have made swingeing staff cuts. And just this week, OneFarm filed a notice of intention to appoint administrators with the courts. In Europe alone, analysis by startup publication Sifted – which asked what went wrong with vertical farming – found at least 15 European vertical farm businesses have collapsed.
Little wonder, then, that some question whether vertical farming as a concept – growing produce indoors under LED lights instead of in a field under the sun – stacks up at all.
But, at the same time, many businesses in the still-burgeoning sector are hitting their stride, particularly in the UK. Kent-based GrowUp Farms launched its bagged salad brand Unbeleafable into Tesco in July, marking the first time vertically farmed salads will be available in a big four UK supermarket. It followed the launch of GrowUp's Fresh Leaf Co brand into Iceland earlier in the year.
Meanwhile, Fischer Farms is building what is "probably the biggest vertical farm on Earth", according to agri-tech consultant John Matcham. And Ocado-backed vertical farmer Jones Food Company (JFC) this month launched salad brand Homegrown into 270 Asda stores and online, in a first "at this kind of scale", according to Asda produce director Dom Edwards.
So are the fundamentals really unsound, or is there more to it? Why are some in the sector soaring while others fall flat?
Infarm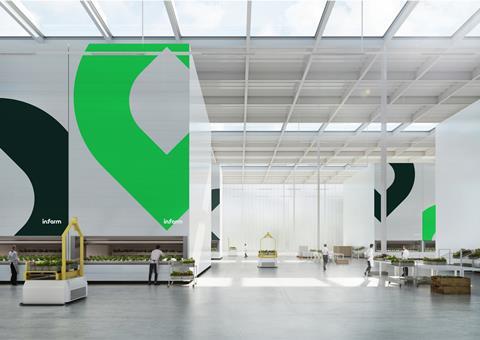 Blaming "escalating energy prices and tough financial markets" German player InFarm in December halved its workforce and began to "downsize operations" in the UK as well as in France and the Netherlands.
Having started by supplying and managing in-aisle mini herb farms for the likes of M&S and Whole Foods Market, went big last year, opening what it claimed to be one of the largest vertical farming facilities in Europe in Bedford. The site is now closed and it is understood all equipment has been sold off.
The company has raised $473m since launch in 2013 [Dealroom], but as of June has abandoned Europe completely to focus on Canada and the Middle East.
A key factor in the demise of many vertical farms has been the surge in energy costs, described by leading media and analysts as the sector's "fatal flaw" and "final nail in the coffin".
Record prices in Europe in 2022 put "a lot of additional pressure on our business and seriously impacts our cost of production" admitted InFarm when it halved its workforce late last year.
Matcham says a huge energy bill will put cashflow under a lot of stress. But energy spend needn't be vertical farming's Achilles heel.
"It's just what draws the greatest focus of investors and the management team," he explains. "However, there were always solutions to avoid it altogether."
For example, GrowUp's new Pepperness farm uses renewable energy that means it is not vulnerable to electricity price hikes or international conflict, according to company founder Kate Hofman.
"We've had this lower cost of energy built into the business model," she explains. Lessons were learned early on with the company's now defunct Unit 84, a grow-space built within an industrial warehouse in Beckton. By 2016, "we'd worked out that energy was the thing you needed to solve".
"It's given us more of a head-start on being able to produce in a way that is sustainable and affordable going to market," Hofman adds.
Future Crops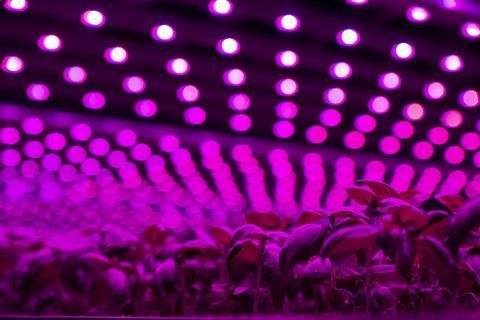 Less than a year after the Dutch vertical farmer completed an investment round led by Chinese multinational tech giant Tencent, Future Crops was declared bankrupt. The company had sold four varieties of herbs via Netherlands biggest supermarket Albert Heijn's own label. It is understood late last year the company scaled back production due to rising energy costs, despite its main farm being next door to an array of 18,000 solar panels. Last summer it claimed it had also started exploiting wind energy, "bringing reliance on renewable energy to 100%".
It is one of at least vertical farming 15 companies – according to Sifted analysis - headquartered in Europe that have gone bankrupt, called in administrators or are out of business.
Harvest London is developing a 140,000 sq ft unit in Beddington, south London into a vertical farm. "The reason we chose that property is not because of the beautiful shed that's already there," says CEO Chris Davies. "It's because of the power plant next door."
This has enabled Harvest London to secure a stable, long-term deal on its energy supply and to avoid grid fees. The company's planned network of farms will similarly be co-located at power stations, solar farms, wind farms and anaerobic digesters.
"If you're totally exposed to the vagaries of the power market, then absolutely you're going to get screwed," Davies says.
The type of investor secured by some vertical farm businesses has also proved a poisoned chalice. Venture capital is swiftly retreating from the sector. Indoor farms raised $75.8m globally across 14 VC deals in the first three months of 2023, according to Pitchbook, down 70% in deal value from the previous quarter and 91% year on year.
"Venture capital is a very, very expensive way of building infrastructure"

Chris Davies, Harvest London CEO
VC cash doesn't equal success, with InFarm, Kalera, AeroFarms and Future Crops all now struggling or worse. Investor expectations of growth at all costs meant "they weren't able to sustain that level of growth and they ran out of money because they were building things too quickly" says Davies.
As interest rates rose, investors wanted returns sooner and cash has dried up. "The macroeconomic situation changed and that bit them in the arse," Davies adds.
Behind the impressive valuations and raises, in many cases, were flawed operations and business models. Some simply "repurposed technologies from glass houses in Holland" says Jamie Burrows, founder and CEO of Vertical Future.
There has been a mentality that is very much "let's dump capital into this, leverage the hell out of it, expand as quickly as possible, market as much as possible", he adds. However, "they didn't actually take the time and effort to properly understand what it takes".
Aerofarms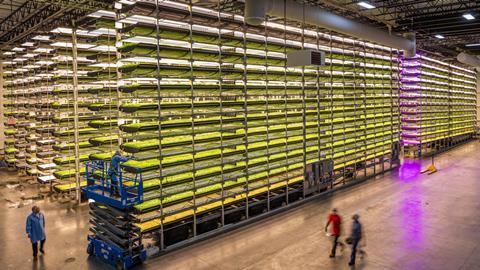 Taking its name from its patented aeroponic growing system, Aerofarms in June announced expanded availability of its award-winning microgreens at both Walmart and Stop & Shop stores, adding to its listings at Ahold Delhaize, H-E-B, Amazon Fresh, and Whole Foods Market.
The day before the announcement it filed for Chapter 11 bankruptcy in the US, and its David Rosenberg, co-founder and CEO stepped down.
Frequently referred to as a 'reorganisation' bankruptcy, the move doesn't signal the demise of the company it said. "We are fortunate to have existing investors who continue to believe in AeroFarms and are confident that we can hit our targeted profitable operations for our Danville farm," said CFO Guy Blanchard.
Those prospering now have done the hard slog of years of long research and development, and secured backers that are in it for the long term. GrowUp is backed by US sustainable infrastructure firm Generate, which Hofman describes as "about as far from a VC as you can imagine in terms of what they're trying to achieve with those investments".
"It's not the same as a software business that can 10-times returns in three or five years," she adds, "it's about building a really established and resilient infrastructure for how we feed people sustainably."
Davies agrees. "It's an infrastructure play. It's not a venture capital play."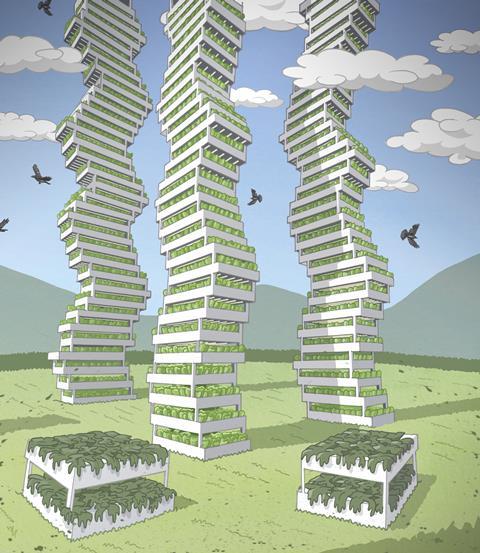 Harvest London has never raised from VCs, instead securing much of its backing from sustainable infrastructure investor Foresight Group.
"We treat ourselves like a manufacturing business," Davies says. Vertical farms demand huge assets, and VC cash is "a very, very expensive way of building infrastructure. It's not a very good use of capital."
Vertical Futures is also averse to VC backing, raising funds to date chiefly from family offices.
"These are 30, 40, 50-year assets that need to be treated as such," says Burrows. "Building a vertical farm is like building a hospital. It needs a lot of money. The return expectations need to be aligned with the amount of capital and the level of sophistication of a major infrastructure project, which is what it is.
"It's bad to see competitors go down," he adds. "Equally, if they're not the right models, they should go down."
Agricool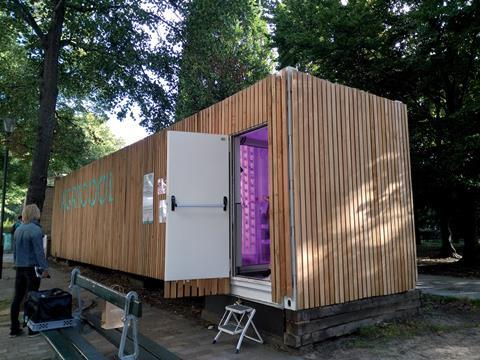 French giant Danone was an investor, taking part in a $28m round in 2018 via its venture capital arm, but in April last year Agricool went into receivership, later selling for €50k.
The firm grew fresh strawberries, herbs and leafy greens all year long in shipping containers dotted around Paris. And they were good strawberries: harvested when perfectly ripe and containing on average 20% more sugar and 30% more vitamin C than supermarket strawberries.
Court documents provided by founder Guillaume Fourdinier to Just Food note "the high structural costs characteristic of start-ups, mainly linked to the costs generated by investments in R&D and the lack of volumes necessary to achieve an operating balance".
Niche offerings
Many vertical farms that have come unstuck were focused on microgreens and selling them to high-end restaurants and foodservice. This gave a higher margin to appease investors, but the market was limited.
They are a "very niche product", says Davies. Companies were "trying to create a market for something they could grow" rather than what buyers needed.
The specialist crop has been a "gateway drug" for many vertical farm businesses, says Burrows.
"Not that microgreens should disappear from the sector – it's just clear the market will saturate and we're not going to have an impact on food insecurity, no matter the nutrient claims," he adds.
Those prospering have focused on "the part of the market where we're currently having to import and there's climate change and social risks", says Hofman.
Upward Farms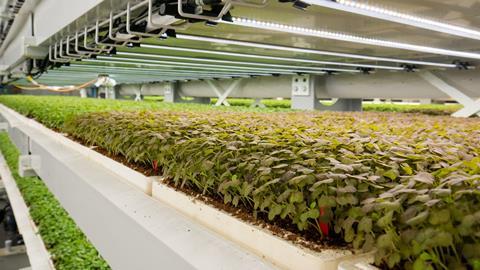 A decade since launch, Upward Farms – which farmed crops fertilised with nutrient rich water from fish raised alongside - announced it was abandoning vertical farming completely and closing its Brooklyn farm.
"We found that vertical farming is almost infinitely complex — as we tackled challenges, new ones emerged," the company's cofounders said in a parting statement.
A handful of the team will pivot, it said, would instead be focusing on soil microbiomes and "working to unleash the magic".
"We may be signing off, but we're nothing but optimistic about the future," it said.
For Jones Food Company it "comes back to whether or not we're providing a real solution", says CEO and founder James Lloyd-Jones.
"We aren't looking to cannibalise ranges but target products where availability has been repeatedly impacted by unpredictable climate events," he adds. That includes leafy greens, soft fruits and flowers.
The years of research and refinement mean such companies have a product at "a great price as our efficiency of production means we are super competitive" says Lloyd-Jones. He adds the product can be supplied consistently as "we are totally unaffected by sun, wind, rain, or weekends or day and night" with a longer shelf life, and "well-established sustainability credentials". It's what retailers are actually looking for.
There will be more vertical farming fatalities, with several experts predicting big names to fall in the next few months, but that does not mean the sector is doomed. Far from it.
"There have been failures," says Matcham. "From them, the accumulated knowledge across the global industry is immense. That's derisking investment and moving forward to successful profits every single day.
"That's not a death, it's a birth."
World Agri-Tech Innovation Summit
Unilever, Kraft Heinz and PepsiCo will headline at the World Agri-Tech Innovation Summit in London on 26-27 September. More than 900 manufacturers, agribusinesses, co-operatives, food sector stakeholders and politicians will gather to discuss and debate industry issues such as future food security.
Taking place over two days, delegates can expect to hear from dozens of industry experts and future-gazers, who will speak on innovative and disruptive topics including biodiversity, next generation, full automation and investment.
The future of global food and drink supply will be a heavy focus at the event, seeing experts grapple with the big questions facing the agri-food sector. Further time will be given to topics including the role of technology in food production, and how it might influence farming practices and yields.
Delegates can also meet with experts and peers in smaller working groups to debate and discuss niche but valuable topics, such as the use of AI and digital transformation; the critical role of R&D in food production; and how to utilise data to bolster sustainable production practices.
"Focused on innovation and disruptive technologies, expert panels will analyse crucial developments shaping the industry and driving new value creation," said an event spokesperson.
"From growing global momentum and next-generation inputs, to robotics and new solutions to monitor the impact of agricultural production, the forum will uncover the tools needed to enhance biodiversity and create a stronger, more sustainable agri-food supply chain."
Other main stage topics include how to strengthen agriculture from farm to fork; transforming supply chains through data integration; and how food brands and retailers can ensure resilient supply chains.
Additional roundtable discussions will also take place, with topics including traceability, tech, novel approaches to sustainability, protecting crop health and regenerative production.