The appeal is obvious, say experts, at least in theory. But Tesco will face some big challenges in making it work in practice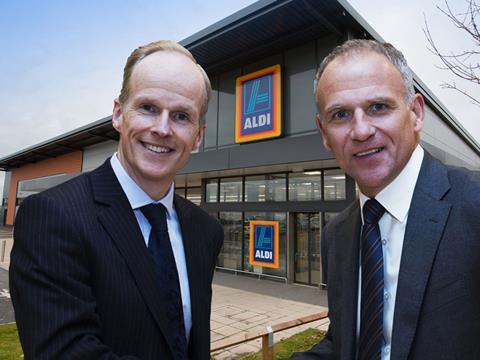 If Tesco really does have NDAs in place with suppliers, there must have been a few angry reminders flying around after last weekend's bombshell developments.

The Sunday Times claimed Tesco is planning its own limited range discount operation, carrying about 3,000 products, with Boston Consulting Group, which played a key role in Project Reset, to oversee it.
UK's chequered history of supermarket discounter launches
● Netto … In July 2016 Sainsbury's announced it would close Netto's 16 UK stores, all located in the north of England in August, only two years after Sainsbury's launched its £25m partnership with Dansk Supermarket Group.
Netto's previous attempt to crack the UK field was in 2010 when Dansk sold its 200 UK outlets to Asda.
The obvious comparison [with Tesco's plans] is with the failure of Netto, as the key issue is how to scale such a business quickly, to achieve critical mass in marketing and physical presence.
● Asda Essentials … In 2006 Asda pulled the plug on plans for a range of standalone discount stores selling a limited rage of staple goods. They were designed by the then CEO Andy Bond to undercut the discounters, only two stores made it off the ground.
● Victor Value … The chain had 217 stores when Tesco bought it for £1.75M in 1968. In the early 1980s, some smaller town centre Tesco stores were rebranded as Victor Value, especially in the North West. In 1986, frozen food supermarket chain, Bejam, purchased the business from Tesco, and rebranded it as Bejam, before itself being overtaken by rival Iceland.
Tesco has refused to comment, even though the revelations come just two weeks before the crucial shareholder vote on the £3.7bn Booker deal.

So is the supermarket giant really about to risk hundreds of millions taking on the discounters at their own game?And how could it make a discounter venture work?

It's no secret Tesco boss Dave Lewis and incoming UK CEO Charles Wilson view taking the fight to Aldi and Lidl as key. Tesco's submission to the Competition and Markets Authority (CMA) during its investigation into the merger serves as a frank admission of the extent to which the Aldi and Lidl "revolution" has forced Tesco onto the back foot. Its launch of Farms brands, it admits, was a direct response.

But it has not stopped the discounters' charge. Latest Kantar Worldpanel data shows Aldi's sales up 16.2 % and Lidl's up 16.3% - figures Sentinel Management Consultants CEO David Sables says will "keep Tesco's boss awake at night".

"The discounters are still rolling like a train," adds Sables. "I just don't go along with those who say Tesco's interest in becoming a discounter is just a dangerous admission that the discounter model is better. Quite the opposite, I would say they would be crazy if they weren't looking at how they can counter that threat."

Own-label veteran Richard Harrow, a partner at IPLC, also sees the appeal. "I can see exactly why they would want to do it. The discounters, despite what anyone has produced, are still eating their lunch. However, whether they are right to do it, is something I would question quite strongly. You need to have discounting in your DNA, like Aldi..

"For Aldi it is not one of the routes to market - it is the route to market, so shapes everything they do."
Rebrand stores
Despite such concerns, some leading analysts strongly support the idea of Tesco relaunching at least some of its stores as a discount proposition.

"We would expect the banner to initially be made up from converting excess space in less affluent areas: Metros, One Stops and supermarkets," says Bruno Monteyne, senior analyst at Bernstein. "We have consistently argued that new formats should be introduced to segment the proposition. Economically it makes no sense that an identical box of cornflakes sells for the same price in a deprived area and the competition is hard discount, as in an upmarket area, where the competition is Waitrose and Marks & Spencer."

Such a move would "take oxygen away from the discounters", he adds. "Using the Tesco branding would have the advantage that they could sell Farms brands and other Tesco own-label products, using the same supply chain, thus reducing costs. It might also give Tesco customers confidence on pricing when they buy the Tesco Farms brands products in the other banners."

Sables agrees Tesco could decide to relaunch some of its stores in areas where there is no strong market for a Tesco Express convenience store, or where its bigger stores' sales are not justifying the near-30,000 product range.

"There is no way in a million years Tesco will touch its estate in areas where there is a need for convenience, or the choice of the big sheds," he says, "But it's a big country and there has to be dozens of places where they could look at doing this," he says. "It could done out of Booker depots, or out of Tesco stores."

But how would Tesco achieve the scale needed to avoid the same fate as Sainsbury's disastrous Netto adventure?

"Scale is the one thing they absolutely will need," says Bryan Roberts, insights director at TCC Global. "The history of success in the UK at least is not good. For a discount operation to work it really needs its own buying operation. It's not something that you can just tack on to the business and hope it will work."

"Tesco just has to look at what happened when Sainsbury's tried to revive the Netto brand and they just couldn't build up enough scale quickly enough," says Steve Barnaby, a director at property giant Colliers.

"For Tesco to take on Aldi with 750 and Lidl with 650-odd stores, effectively starting from scratch - that's too tall an order, even for Tesco."

Indeed, former Aldi CEO Paul Foley told The Grocer in 2016 he believed it would cost upwards of £400m to launch a new discount operation in the UK, and even that would be no guarantee it would survive more than a few years against opposition with such deep pockets as Aldi and Lidl.

Such scepticism has not stopped experts speculating Tesco might look to build new stores to house its discount chain, fuelled by mystery over a planning application for land next to Kettering's Tesco Extra, where it has put in plans for an 18,159 sq ft retail store, with an as-yet unnamed occupier.

Yet surely it makes no sense for Tesco to launch a new space race.

Tesco could instead look at converting excess space in its larger stores, but, says Harrow, "I think putting stores next to stores or within a store would be an unmitigated disaster".

"Look at what Sainsbury's did with Netto. They even portioned a Sainsbury's store and launched a Netto right next door to it. Crazy, absolute madness."

Shore Capital analyst Clive Black adds: "Aldi and Lidl in particular have prospered because they delivered private-label products that for many years were lower in price and better in quality in the main than those offered by the major supermarkets.

"If Tesco went the same way and offered a new private label that was cheaper and better in quality than its mainstream offer, what would that do for its footfall and gross margin?"

Retail consultant John Butler agrees there would be a "huge risk of cannibalisation" if Tesco were to launch a discount proposition within or next to its existing stores. He believes talk of new physical stores could be a red herring; instead, Tesco may be looking at how it relaunches its entire value offer.

"They might actually be trying to consolidate the whole range of value brands in a Tesco store under a new value brand."

Harrow also believes Tesco should concentrate on a major overhaul of its core own label line up, rather than get distracted with launching a discount offshoot. He adds: "The key thing for Tesco is that they simply have to tackle Aldi and Lidl, but not just on price, on quality too. That means getting rid of value and reposition some of their core own label."
The Booker factor
Tesco will also have the powerful resources of Booker, as well as the brains of its boss, to bring into play. Wilson told The Grocer in November that the two were planning to launch new Booker catering offers in Tesco stores, especially where Booker does not already have a presence.

Lewis says Tesco will look, in the same way as it has done with the Arcadia brands, to re-purpose Extra space to make way for a Booker offer.

The Guardian reports Tesco is looking at the option of building up a Costco-like bulk discount warehouse format, which could be housed in some of that space - and many suppliers see this as a likelier option than a rival chain.

This month, Booker is to open a Chef Central store-within-a-store at one of Tesco's big sheds in Bar Hill, near Cambridge, in what could be the first of many developments, while one of Wilson's first moves as UK boss could be to look at how its Family Shopper fascia, currently limited to fewer than 60 outlets, could be parachuted in to strengthen Tesco's discount offering.

History shows it will not be easy for Tesco, but Aldi and Lidl may find they have a more formidable challenge on their hands than the supermarket discounter failures of the recent past would suggest.