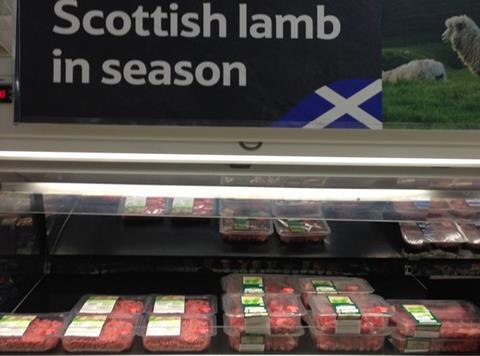 Tesco is to stop selling fresh lamb products in mixed origin packs.

The retailer - which has faced criticism from farmers in recent months for selling products such as mince containing a mixture of British and overseas lamb - will end the practice in February 2016.

The announcement followed a meeting last week between Tesco, its processors and the NFU, NFU Scotland, NFU Cymru and the Ulster Farmers' Union, which involved a "robust, but useful discussion where all parties agreed there was a real benefit in continuing conversations to develop greater transparency in the lamb supply chain" said the unions in a statement.

A spokeswoman for Tesco confirmed the plan for single-source labelling on fresh lamb products such as mince and kebabs, and said it continued "to have an open conversation with the NFU and processors on the crucial roles we all have in supporting the lamb industry".

The move was welcomed by the unions "as it will allow customers to make an informed decision on the origin of the product they are buying".

Analysis of lamb facings by the mults in July by AHDB Beef & Lamb found that just 66% of lamb facings at Tesco was British compared with 100% by Aldi, Budgens, Morrisons and Waitrose.

Tesco agreed to change the labelling of a frozen New Zealand lamb joint by supplier Acre Lane in August, after it was criticised for stating its country of origin was the UK.

A spokesman said at the time the label would be changed to read 'packed in the UK using lamb from New Zealand or Australia'.