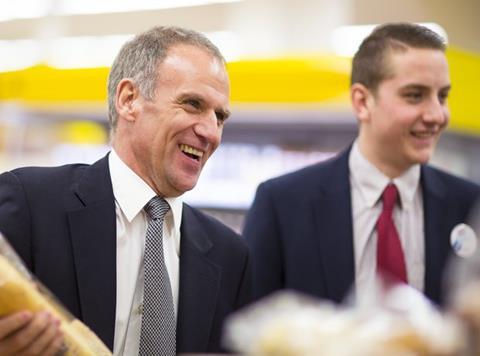 A fourth consecutive quarter of increased like-for-like sales in the UK, improving results on every customer metric and even a major new hire from his old company, Unilever to inspire his lacklustre advertising efforts.
Yes, things were looking pretty super today for Tesco boss Dave Lewis, a man who has done little wrong since he was parachuted in to take over in September 2014.
In fact, the latest evidence of Tesco's resurgence on this so-called Super Thursday is just one in a string of positive results from the major supermarkets. Morrisons, Sainsbury's and (also today) M&S have all provided reasons for the sector to be cheerful.
But a bit like the two weather fronts converging from north to south across the UK today, there is a storm brewing that threatens to wreck their efforts. Lewis, as the captain of the biggest ship of the lot, knows this only too well.
As suppliers demand rising prices and retailers remain desperate to retain their hard-won competitive positions with the discounters, a clash is looming. This butting of heads already looks like the dominant theme for 2017.
Lewis was at pains today to point out how Tesco had been working "shoulder to shoulder" with suppliers, managing to slash the price of an average Tesco basket by 7% since he took over.
That's an improvement on the 6% reported in the previous quarter, though Lewis admitted deflation was slowing already and there were "inflationary pressures in many categories".
Tesco was widely applauded for its handling of Marmitegate last year, a storm that blew over relatively quickly considering its size. But today Lewis admitted Tesco had been unable to prevent inflation in sectors such as pork and cheese, while last week The Grocer reported prices for meat, fish and poultry have been on the rise since December. This is despite Tesco and Asda kicking off 2017 by going head to head on household grocery reductions.
And while the Tesco boss heaped praise on suppliers, whose work in securing record availability in the Christmas period had been "nothing short of miraculous", he is going to need something close to divine inspiration if that 7% figure is to be retained. So when it comes to negotiations, it's likely to be more head to head than shoulder to shoulder.
Lewis claims Tesco is better placed than anyone to "work with suppliers" to "mitigate" the threat of looming inflation. But Kantar Worldpanel figures this week signalled the end to a period of grocery deflation dating back to the time of his arrival. And with Premier Foods this week becoming the latest to announce its determination to force through price hikes, there is a sense that the bright start to 2017 for Lewis – and the rest – will be followed by more difficult days to come.